Early October every year, all eyes of the horse racing world turn to Paris, where the richest race in Europe unfolds.
The Prix de l'Arc de Triomphe at Longchamp racecourse offers a £2.2 million prize fund for those competing to be crowned the best middle distance horse in Europe.
There are several reasons for its presitigious reputation.
Not only does it bring together racehorses from across the world and from several generations, but as an end of season showpiece it turns famous horses into infamous ones.
This season looks to be no different, as Treve, a five-year-old French mare, bids to win the race for an unprecented third time.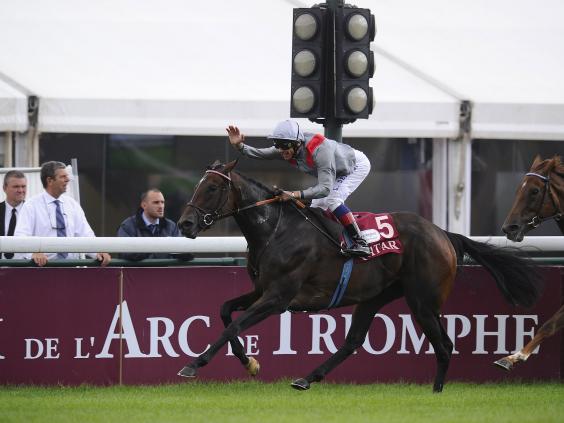 Her victory in 2013 announced her as the finest three-year-old around, before resurrecting a torrid season to win the Arc again in 2014 at 11/1 (an incredible price considering her impressive victory the year before).
At the heart of that turn-around was a jockey drama, as before the race Treve's contracted jockey, Frankie Dettori, was replaced by frenchman Thierry Jarnet, now partly credited with the horse's revival.  
The disappointing form she showed last year before lining up for the Arc is a distant memory now, having been emphatic in her three wins this year and earning hot favouritism in this year's market.
Her opposition is fiercer than ever however, with both the Epsom Derby winner, Golden Horn, and the French Derby winner, New Bay in the field.
Both three-year-old colts, the young boys on the block will do all they can to topple queen Treve.
Horse racing may rarely make the sporting headlines but should Treve be victorious come 3pm Sunday, her story of revival and natural ability deserves due credit.  
Whatever the result, she is destined for a career as a broodmare next year with this her last race. Here's hoping she can sign off a remarkable career in the best way possible.
Sport in pictures
Sport in pictures
1/50 16 September 2015

Barcelona's Luis Suarez, left, scores his side's opening goal during a Champions League, Group E soccer match between Roma and Barcelona, at Rome's Olympic stadium

2/50 15 September 2015

Juventus' goalkeeper from Italy Gianluigi Buffon (C) celebrates with teammates after wining a UEFA Champions League group stage football match between Manchester City and Juventus at the Etihad stadium in Manchester, north-west England

3/50 14 September 2015

Washington Nationals' Danny Espinosa, left, slides past Philadelphia Phillies catcher Cameron Rupp to score the go-ahead run on a fielder's choice by Yunel Escobar during the 12th inning of a baseball game in Philadelphia. Escobar was safe at first. Washington won 8-7

4/50 13 September 2015

Novak Djokovic of Serbia holds up the U.S. Open trophy after defeating Roger Federer of Switzerland in their men's singles final match at the U.S. Open Championships tennis tournament in New York

5/50 12 September 2015

Flavia Pennetta of Italy celebrates after defeating compatriot Roberta Vinci in their women's singles final match at the U.S. Open Championships tennis tournament in New York

6/50 11 September 2015

Spain's Marc Marquez steers his Honda during the first practice session for Sunday's San Marino Moto GP, at the Misano circuit, in Misano Adriatico, Italy

7/50 10 September 2015

Tom Cooper of Somerset drives at the Somerset v Hampshire - LV County Championship match at The County Ground in Taunton, England

8/50 9 September 2015

Simona Halep of Romania celebrates after defeating Victoria Azarenka of Belarus in their quarterfinals match at the U.S. Open Championships tennis tournament in New York

9/50 8 September 2015

Serena Williams of the US reacts as she plays against her sister Venus Williams during their 2015 US Open Women's singles quarterfinals match at the USTA Billie Jean King National Tennis Center in New York

10/50 7 September 2015

Andy Murray of the UK breaks his racket against Kevin Anderson of South Africa during their 2015 US Open men's singles round- four match at the USTA Billie Jean King National Tennis Center in New York

11/50 7 September 2015

Astana's Fabio Aru of Italy rides during the 16th stage of the Vuelta Tour of Spain cycling race from Luarca to Ermita del Alba, northern Spain. Luxembourg's Frank Schleck dug deep to win a brutally mountainous 16th stage of the Tour of Spain while Rodriguez leapfrogged Aru at the top of the overall standings

12/50 6 September 2015

Marharyta Dorozhon of Israel competes to win the women's javelin throw competition at the ISTAF (Internationales Stadionfest) IAAF athletics meeting at the Olympic stadium in Berlin

13/50 5 September 2015

Bernard Tomic of Australia serves to Richard Gasquet of France during their match at the U.S. Open Championships tennis tournament in New York

14/50 5 September 2015

England's prop Joe Marler (C) is forced out of the scrum during the international rugby union friendly match between England and Ireland, ahead of the 2015 Rugby World Cup, at Twickenham Stadium, west of London

15/50 4 September 2015

Switzerland's Jeannine Gmelin wins the A/B semifinal in the women's single sculls, in Aiguebelette-le-Lac, during the world rowing championships

16/50 3 September 2015

Sun Ke (C) of China tussles for the ball against Jean Jacques Kilama (L) of Hong Kong during their 2018 World Cup football qualifying match in Shenzhen, south China's Guangdong province, China

17/50 2 September 2015

Serena Williams of the United States reacts after winning the first set against Kiki Bertens of the Netherlands on day three of the 2015 U.S. Williams won 7-6 (5), 6-3

18/50 1 September 2015

Argentina's Luis Scola (L) jumps for the ball with Canada's Kelly Olynyk during their 2015 FIBA Americas Championship basketball game at the Sport Palace in Mexico City

19/50 31 August 2015

Rafael Nadal of Spain celebrates his win over Borna Coric of Croatia during their 2015 US Open Round 1 men's singles match at the USTA Billie Jean King National Center in New York

20/50 30 August 2015

Dortmund's Gabonese striker Pierre-Emerick Aubameyang makes a jump after scoring during the German first division Bundesliga football match Borussia Dortmund vs Hertha BSC in Dortmund, Germany

21/50 29 August 2015

Toulouse's New Zealand hooker Corey Flynn scores a try during the French Top 14 rugby union match between Agen and Toulouse at the Armandie stadium in Agen, southwestern France

22/50 28 August 2015

Russia's Sergey Shubenkov (R) dips for the line to win ahead of Jamaica's Hansle Parchment (L) in the final of the men's 110 metres hurdles athletics event at the 2015 IAAF World Championships at the "Bird's Nest" National Stadium in Beijing

23/50 27 August 2015

Jamaica's Usain Bolt uses a selfie stick to take a picture after winning the final of the men's 200 metres athletics event at the 2015 IAAF World Championships at the "Bird's Nest" National Stadium in Beijing

24/50 26 August 2015

Leverkusen's Swiss forward Admir Mehmedi (L) and Lazio's defender from Netherlands Stefan de Vrij vie for the ball during the UEFA Champions League second leg playoff football match between Bayer Leverkusen and SS Lazio in Leverkusen, western Germany

25/50 25 August 2015

Russia's Aleksandr Menkov competes in the final of the men's long jump athletics event at the 2015 IAAF World Championships at the "Bird's Nest" National Stadium in Beijing

26/50 24 August 2015

Panama's Rolanda Bell falls into the water jump during the heats of the women's 3,000 metres steeplechase athletics event at the 2015 IAAF World Championships at the "Bird's Nest" National Stadium in Beijing

27/50 23 August 2015

Mercedes AMG Petronas F1 Team's British driver Lewis Hamilton celebrates winning with the trophy on the podium at the Spa-Francorchamps circuit in Spa, after the Belgian Formula One Grand Prix

28/50 22 August 2015

Englandís Adam Lyth is hit by a short ball bowled by Australiaís Mitchell Johnson on the third day of the fifth Ashes cricket Test between England and Australia at the Oval cricket ground in London

29/50 21 August 2015

Ana Ivanovic, of Serbia, returns the ball to Serena Williams during a quarterfinal match at the Western & Southern Open tennis tournament, in Mason, Ohio

30/50 20 August 2015

Tiger Woods reacts after holing out a chip shot on the 10th hole during the first round of the Wyndham Championship golf tournament in Greensboro, USA

31/50 17 August 2015

Christian Benteke celebrates his goal as Liverpool defeat Bournemouth 1-0

Getty Images

32/50 16 August 2015

Sergio Aguero scores the first goal as Manchester City defeat the champions Chelsea 3-0 at the Etihad Stadium

Getty

33/50 14 August 2015

Wayne Rooney looks on as Adnan Januzaj's (out of shot) attempt goes in as Manchester United beat Aston Villa 1-0

Getty

34/50 9 August 2015

West Ham's Reece Oxford competes with Arsenal's Aaron Ramsey for the ball in the Hammers' 2-0 win at the Emirates

GETTY IMAGES

35/50 8 August 2015

David De Gea (second from right), who was dropped because of Real Madrid transfer speculation, watches Tottenham's win over Manchester United form the stands

GETTY IMAGES

36/50 8 August 2015

Chelsea manager Jose Mourinho shouts at his medical team as Chelsea draw 2-2 with Swansea

Getty

37/50 7 August 2015

David Warner of Australia bats during day two of the 4th Investec Ashes Test match between England and Australia at Trent Bridge in Nottingham

38/50 6 August 2015

Ryan Lochte of the United States competes his way to the gold medal in the Men's 200m Individual Medley Final on day thirteen of the 16th FINA World Championships at the Kazan Arena in Kazan, Russia

39/50 5 August 2015

Team members mob Los Angeles Angels' Taylor Featherston, center, after he scored on a wild pitch to win the game as Cleveland Indians relief pitcher Cody Allen, left, walks off the field during the ninth inning of a baseball game, in Anaheim, California. The Angels won 4-3

40/50 4 August 2015

United States' gold medal winner Katie Ledecky celebrates after setting a new World Record in the women's 1500m freestyle final at the Swimming World Championships in Kazan, Russia

41/50 3 August 2015

Alessandro De Rose of Italy competes in the Men's High Diving 27m preliminary round on day ten of the 16th FINA World Championships at the Kazanka River in Kazan, Russia

42/50 2 August 2015

Captain Mikel Arteta of Arsenal lifts the trophy after their 1-0 win in the FA Community Shield match between Chelsea and Arsenal at Wembley Stadium in London

43/50 1 August 2015

Gold medalist Josh Bryceland, of Britain, center, celebrates his victory with 4th place rider Greg Minnaar of South Africa, bottom center, 2nd place rider Loic Bruni of France, left, and 3rd place rider Australia's Troy Brosnan, during the medal ceremony for the men's downhill at the UCI Mountain Bike World Cup at Mont-Sainte-Anne in Beaupre, Quebec. This is the 25th consecutive year the Mountain Bike World Cup has been held at Mont-Sainte-Anne

44/50 31 July 2015

People celebrate following the announcement that Beijing will host the 2022 Winter Olympics at a gathering outside the Beijing Olympic Stadium, also known as the Birds Nest. Beijing was selected to host the 2022 Winter Olympics, becoming the first city awarded both the winter and summer games

45/50 30 July 2015

Brazil compete in the Duet Free Final of the 16th FINA World Swimming Championships in Kazan, Russia

46/50 29 July 2015

Steven Finn of England celebrates with teammates after dismissing Steven Smith of Australia during day one of the 3rd Investec Ashes Test match between England and Australia at Edgbaston in Birmingham, UK

47/50 28 July 2015

Murray Sam Ling of Special Olympics Samoa competes in the men's long jump preliminary rounds during the 2015 Special Olympics World Summer Games in Los Angeles, California. 6,500 athletes representing 165 countries will be competing in 25 different sports disciplines at venues throughout Los Angeles from 26 July to 2 August

48/50 27 July 2015

Canada's divers Maeghan Benfeito and Roseline Filion compete in the Women's 10m platform synchronised preliminaries diving event at the 2015 FINA World Championships in Kazan

49/50 26 July 2015

Race winner Britain's Chris Froome kisses the trophy as he stands on the podium at the end of the Tour de France cycling race in Paris, France

50/50 25 July 2015

Panama's Luis Mejia blocks a kick during the penalty kick shootout in the CONCACAF Gold Cup third place soccer match in Chester, USA
Reuse content