Colin Kaepernick, the American football quarterback currently without a club, is showing no signs of letting President Donald Trump halt his campaign to make the world a better place after he donated $50,000 twice to two different charities.
President Trump used a campaign-style rally in Louisville, Kentucky, to take another swipe at Kaepernick on Monday, having previously criticised him for his decision to kneel during the American national anthem in protest of police treatment against minority groups.
But even though President Trump has presented a federal budget that will de-fund charity initiatives that attempt to help the less fortunate, Kaepernick is not going to lie down easily. The former San Francisco 49ers quarterback recently made two donations of $50,000 each to the Meals on Wheels America initiative, and the Love Army for Somalia campaign, which is attempting to use social media to raise $2m for food and water to help sufferers of the famine in the African country.
Using the hashtag #TurkishAirlines4Somalia – due to the fact that Turkish Airlines are the only airline that flies to Somalia – celebrities have been posting videos online to try and raise awareness of the initiative, which will see a Turkish Airlines plane filled with aid fly to Africa to try and help with the famine.
Actor Ben Stiller and DJ Calvin Harris are among those that have helped, with donations already exceeding the $2m goal with five days still to go, and Kaepernick has also helped out by donating $50,000.
Kaepernick's gesture is all the more amazing given he currently doesn't have a job, with the quarterback being released by the San Francisco 49ers at the end of last season after five years with the franchise.
The 2011 second round draft pick has a website set-up called Kaepernick7.com that is keeping track of his donations as part of the Million Dollar Pledge, a campaign started by the man himself to donate to the less fortunate.
"I will donate one million dollars plus all the proceeds of my jersey sales from the 2016 season to organisations working in oppressed communities, 100k a month for 10 months," Kaepernick says on the site.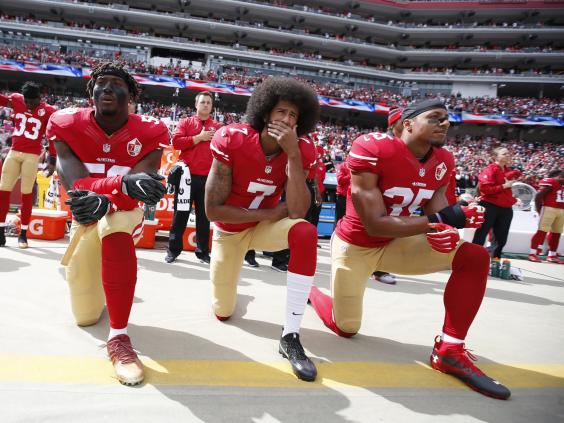 Kaepernick's last two donations registered on his website – posted in January – were $25,000 to the Centre for Reproductive Rights, and $25,000 to the Coalition for Human Immigrant Rights of Los Angeles, and he has given away $400,000 a month since October despite losing his job in the NFL.
I said if I remember that one I'm going to report it to the people of Kentucky. Because they like it when people actually stand for the American flag
Despite his generosity, Kaepernick was criticised last season for his protest of kneeling before games while the national anthem was played. However, the 29-year-old was also defended for expressing the right to free speech and was also joined by a number of black NFL players who agreed with his stance.
Kaepernick has confirmed that he will not continue with his protest next season – should he join a new club as is expected – but that has not stopped President Trump from criticising him during a speech on Monday.
The controversial orders Donald Trump has already issued
The controversial orders Donald Trump has already issued
1/9 Trump and the media

White House Press Secretary Sean Spicer takes questions during the daily press briefing

Getty Images

2/9 Trump and the Trans-Pacific Partnership

Union leaders applaud US President Donald Trump for signing an executive order withdrawing the US from the Trans-Pacific Partnership negotiations during a meeting in the Roosevelt Room of the White House in Washington DC. Mr Trump issued a presidential memorandum in January announcing that the US would withdraw from the trade deal

Getty

3/9 Trump and the Mexico wall

A US Border Patrol vehicle sits waiting for illegal immigrants at a fence opening near the US-Mexico border near McAllen, Texas. The number of incoming immigrants has surged ahead of the upcoming Presidential inauguration of Donald Trump, who has pledged to build a wall along the US-Mexico border. A signature campaign promise, Mr Trump outlined his intention to build a border wall on the US-Mexico border days after taking office

Getty Images

4/9 Trump and abortion

US President Donald Trump signs an executive order as Chief of Staff Reince Priebus looks on in the Oval Office of the White House. Mr Trump reinstated a ban on American financial aide being granted to non-governmental organizations that provide abortion counseling, provide abortion referrals, or advocate for abortion access outside of the United States

Getty Images

5/9 Trump and the Dakota Access pipeline

Opponents of the Keystone XL and Dakota Access pipelines hold a rally as they protest US President Donald Trump's executive orders advancing their construction, at Columbus Circle in New York. US President Donald Trump signed executive orders reviving the construction of two controversial oil pipelines, but said the projects would be subject to renegotiation

Getty Images

6/9 Trump and 'Obamacare'

Nancy Pelosi who is the minority leader of the House of Representatives speaks beside House Democrats at an event to protect the Affordable Care Act in Los Angeles, California. US President Donald Trump's effort to make good on his campaign promise to repeal and replace the healthcare law failed when Republicans failed to get enough votes. Mr Trump has promised to revisit the matter

Getty Images

7/9 Donald Trump and 'sanctuary cities'

US President Donald Trump signed an executive order in January threatening to pull funding for so-called "sanctuary cities" if they do not comply with federal immigration law

AP

8/9 Trump and the travel ban

US President Donald Trump has attempted twice to restrict travel into the United States from several predominantly Muslim countries. The first attempt, in February, was met with swift opposition from protesters who flocked to airports around the country. That travel ban was later blocked by the Ninth Circuit Court of Appeals. The second ban was blocked by a federal judge a day before it was scheduled to be implemented in mid-March

SANDY HUFFAKER/AFP/Getty Images

9/9 Trump and climate change

US President Donald Trump sought to dismantle several of his predecessor's actions on climate change in March. His order instructed the Environmental Protection Agency to reevaluate the Clean Power Plan, which would cap power plant emissions

Shannon Stapleton/Reuters
After claiming that he read an article in which it said that NFL owners are wary of signing Kaepernick "because they don't want to get a nasty tweet from Donald Trump", the President laughed off the report, much to the delight of an enthusiastic crowd.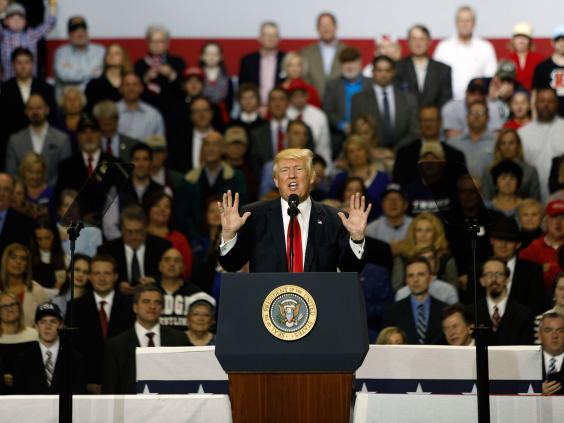 "I'm sure nobody ever heard of him," President Trump said. "I'm just reporting the news. There was an article today — I love to report the news and then they said I made a mistake, right? I said, 'No, the people reporting the news made a mistake if it's wrong.'
"But there was an article today, it was reported that NFL owners don't want to pick him up because they don't want to get a nasty tweet from Donald Trump. Do you believe that? I just saw that. I just saw that. I said if I remember that one I'm going to report it to the people of Kentucky. Because they like it when people actually stand for the American flag."
The swipe came in response to an article by Mike Freeman of Bleacher Report, who spoke to an unnamed AFC General Manager who expressed concerns that "some teams…think there might be protests or [President Donald] Trump will tweet about the team".
Reuse content