It was testament to just how devastating Matt Ryan had been through the air this season that, as he sat back in the pocket, primed to throw, each of Atlanta's receivers - sprinting left and waggling right in an attempt to find separation - were covered by the Green Bay Packers' defensive backs. 
So he took off. 
Ball under arm, rampaging forward and, fourteen yards later, a touchdown. It was Ryan's first rushing TD in nearly five years, a timespan in which he has almost exclusively been a good-but-not-great quarterback. A top ten quarterback. A middling quarterback for a middling team.
But not anymore. 
Now, at 31, coming off a career season and heading to his first Super Bowl, Ryan is a top-class quarterback. An MVP quarterback. A Super Bowl quarterback.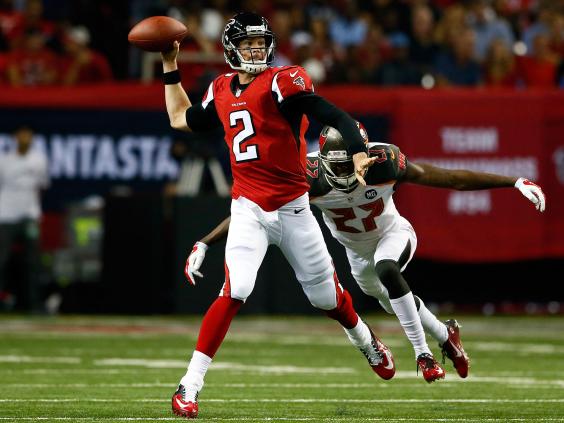 His latest aerial masterclass, in front of a boisterous home crowd, played out on alternate possessions with Aaron Rodgers - arguably the best quarterback to ever play the game - finding himself unable to dig the Green Bay Packers out of a hole. But while outplaying the GOAT is a feather in the cap, virtually securing yourself the league's MVP award and firing your franchise into only their second Super Bowl appearance ever is far greater. The greatest, in fact. Surpassed only by hoisting the Vince Lombardi trophy itself in two weeks' time. 
At 10-0 down and chuntering towards the Falcons end zone in the second quarter, the Packers hadn't looked in too much trouble. Then, in a cruel incident invoking nominative determinism, Aaron Ripkowski had the ball ripped from his grasp, his fellow Aaron cursed to the skies and Atlanta took over again, setting up Ryan, minutes later, to gallop into the end zone unimpeded. 
Behind by 17 to the league's most powerful offense, the Packers were done. They found their way to score, as teams have done against the Falcons all year, but only after falling 31-0 down. Put simply they could not bottle up Ryan, let alone his raft of attacking weapons.
In Julio Jones, Ryan has one of the best wide receivers in the game. Jones has the speed of an Olympic Sprinter, the range and length of a basketball player and the body control of a ballerina. He is a freak of nature in a sport that transforms those into superstars.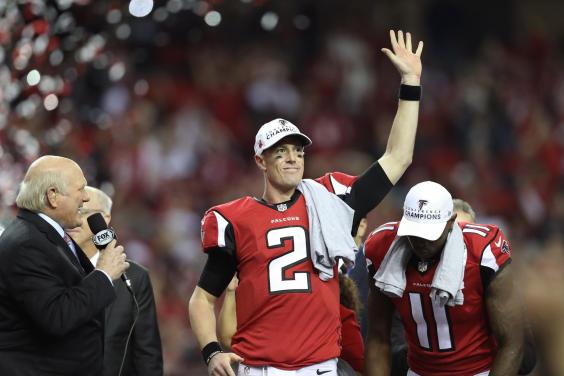 Flanking Ryan in the backfield have been the best running back duo in the game. Committees of these sorts rarely work and Devonta Freeman, drafted in 2014 by the previous front office, and Tevin Coleman, drafted in 2015 by the current one, could well have erased each other's effectiveness or been pawns for internal politics.
Instead they complement each other perfectly, keeping defenses honest and providing Ryan with flaring options out of the backfield. Once a safety valve, the pass-catching running back is now a key part of all the league's best offenses. After seasons of defensive football proving the way to success, overstocked attacks have fuelled the majority of this year's playoff teams.
The man who will likely get the most credit for elevating Ryan to the star form of this season is the Falcons' offensive coordinator Kyle Shanahan. In Houston in a fortnight, Shanahan will lead the Falcons' offense for the final time before taking his first job as a head coach in San Francisco, with the ailing 49ers. But before then he has two weeks to jazz up his creative playbook and prepare for the ultimate meeting of minds with 67-year-old Bill Belichick - 30 years his senior and an all-time great. 
Then Shanahan will be gone, and whether Ryan wins the Super Bowl or not, the next challenge will be maintaining the level of performance he showed this season and avoiding the sort of regression shown by divisional rival and last year's MVP, Cam Newton.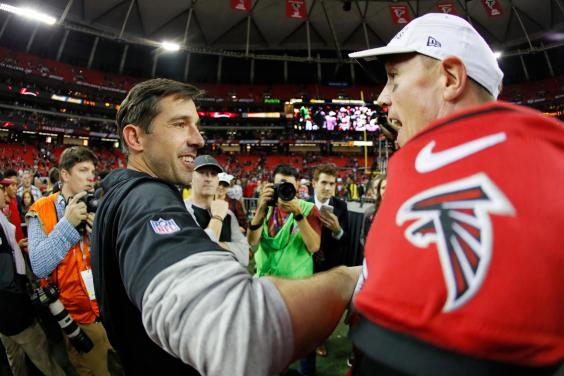 Ryan has always had the tools but has taken time to let loose. With a great coach above him and increasing levels of talent around him, he made them into the best offense in football and the best passing offense in football.
In many ways, the Packers should have seen it coming and their bashed-up, inexperienced secondary simply couldn't cope with Ryan picking out Jones, who scored two touchdowns, and his auxiliary weapons like Mohammed Sanu and Taylor Gabriel.
Indeed, Packers coach Mike McCarthy said they had "run into a buzzsaw" - sliced to pieces by the Falcons offensive machinery.
But Ryan, staying true his Matty Ice nickname isn't getting carried away by the greatest win of his career.
"I think it felt real normal," said Ryan
"We played the way we're capable of playing, and it's always nice to do that in this game."
It will be even nicer to do so in their next game, the biggest game on earth. 
Reuse content