An evangelical Christian university in the US has defended a move to strengthen its creationist ethos, even outlawing theories of partial evolution.
Bryan College, in Tennessee, is being sued by two former professors over a new "statement of belief" included in employment contracts.
All teachers and staff must sign the document underpinning the school's commitment to the Bible, belief in the virgin birth of Jesus, original sin and the origin of humanity "by fiat of God".
But a clarification has recently been added defining Adam and Eve as "historical persons".
It reads: "We believe that all humanity is descended from Adam and Eve. They are historical persons created by God in a special formative act, and not from previously existing life forms."
Stephen Livesay, the president of Bryan College, told the New York Times the change was important to university leaders.
"It's in our DNA. It's who we are," he added.
The statement precludes increasingly popular theories of "evolutionary creationism", which attempts to combine science and faith by seeing God as the origin of life that then evolved.
Hundreds of students signed a petition against the change of the statement in February.
A letter to the board of trustees said the motion "threatens the atmosphere of academic freedom at Bryan College" and promoted conflict among students.
It pointed out that the university's policy manual said it represented a "wide spectrum of religious denominations" and said that there were fears professors who disagreed would lose their jobs.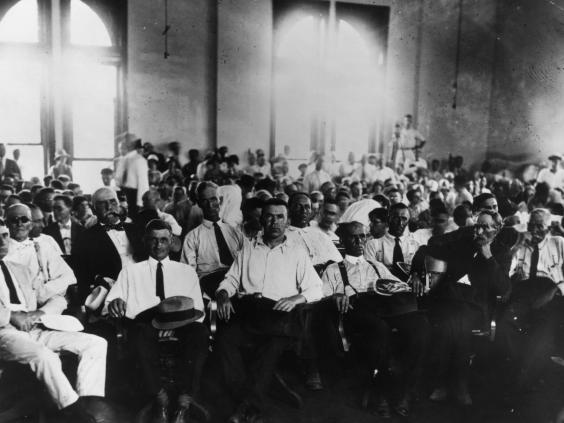 Two former faculty members sued the institution in May, arguing the board of trustees did not have the authority to change the 80-year-old statement of belief.
Dr Brian Eisenback, a graduate of Bryan College, left his post as biology professor there for another Christian college after the change.
He is writing a book trying to marry evolution with creationism in science teaching and said he previously taught all theories of creation at Bryan.
"Because of the culture war that is raging with scripture and age of the earth and so on, I think it's important for me to teach my students the same material they would hear at any state university," said Dr Eisenback told the New York Times.
"But then also, as a Christian who is teaching at a Christian liberal arts college, I think it's important that they be educated on the different ways that people read relevant Scripture passages."
Other professors at Bryan insists that Christian doctrine should take precedence in accord with its motto: "Christ above all."
"Academic freedom is not sacrosanct," Kevin Clauson, a politics professor, wrote in a letter to student newspaper The Bryan Triangle. "It too must submit to God in a Christian college."
Dr Livesay said the new statement of belief did not change the curriculum and was intended to "reaffirm" rather than alter its position.
"We want to remain faithful to the historical charter of the school and what we have always practiced through the years," he told the New York Times.
"We want to make certain that we view culture through the eyes of faith, that we don't view our faith through the eyes of culture."
Bryan College, founded in 1930, is named after the lawyer who successfully prosecuted a teacher for teaching evolution in the famous 1925 Scopes "monkey" trial.
William Jennings Bryan accused John Scopes of violating state laws and took the stand himself to affirm his belief in creation as told in Genesis.
He famously ridiculed theories of human evolution, saying scientists had humans descending "not even from American monkeys, but Old World monkeys".
Reuse content