Oxford University students are calling for greater racial sensitivity and more representation of non-white culture and are urging leaders at the institution to "decolonise" life on campus and in class.
In a campaign called 'Rhodes Must Fall in Oxford', co-founder, Ntokozo Qwabe – who studies law at Oxford's Keble College – told The Guardian newspaper: "A lot of the time when people talk about colonialism they think of it as a past event that happened.
"They don't think about it as something that manifests itself in everyday life at institutions like Oxford."
Officially launched just three weeks ago, the campaign has already garnered some 2,600 likes on its Facebook page and is gathering pace on Twitter also.
The #RhodesMustFall movement resonates of all the victims of colonialism @powerfm987 @rmf_oxford @uniofoxford @zamantungwa_k

; Daniel Ratele (@DanielRatele) June 19, 2015
@RMF_Oxford #Rhodesmustfall in @UniofOxford today! Decolonize the university!

; Jonathan Katz (@JonathanPKatz) June 13, 2015
@RMF_Oxford Thank you for bringing #RhodesMustFall to @UniofOxford. Much needed!! #peoplepower pic.twitter.com/UmvYxgnYSj

; Kris Tina (@Kristina_Lunz) June 6, 2015
@map_radar at @RMF_Oxford event on decolonising education with Professor Chaudhuri! #Rhodesmustfall #OTMOTR pic.twitter.com/I0rb1R2lBr

; Off the Radar (@map_radar) June 13, 2015
Packed turnout for the first Rhodes Must Fall public event @RMF_Oxford #Rhodesmustfall #rhodesmustfalloxford pic.twitter.com/ZswuYOxOYU

; Bruno Leipold (@BrunoLeipold) June 5, 2015
The campaign's roots actually lie in South Africa when, in March, a group of students marched on Cape Town University to protest the removal of a statue of British mining tycoon, Cecil Rhodes, who is said to be responsible for enforced racial segregation policies in South Africa which eventually consumed the nation.
Having been erected on the university's campus since 1934, students at the institution pelted the statue with excrement and wrapped it in plastic bags, saying it was offensive to black students and that the 'racist's' memories – and all that he stood for- should not be represented.
Bowing to massive pressure, the university finally removed the statue, in April, as a crowd of hundreds of onlookers cheered and celebrated its victory.
Following the Rhodes' march, other protests emerged across South Africa to have similar statues taken down.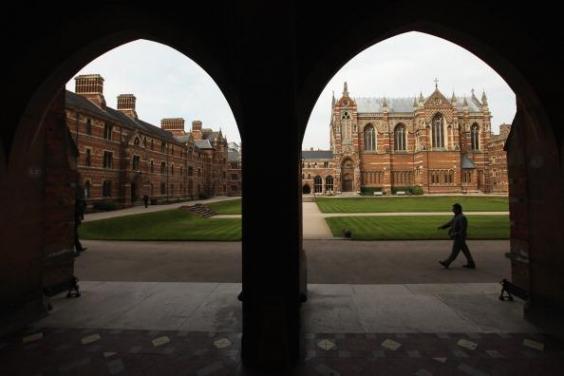 Now the protest has made its way to the UK where Mr Qwabe says Oxford University honours colonial figures like Rhodes and the slave-owner Christopher Codrington (the university has a Rhodes House and Codrington Library) – and that the university doesn't criticise it.
Mr Qwabe added: "Rhodes's legacy is presented in a very uncritical way. It's a celebration of his triumphs – as opposed to any critical reflection on who this guy was and the consequences of what he did."
Not only is 'Rhodes Must Fall in Oxford' blasting the names of the buildings – it is also criticising the curriculum and reading lists, arguing that they discount the works of women and people of colour.
Mr Qwabe said: "I was trying to think about how the world would have reacted if it was a Holocaust comeback or something which is globally uncontested as historical injustice."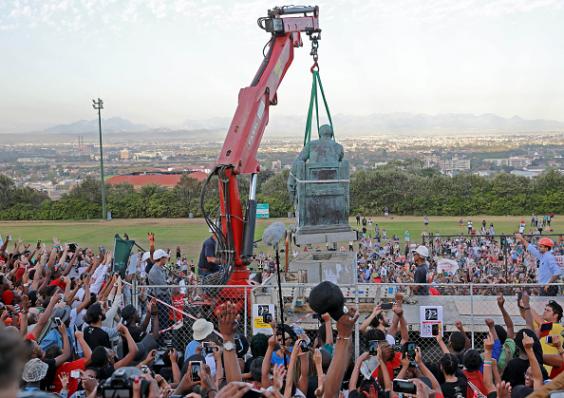 A spokesperson for Oxford said: "It is a top priority for Oxford to identify and address ways in which we can better ensure students feel safe and well represented at Oxford.
"Students have given us a detailed and nuanced account of black and minority ethnic (BME) student experiences at Oxford. It showed that while BME students generally thrive and do well at Oxford, there are incidents of insensitivity and some students can feel isolated.
"The university is committed to addressing this and welcomes the fact that its students can raise these issues in a constructive and co-operative atmosphere."
Reuse content