Teenagers from wealthy backgrounds are still around 10 times more likely to get into top universities than those from poorer homes.
Efforts to revive social mobility in Britain by widening access to the best universities have stalled, research indicates.
The report from an independent commission set up to examine the impact of higher university fees also reveals that the gender gap in university admissions is growing with you men from disadvantaged backgrounds the least likely to obtain a university place.
Will Hutton, who chairs the Independent Commission on Fees, said the findings showed "serious gaps in access to university remain".
"Young men from disadvantaged backgrounds are particularly badly affected and remain under-represented in applications to all universities," he said.
The commission was set up by education charity the Sutton Trust to monitor the impact of increased university fees. In addition to Mr Hutton, principal of Hertford College, Oxford, its members include Sir Peter Lampl, chairman of the Sutton Trust, and Libby Purves, the writer and radio broadcaster,
Its report shows that application rates for 18-year-olds in England have now improved upon what it calls the "depressed" levels in 2012, immediately after the introduction of fees of up to £9,000 a year. Application rates are also rising in Scotland, Wales and Northern Ireland.
However, while the gap in application and entry rates between advantaged and disadvantaged students has narrowed slightly - school leavers from the most disadvantaged areas were 2.8 times less likely than those from the least disadvantaged to go to university last year compared with 3.2 per cent the previous year - the ratio at the country's 13 most prestigious universities has hardly altered. The least disadvantaged teenagers are now 9.5 times more likely to succeed than poorer children, a ratio that has barely changed from 9.8 in 2000.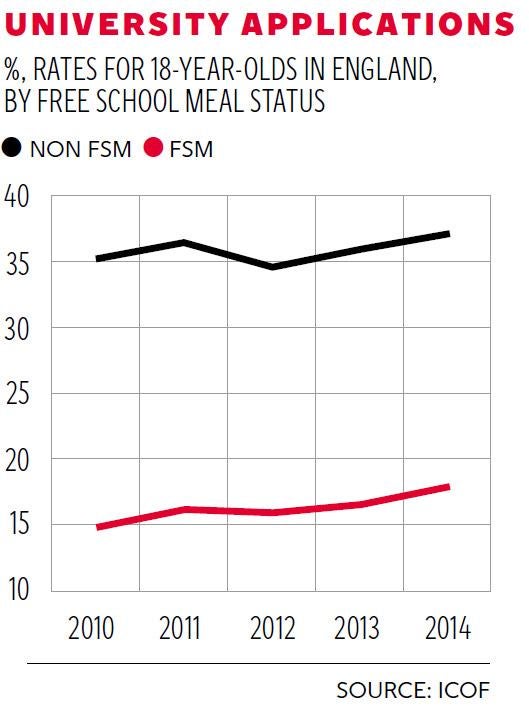 The gender gap in applications in England has also increased, with 36 per cent more women than men now applying.
"The gap is largest among disadvantaged applicants, meaning disadvantaged boys are particularly disadvantaged," the report found. "Students who are not eligible for free school meals remain more than twice as likely as those as those eligible to apply for university."
Dr Wendy Piatt, director general of the Russell Group of Universities, which represents 24 of the country's most selective higher education institutions, said: "Russell Group universities are keen to ensure that anyone with the qualifications, potential and determination to succeed has the opportunity to study at a leading university, irrespective of their background.
"However, we must not lose sight of the bigger picture - progress continues to be limited by levels of achievement at school and a lack of advice on A-level subject choices."
Russell Group academics say too many state school pupils are not encouraged to take A-levels in "facilitating subjects", those like science and languages, which will improve their entry chances to top universities.
Professor Les Ebdon, head of the Office for Fair Access, the university access watchdog, said: "There is still an unacceptably large gap in participation rates between the most and least advantaged young people. This is especially the case in the most selective universities, although we have seen progress in recent years."