'Who is going to get offended? Speedy Gonzales?' This reaction from a student at the University of East Anglia (UEA) seems to sum up the general public feeling after its union banned a local Mexican restaurant from handing out free sombreros – for being 'racist'.
Given out at the Freshers' Fair by local Tex-Mex eatery Pedro's – which says it has been serving the people of Norwich for over 25 years – UEA students' union (SU) campaigns and democracy officer Chris Jarvis stood by the decision and insisted the SU wants all members to feel safe and accepted by ensuring there is no behaviour, language, or imagery which could be considered racist at all events.
He added: "At the fair, all our stallholders were sent a copy of our advertising policy prior to the event and were also given a physical copy of the policy on the day, so we're confident that all stallholders should have been aware of our restrictions on advertising in relation to equal opportunities and cultural appropriation.
"The company in question was Pedro's restaurant, and the stallholders stopped once asked and were amicable in ceasing."
The statement from the union went on to highlight a list of points it will not tolerate at any events, saying discrimination based on the following characteristics is not permitted:
Age
Colour
Disability
Ethnic Origin
Gender
HIV Status
Marital Status
Nationality
Political Beliefs
Religion or Belief
Race
Sexual Orientation
Spent or Irrelevant Criminal Convictions
Trade Union Membership
Sub-culture Identification
A spokesperson from Pedro's took to Facebook to reiterate it is a fun loving restaurant which is proud of its party atmosphere.
The statement added: "Our restaurant is decorated with items brought back by our founders from all over the world, including sombreros which have been part of our service for over 20 years.
"These are traditional dress and, as a Mexican restaurant, in no way are we disparaging Mexican culture, only celebrating it. We would never intend any negative message to be taken from our hats."
The comment provoked messages of support from the public, with some branding the move by the SU as 'ridiculous':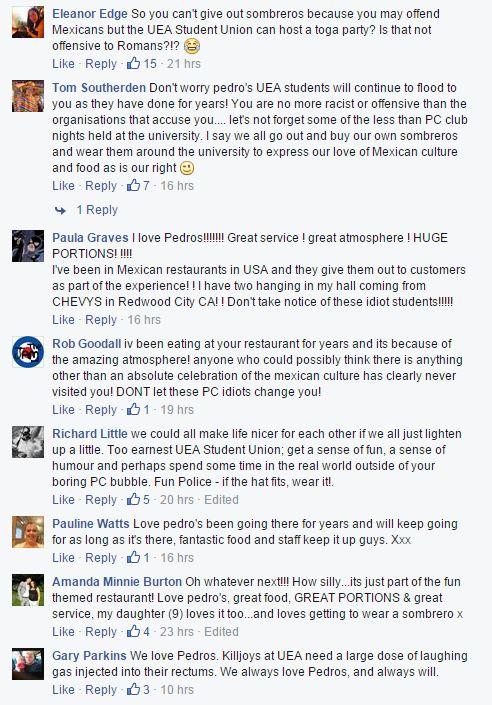 One user joked: "…maybe burger king will ban the paper crowns… don't wanna upset the monarchy." Another user even accused the SU of being guilty of cultural appropriation and said: "As a person, Norfolk born and bred, I object to the UEA appropriating my Norfolk culture by using the Norfolk phrase 'Du Different' as their motto."
Student news in pictures
Student news in pictures
1/30 Overwhelming majority of UK students set to vote Remain in EU referendum

Graduate career app Debut has surveyed 12,000 students from its user base in May to find a staggering 81% will be voting for the UK to stay in the EU, while just 10% will be voting Leave, suggesting - for the first time - the student contingent could swing the campaign in the opposite direction. Career concerns have emerged as being the main motivating factor for staying (77%).

Getty

2/30 George Osborne letter from 2003 reveals how he thought tuition fees were 'a tax on learning' and 'very unfair'

The revelation has come to light after recent Manchester music graduate, Rosy Williams, posted a letter onto Facebook that she received from the politician 13 years ago in which he sought to address concerns surrounding a fee increase to £3,000. He wrote: "This is a tax on learning and is very unfair. Given grants have been abolished too, students face leaving college with debts of around £18,000. There is lots of evidence that it is fear of going into debt that most puts people from poorer background off going to university."

Getty

3/30 Sheffield Students' Union votes to sabotage National Student Survey

Move comes following the publication of the Government's White Paper which announced that a series of new measures would be introduced to improve teaching in universities which could result in higher tuition fees. SSU says it wants to find alternative ways for students to give feedback on their courses, without using the metrics, which could leave younger generations in "a lifetime of even more debt."

Lee Haywood/flickr/Creative Commons

4/30 Closure of Cambridge University student paper, The Cambridge Student, draws heavy criticism

Student Publication Association chair, Dan Seamarks, says: "This decision is appalling. The SPA stands with the #SaveTCS campaign. We are sorry their handwork, dedication, and passion for student media has been ignored." TCS staff had announced last month that CUSU sent an unexpected email informing the team its board of trustees had proposed a radical "reduction in resource allocation" for the paper in its 2016/17 budget which led to a hard-fought campaign to prevent the paper from moving online only.

The Cambridge Student/Issuu

5/30 Student's sexual assault experience gathers attention on Twitter after university 'failed to act'

The anonymous student - who says she is a first-year at Spelman College, part of the Atlanta University Centre (AUC) in the US - began the account under the handle @RapedAtSpelman, claiming the university failed to act when she raised the issue. College president, Mary Schmidt Campbell, pictured, reached out to the student on the social media site, urging her to reveal her identity to the president so she could offer her "full support and assistance."

Spelman College/Facebook

6/30 Thai medical school applicants caught cheating using super high-tech glasses and smartwatches

Echoing something out of a James Bond movie, three students at Rangsit University were caught wearing glasses with embedded cameras. The cameras were designed to take pictures of exam questions which were then allegedly sent to a third party. The students were also wearing smartwatches to which third parties sent the answers back to for the students to then cheat their way onto medical courses. The three have appeared at a police inquiry and have now been blacklisted in the country.

Arthit Ourairat/Facebook

7/30 Exeter University students' union first to vote to remain affiliated with NUS

From the 5,334 votes cast - around 30.8 per cent of the university's population - a total of 2,546 students voted to leave the NUS, while 2,690 voted to remain affiliated, a difference of just 144. The turnout at the SU - known as the Guild - has become one of the highest-ever in a single stand-alone vote at any SU, as well as the highest at the Guild itself.

University of Exeter Students' Guild/Facebook

8/30 Newcastle University Students' Union becomes second to disaffiliate from the NUS in a week

1,469 total votes had been cast in the referendum by Newcastle University students, with a majority of 67 per cent voting in favour of disaffiliation after the election of NUS National President Malia Bouattia. Dominic Fearon, NUSU president, said it was clear Newcastle students felt the NUS "no longer represents their views, does not prioritise correctly, and is not effective at achieving change."

Newcastle University Students' Union/Facebook

9/30 Exeter University's NUS referendum campaign hit with claims of 'harassment and intimidation'

Campaigners and students - including those from the disaffiliation group, Exiter - have taken to social media, alleging members of the Stay With NUS team have been "running door to door harassing students," amid other claims. The NUS said: "NUS has been instrumental in forming rules for union democracy, and we would expect all parties to abide by them."

University of Exeter Students' Guild/Facebook

10/30 Susu the cat voted honorary president of Southampton University Students' Union

Debating a motion prior to the decision, the union heard how the cat had lived in one of its buildings for more than a decade, and was already fulfilling an important duty by being detached from union politics. Susu will be declared honorary president in late May 2016.

@Susuthecat/Twitter

11/30 Lincoln University Students' Union becomes first to announce disaffiliation from the NUS

From the 1,734 students who took part in an institution-wide referendum, 881 voted for disaffiliation, while 804 voted against. The remainder were classified as spoilt votes. ULSU president, Hayley Jayne Wilkinson, described how, as a group of elected officers, they "no longer felt confident" the NUS represented the views of Lincoln students. Dozens of other students' unions are gearing up for their own referendums.

NUS

12/30 Newcastle University students offered £3 drug-testing kit

The handy kits - which are reportedly a world-first - have been designed to help students make informed choices when it comes to taking drugs, and are part of a new initiative called Test Your Drugs, Not Yourself.

Students for Sensible Drug Policy Newcastle

13/30 Oxford University 'rejects' call for Ntokozo Qwabe to have Rhodes Scholarship revoked

The petition had gathered over 42,000 signatures in just five days after the law student was criticised for boasting in a Facebook post that he, and his friends, had reduced a waitress to tears after refusing to tip her until white residents in South Africa "return the land" to black residents. An Oxford spokesman said: "Oxford is a place where non-violent speech, however objectionable, can be expressed and challenged."

Ntokozo Qwabe/Facebook

14/30 Chief Rabbi urges university vice-chancellors to address growing anti-Semitism problem

Rabbi Ephraim Mirvis has told The Sunday Times university heads should be "ashamed" that "Zionist-bashing" is happening on their campuses. He said to the site: "To vice-chancellors I would say: see what is happening under your noses, what is happening to the reputation of your universities."

Chris Radburn/PA Wire

15/30 'Largest student rent strike in British history' gathers momentum in London

Strikers at the University of Roehampton and the Courtauld Institute of Art have joined those from Goldsmiths and University College London (UCL) to bring the total number of protesters to more than 1,000 over the cost of accommodation prices they say are "soaring."

Goldsmiths, Cut the Rent/Facebook

16/30 UCL accused of cutting bursaries for low income students amid growing rent strike

A join investigation by UCL, Cut the Rent and UCL Union magazine, The Cheese Grater, has revealed that, for the 2016/17 academic year, the university has cut bursary amounts by between £500 and £1,000. The developments have come as over 600 UCL students are on strike and demanding lower rent in student accommodation.

UCL, Cut the Rent/Facebook

17/30 Spanish students to undertake compulsory course on exorcisms

The series of compulsory seminars are being taught at the University College of Barberán and Collán, which is part of the Complutense University of Madrid - one of the oldest institutions in the world - and is also said to be funded by Spain's Ministry of Defence. According to local media, the college's entire student body - all of whom are members of military families - will have to attend the theological conference centred on "the fields related to the devil, exorcisms, being possessed, and hell."

Getty

18/30 Students' concern over finances is affecting their mental health

A poll of just over 2,050 students from Future Finance has shown more than a third are worrying about their finances to such an extent that it is affecting their mental health. Other key findings have shown that, overall, 63% of students from across the UK are worrying about their finances all the time or very often, females are more likely to be affected, and 38% are considering work that could affect their wellbeing, including work in the sex industry.

Monkey Business Images/REX Shutterstock

19/30 Universities of Oxford and Cambridge 'failing poor students', says think tank report

According to Freedom of Information figures obtained by OxPolicy, despite 'flagging' students whose applications warrant special attention, Cambridge and Oxford universities are more likely to accept an 'unflagged' applicant.

Getty

20/30 Cambridge University faces growing pressure to divest from fossil fuel companies

The University of Cambridge has become the latest higher education institution to face growing pressure to withdraw its investments from fossil fuel companies following the launch of a student-led campaign. More than 100 staff, students, alumni, and others affiliated with the institution have signed an open letter saying, when it comes to the climate, Cambridge is making "the wrong kind of impact."

Cambridge Zero Carbon Society via Facebook

21/30 Cambridge University Students' Union confirms NUS disaffiliation referendum

In a debate which reportedly lasted four hours on 2 May, the majority of CUSU council members voted for holding a vote in two weeks' time. The move has come as students' unions from across the UK launch campaigns and confirm referendums on whether to break away from the NUS following the controversial election of new NUS National President, Malia Bouattia, who has faced allegations of anti-Semitism. Ms Bouattia has strongly denied the claims.

Getty

22/30 Oxford University Students' Union president says NUS disaffiliation would 'only do us harm'

Becky Howe's comments have come as students' unions from across the UK launch campaigns and confirm referendums on whether to break away from the NUS following the controversial election of new NUS National President, Malia Bouattia, who has faced allegations of anti-Semitism. Ms Bouattia has strongly denied the claims.

Alamy

23/30 University applicants are regretting the A-level subjects they took, new research shows

New research from Which? University has shown almost 30 per cent of university applicants wished they had chosen different A-level subjects, while just over 40 per cent wished they had thought more about what subjects might help them get into university.

Getty

24/30 Buckingham University named best in the UK for student satisfaction

According to the Complete University Guide, students have left the independent university "delighted" with the academic staff, saying they were "easily reachable, enthusiastic, and interesting." Surrey and Keele have also been placed second and third respectively, with Coventry and Liverpool Hope taking the fourth and fifth positions.

The University of Buckingham/Facebook

25/30 London Metropolitan and Bolton University have highest expected rate of student dropouts

According to the Complete University Guide (CUG), London Met has an average dropout rate of 29%, followed closely by Bolton with 28.9% of first-time undergraduates who are not expected to see out their studies over the coming academic year. London South Bank (26.9%), East London (26.6%), and Glyndŵr University in Wales (25.7%) have gone on to make up the rest of the top five.

Getty

26/30 Graduate debt in England higher than any other English-speaking country

University students in England are graduating with higher levels of debt than those in any other English-speaking country, a new report has revealed. According to the Sutton Trust, English students who graduated last year under the new £9,000 fees regime owed an average of £44,500 - higher than their American counterparts, and more than those in Canada, Australia, and New Zealand.

Getty

27/30 Student's graduation day pictures capture the harsh reality of debt after university

Maigan Kennedy, 27, from North Carolina in the US has been gathering attention online for her unique - yet somewhat accurate - vision of life after university by capturing the harsh reality of debt that students are leaving the American education system with. Taking to photo sharing site, Imgur, Ms Kennedy's pictures show her leaving university with a debt trophy, lying on the ground 'drowning' in overdue payment notices, as well as looking sad while holding a handwritten sign which reads: "Will run lines 4 food."

Areon Multimedia

28/30 NUS President Malia Bouattia says she will be 'branded an Isis sympathiser' as 'a Muslim woman in a position of power'

New president tells journalist Cathy Newman on C4 News: "It's no surprise that a Muslim woman elected into a national position will receive such extensive national attention, and quite racialised and sexist abuse over social media."

Channel 4 News

29/30 London and Cardiff Metropolitan named 'worst' universities for resolving student complaints

London Metropolitan University has been named the worst in England and Wales when it comes to resolving student complaints. Higher education guide, the Complete University Guide, has analysed the number of Completion of Procedure Letters issued when internal complaints processes at universities come to an end.

PA

30/30 Ucas head urges students to avoid 'hackneyed' phrases in personal statements

The head of Ucas has urged students applying for university to keep their personal statements 'personal' as the admission service reveals the most clichéd phrases used in applications. From the more than 700,000 people who applied for the 2015 cycle, almost 1,800 used the phrase: "From a young age, I have (always) been," followed by: "For as long as I can remember, I have…" which was written 1,450 times.

AFP/Getty Images
Richard Maudslay, chairman of the British Mexican Society, told The Independent: "These are not 'funny hats' in Mexico but are a part of national costume which are worn in several contexts, including traditional Mexican rodeos (charreria) and musicians (mariachis) and are sold to visitors from all over the world. 
"No Mexican we know would oppose these being given out by a restaurant trying to attract people to savour Mexican cuisine."
What do you think?