'Who is going to get offended? Speedy Gonzales?' This reaction from a student at the University of East Anglia (UEA) seems to sum up the general public feeling after its union banned a local Mexican restaurant from handing out free sombreros – for being 'racist'.
Given out at the Freshers' Fair by local Tex-Mex eatery Pedro's – which says it has been serving the people of Norwich for over 25 years – UEA students' union (SU) campaigns and democracy officer Chris Jarvis stood by the decision and insisted the SU wants all members to feel safe and accepted by ensuring there is no behaviour, language, or imagery which could be considered racist at all events.
He added: "At the fair, all our stallholders were sent a copy of our advertising policy prior to the event and were also given a physical copy of the policy on the day, so we're confident that all stallholders should have been aware of our restrictions on advertising in relation to equal opportunities and cultural appropriation.
"The company in question was Pedro's restaurant, and the stallholders stopped once asked and were amicable in ceasing."
The statement from the union went on to highlight a list of points it will not tolerate at any events, saying discrimination based on the following characteristics is not permitted:
Age
Colour
Disability
Ethnic Origin
Gender
HIV Status
Marital Status
Nationality
Political Beliefs
Religion or Belief
Race
Sexual Orientation
Spent or Irrelevant Criminal Convictions
Trade Union Membership
Sub-culture Identification
A spokesperson from Pedro's took to Facebook to reiterate it is a fun loving restaurant which is proud of its party atmosphere.
The statement added: "Our restaurant is decorated with items brought back by our founders from all over the world, including sombreros which have been part of our service for over 20 years.
"These are traditional dress and, as a Mexican restaurant, in no way are we disparaging Mexican culture, only celebrating it. We would never intend any negative message to be taken from our hats."
The comment provoked messages of support from the public, with some branding the move by the SU as 'ridiculous':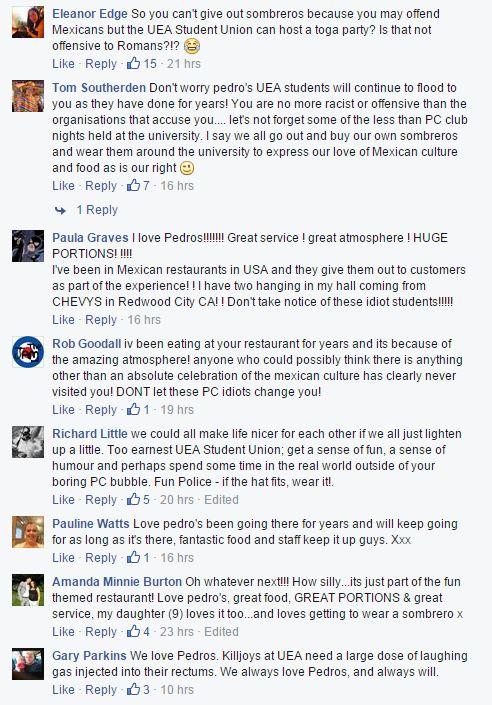 One user joked: "…maybe burger king will ban the paper crowns… don't wanna upset the monarchy." Another user even accused the SU of being guilty of cultural appropriation and said: "As a person, Norfolk born and bred, I object to the UEA appropriating my Norfolk culture by using the Norfolk phrase 'Du Different' as their motto."
Student news in pictures
Student news in pictures
1/19 Students turning to sex work to cope with rising tuition fees and living costs

More than half - 67 per cent - have turned to sex work to be able to pay for living expenses, such as food and bills, followed by 53 per cent who need the money to pay for rent, says NUS report. Another 35 per cent say their earnings are used to pay for university fees, while around a quarter use money earned to reduce post-graduation debt, or to avoid getting into debt.

Getty

2/19 Parliamentary debate finally triggered over Government's controversial decision to retrospectively change student loans terms

The news will come as a pleasant surprise seeing as how the Government had rejected a petition just over a week ago, despite it surpassing the crucial 100,000 signatures it needed to make it eligible for parliamentary debate. Consumer champion, Martin Lewis, says: "Parliament has sat up and listened. With a new Government coming in September, there is still time for it to do a U-turn on this disgraceful policy and I, for one, will be pushing as hard and loudly as possible for that to happen." The debate is set for Monday 18 July at 4.30pm.

Rob Stothard/Getty Images

3/19 Remain and Leave students have two main things in common when it comes to the Brexit result

A combined 91 per cent feel Brexit campaigners "insufficiently investigated" the impact on education, while 57 per cent think their university failed to provide adequate information on the impact of a Brexit vote. Chloe Burgess, director at GTI Media, said: "It's inevitable opinions would be divided among the student body, but they all share a common interest in playing an active part in their country's future. This political inclination will, no doubt, be further expressed in the coming months, as university and careers issues are increasingly brought to light post-Brexit."

Reuters

4/19 Thousands of graduates working in jobs that don't require any qualifications

Over 50,000 new graduates are in non-graduate jobs, including lollypop ladies, factory workers and hospital porters, new figures have revealed, leading experts to question the value of costly university degrees in the Brexit climate, employment data released by the Higher Education Statistics Agency shows.

Getty Images/Susan Chiang

5/19 Disadvantaged young people at risk of being put off university if Government raises tuition fees

Non-whites and those who receive free school meals are also more likely to choose low-cost university options if tuition fees are liable to change, says new report 'Does Cost Matter?' UCU general secretary, Sally Hunt, says: "We risk creating a polarised university system of haves and have-nots where costs determines young people's choices."

Ian Waldie/Getty Images

6/19 Worrying trend of 'drunkorexia' on the rise among female students

It had been thought that 'drunkorexia', the trend of skipping meals in order to save calories to drink alcohol, was anecdotal.However, the practice is very much a reality - and becoming worryingly popular among young women, particularly university students - as it is revealed almost 60 per cent of female undergrads admit to drunkorexic behaviours.

Justin Sullivan/Getty Images

7/19 University to offer out-of-work graduates half their tuition fees back in cash

The University of Law (ULaw) says its new '100% for You' initiative will also offer a half-price discount to its unemployed graduate lawyers should they wish to pursue a postgrad. Graduates must have been unable to secure full-time employment 9 months after graduation to qualify for the refund.

iStock

8/19 Gender discrimination present among students as young as 16, schoolgirls report

Over a third of girls aged 16 to 18 - 36 per cent - say they have witnessed gender discrimination in school. Startlingly, only one in five boys - or 19 per cent - believes a gender divide exists today. Michael Mercieca, chief executive of Young Enterprise, described how the gender divide "remains rife in our education system," from girls lacking the confidence to pursue leadership roles and to expect higher starting salaries, to the "pervasive belief" STEM topics are more interesting for boys.

Getty

9/19 Chinese students cautioned over fake universities when applying for higher education

China has exposed 30 fake higher education institutions as millions of high school students across the country prepare to apply for university. The country's state press agency, Xinhua, also confirmed that since 2013, 400 fake universities have been outed by education website sdaxue.com.

STR/AFP/Getty Images

10/19 Student accommodation specialist says higher education sector 'will prove resilient' post-Brexit

Empiric Student Property (ESP) shared its outlook on life outside of the EU as it continues to expand its portfolio in university cities and towns across the nation. ESP said: "EU students represent only six per cent of all full-time students in the UK, due primarily to the historical cap on the number of EU (including UK) students, as well the higher overall cost of studying in the UK (albeit subsidised) compared to continental Europe."

EPA

11/19 Government confirms funding for EU students in UK to be honoured after Brexit

The Student Loans Company said it has sought to reassure anxious students and applicants from home and abroad about how the EU referendum results might affect the funding of their courses. In a statement on Twitter, Universities Minister Jo Johnson said: "Current students and this autumn's applicants will continue to receive student finance for duration of their course. [The] UK welcomes EU students." The University of Buckingham, pictured, has the highest percentage of overseas students, a number of whom are from the EU.

The University of Buckingham/Facebook

12/19 York University student gets public apology and £1,000 payout after making anti-Semitism complaints

According to The Sunday Times, 21-year-old law student, Zachary Confino, "suffered stress and narrowly missed a first-class degree" following comments made to him over a period of two years. The comments reportedly included anonymous messages posted to him on social media app, Yik Yak, as well as face-to-face name-calling. University spokesperson says: "The university is committed to preserving the right to freedom of expression while also combating anti-Semitism, Islamophobia, and any other form of race hate."

Dick Davies

13/19 European Students' Union will 'stand together' with UK's young voters post-Brexit

Representing over 15 million students across the continent, ESU president says: "We hope the UK Government and the EU institutions will find a deal that won't jeopardize students in UK, and that UK universities won't increase tuition fees to compensate the loss of EU money."

Alex Rawlings

14/19 UK result would have been Remain had votes been allowed at 16

With 1.46 million 16 and 17-year-olds in the UK - and with that 82 per cent voting Remain - the number would have matched the 1.2 million difference between Out and In, potentially changing the result completely, The Student Room survey finds.

Alex Rawlings

15/19 Britain's students share mixed reaction to historic result

The British people have voted to leave the European Union in a narrow 52 per cent victory, and students at universities around the country have spoken to the Independent, expressing their hopes, fears, and grievances as of one of the most engaged and affected groups in society in this historic referendum. Angry Remain voter says: "I am devastated; our little island feels much smaller, my rights and future feels that much less secure, and, now - more than ever - I am less-inclined to give up my seat for an elderly person on a bus."

Reuters

16/19 Half of top UK graduate employers will cut recruitment in case of Brexit result

With firms expected to hire 5,500 graduates in 2016, research from PathMotion finds that, if the UK votes to leave, the sectors most at risk of downsizing are banking and finance, retail, media, technology, and law. The three main reasons cited for downsizing are the impact on the economy and, therefore, on the volume of business, general uncertainty, and a lower talent pool of EU graduates applying for jobs.

AFP/Getty Images

17/19 Access to social media sites more important to students than promotions and bonuses

Access to social media sites is so essential for students in their careers, they would also turn down gym memberships, subsidised lunches, company-provided smartphones, laptops, tablets and cars, and even healthcare and dental schemes, graduate careers app, Debut, finds.

Rex

18/19 Student homelessness in London is 'a hidden problem,' says academic

Patrick Mulrenan, senior lecturer in housing at London Metropolitan University (LMU), carried out research to find students across the capital are being forced to sleep on floors, stay with friends and relatives, or in council temporary accommodation. He said: We need to find out how many students are affected and encourage them to use the support that is available. We want to use this research to get the message out there that there is help available, and encourage students to tell us if they are homeless."

Getty

19/19 NUS group criticised for passing motion to abolish 'sexist and racist' prisons

Submitted by the University of Bradford Union of Students, the motion entitled 'Prisons are Obsolete! Abolish Them Now!' was passed at the NUS Black Students' Conference in Bradford and resolved to "call for the abolition of the prison-industrial complex."

Getty
Richard Maudslay, chairman of the British Mexican Society, told The Independent: "These are not 'funny hats' in Mexico but are a part of national costume which are worn in several contexts, including traditional Mexican rodeos (charreria) and musicians (mariachis) and are sold to visitors from all over the world. 
"No Mexican we know would oppose these being given out by a restaurant trying to attract people to savour Mexican cuisine."
What do you think?
Reuse content