If the movies about it are anything to go by, the city of Sheffield is a nuclear-war ravaged dystopia full of stripping former steel-workers.
Such is the legacy of Mick Jackson's Threads and Peter Cattaneo's The Full Monty, the two films most associated with the Steel City. Sheffield may not seem the obvious choice to host Britain's leading documentary film festival, but for six days in June Sheffield Doc/Fest welcomes the international documentary community to gather and watch the latest in non-fiction and factual entertainment from around the world.
This year, the festival welcomed the Grandfather of Rap, aka Lightnin' Rod  of The Last Poets (aka Jalal Mansur Nuriddin), to the premiere of Hustler's Convention – a documentary produced by Public Enemy's Chuck D which tells the story of the 1973 album of the same name.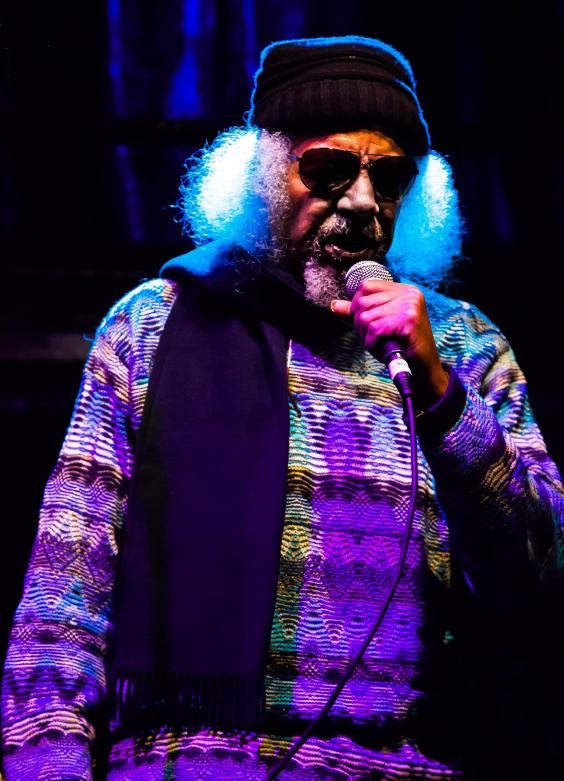 Sheffield also played host to the long-awaited reunion of Bill and Ted. Actor-turned-director Alex Winters' Deep Web explores the darkest corners of the internet, and reunites him with his Bill and Ted's Excellent Adventure co-star Keanu Reeves.
The festival has provided a platform for a host of popular documentaries in recent years, such as the acclaimed film about one of the city's most famous musical exports, Pulp: A Film About Life, Death and Supermarkets, and Searching for Sugar Man, which single-handedly led to a musical renaissance for its star, Rodriguez. 
This year's programme included sessions and masterclasses from documentary heavyweights like Joshua Oppenheimer, whose UK premiere of The Look of Silence kicked off this year's festival, as well as the pioneering MeetMarket, where budding film-makers can pitch their ideas to producers and commissioners.
Perhaps it shouldn't be surprising that Doc/Fest has found its home in Sheffield. The city has the largest theatre complex outside of London, one of Europe's biggest independent cinemas, and a lot of creative people.
The festival prides itself on supporting and nurturing new talent and its long-running partnership with Sheffield Hallam University sees students benefit from volunteering opportunities and free passes to the festival and associated fringe events.
With its excellent film, media, and journalism courses, Sheffield Hallam's student and alumni population play an active role in Doc/Fest, meaning it is well-placed to catch the freshest new talent from the University.
Workshops, screenings, networking and mentoring opportunities mean the festival is a launching pad for students and graduates looking for a way into the film industry.
Brian Tweedale, head of Sheffield Hallam's media arts and communication department, explains: "Through volunteering at Doc/Fest our students experience the excitement that the festival brings to the city and are given an unrivalled opportunity to gain valuable behind-the-scenes access, giving them the chance to mix with and learn from the most notable people working in documentaries today.
"Sheffield Doc/Fest is one of the highlights of the world's film calendar and it is tremendous for our students and staff to be so closely associated with it," he says.
And Sheffield Hallam's relationship with Doc/Fest runs deeper than just volunteering opportunities. Last year, former Doc/Fest director Heather Croall, the person responsible for increasing the festival's audience from 2,000 to 26,000, was awarded an honorary doctorate from the University in recognition of her outstanding contribution to the film industry and her commitment to providing opportunities for young filmmakers.
Since Heather left her role earlier this year, Mark Atkin has taken the reins and promises to continue to provide opportunities for young people to get involved.
Mark said: "In recent years Doc/Fest has seen more and more documentary fans engaging with the festival, many of whom have been student volunteers and film-makers from Sheffield Hallam University. It's fantastic that students have this opportunity to engage with and pitch their ideas to producers, directors and TV companies. Their tireless contributions have helped make the festival the success it is today.
"We often see volunteers return to the festival as delegates or invited as speakers once they become established in the industry, and that is particularly gratifying."
The film industry is a notoriously tough one to break into, but there have been many student success stories as a result of Doc/Fest. Nigel Fischer graduated from Sheffield Hallam with a degree and Masters in film studies in 2014, and he is now conference manager working as part of the team which helps ensure Doc/Fest is bigger and better each year.
He says: "For anyone trying to break into the film industry, Doc/Fest is a great place to volunteer. The fact that everyone is allowed to go to everything – films, sessions and parties – means staff and volunteers rub shoulders with the top names in the business."
Why learning how to make films is also about learning how to raise money
Forty years ago this year, Steven Spielberg's Jaws cost $9m to make.
Student filmmakers may not have that to play with but for aspiring Spielbergs, mastering the fine art of raising money is an important skill.
READ MORE
Reuse content