Every March, over 1.5 million high school and college students flock to America's leading Spring Break destinations, for a week of unabated and intoxicated excess. Located along Florida's pristine coastline, in the state's northwestern region, Panama City Beach is the archetypal playground for the young and carefree, in which their insatiable thirst for revelry is temporarily fulfilled.
The theory runs that these youthful partygoers enjoy this sudden liberated existence in direct response to the constraints of their sheltered and overprotected upbringings. However, it can mean that this outpouring of celebration leads to a more ominous sense of sexual tension and hyper-masculine competitiveness. The fun in the sun isn't quite as it seems; vice and debauchery are ubiquitous and there's an undercurrent of danger that keeps threatening to ruin the carpe diem attitude.
Florida's architects and tourism industry experts are thoroughly deserving of recognition for the way they've understood the appeal of all-inclusive resorts, which combine hotel, pool and beach in one contained area. As a result, the hotel's single-minded patrons never need to leave! Student revelers can concentrate all their time and effort on daytime and nighttime partying.
Guests are awoken every morning at 11 to the Lion King's "Circle of Life"; the time for hungover self-pity is superseded by a musical call to arms. A strong odor of marijuana indicates others' alternative remedy. The DJ, who plays until 4 am, then solidifies the respect of his groggy crowd by blasting out the American national anthem. Nothing like a strong dose of patriotism to cure one's sore head...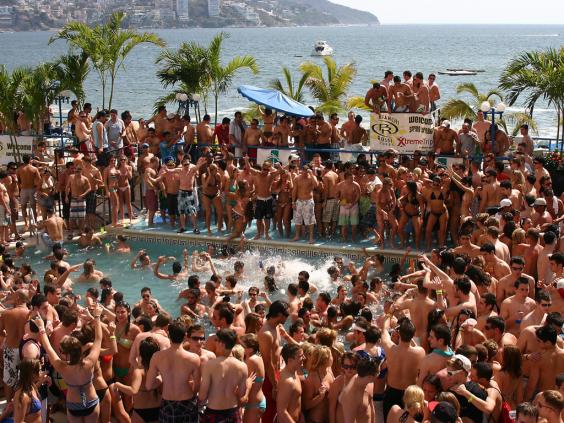 Throughout the day's hottest hours, springbreakers head to the beach, with their decorated plastic liquor drink containers and Bud Light-filled cold boxes in tow, in a race to the finish line of "blackout" drunk. Meanwhile on stage, an irritatingly enthusiastic army sergeant-like host coordinates a push up competition for comically egotistic young men. After that, their potential female suitors lock horns in a sexually charged twerking contest, in which commitment to the cause is unquestionable. For those with a preference for the pool, the area is a hive of activity all day and night, until post-club swimmers are eventually ushered to bed.
PCB's March-time beach demonstrates an intriguing microcosm of American Deep South society in which the interracial and inter-gender mingling isn't entirely harmonious. The tragic presence of a usually unspoken yet pernicious racism mars the extent to which African American students can consider themselves wholly integrated from a social perspective. This tension spills over on one day as black and white students square off against one another, shattering the day's beauty with an uncomfortable hostility in the aftermath.
Moreover, it is impossible to ignore the atmosphere of unsafe sex. The fine line between harmless, jovial flirting and aggressive, misogynistic objectification is often blurred. Sex is everywhere, and the young men who've yet to "score" feel the pressure from their peers, a formula with the potential to endanger female beachgoers. Girls themselves are not entirely blameless as their pursuit of "vacation romance" blurs their concern for their friends. We encountered one such unfortunate straggler who was dealt the severest of punishments for her night of passion, as the group's bus to Missouri departed without her.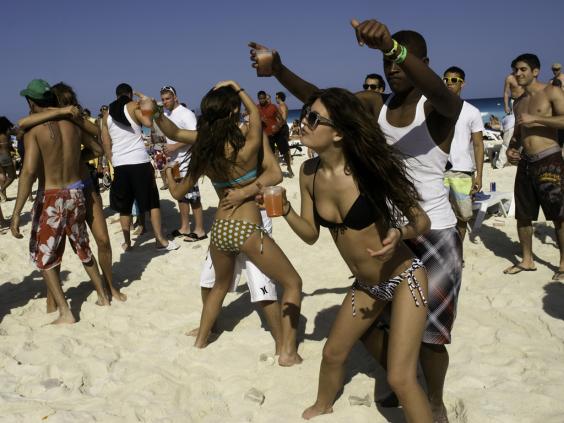 With an estimated $1 billion spent per year, Spring Break is indispensable to the American economy. Yet in 2014, police arrested 421 overzealous individuals in Panama City Beach alone. For those who can contain their excitement at their newfound liberty, the weeklong "break" provides unlimited opportunities for definitive, youthful fun. For those too irresponsible to maintain a degree of control and restraint, the potential for physical, emotional and financial disaster is all too real. And for anyone planning a Spring Break vacation in Florida, be prepared to forfeit some dignity on those golden sands.