Travel essentials
Why go now?
New Zealand's largest city is the gateway to a land of fine wine, Lord of the Rings scenery and those invincible All Blacks. But before heading off, set aside a couple of days to explore this sub-tropical, multi-cultural destination that one third of all Kiwis call home. Regularly rated as one of the world's most liveable cities, Auckland is blessed with beautiful beaches and a thriving dining scene, displayed at the Auckland Seafood Festival (29 Jan to 1 Feb; foodfestival.co.nz).
Touch down
Air New Zealand (0800 028 4149; airnewzealand.co.uk) has daily flights from Heathrow (via Los Angeles) from £994. Upgrade to the Economy Skycouch – a trio of seats with a fold-up section for space to relax – from £169 one-way. Other airlines offering one-stop routes include Malaysia Airlines (0871 423 9090; malaysiaairlines.com) via Kuala Lumpur, Air China (00 800 86 100 999; air-china.co.uk) via Beijing, Thai Airways (0844 561 0911; thaiairways.co.uk) via Bangkok, Cathay Pacific (020 8834 8888; cathaypacific.com) via Hong Kong and Singapore Airlines (0844 800 2380; singaporeair.com).
Auckland airport, 21km south of the centre, is connected via the SkyBus (skybus.co.nz) that leaves from outside the terminal every 10 to 30 minutes, 24 hours a day, and costs NZ$16 (£7) single, NZ$28 (£12) return to reach Queen Street (1) in 40 to 60 minutes, depending on traffic. A taxi costs around NZ$70 (£31) and takes 45 minutes.
Get your bearings
Auckland is centred on a volcanic isthmus in the north of North Island, framed by two harbours and surrounded by farmland. The Pacific to the east and Tasman Sea to the west are less than an hour's drive apart. The west coast has the Waitakere Ranges and surf beaches where The Piano was filmed.
Queen Street slices through the city centre from Karangahape Road (known as "K Road") to the ferry terminal (2), which is close to the tourist office (3) at 139 Quay Street (00 64 9365 9914; aucklandnz.com; weekdays 8.30am to 6pm, weekends 9am to 5pm). From the ferry terminal (2) you can take a 35-minute ferry (00 64 9 367 9111; fullers.co.nz; 5.35am to 11.45pm Monday to Friday; 6.15am to 11.45pm Saturday; 7am to 10.30pm Sunday) east through the Hauraki Gulf to Waiheke Island, a laid-back yet chic former hippie colony of white sand beaches, luxury holiday homes and vineyards. Tickets are NZ$36 (£16) return.
Check in
The most charismatic place to stay is Hotel DeBrett (4) at 2 High Street (00 64 9 925 9000; hoteldebrett.com). Its 25 individually designed rooms have stripy carpets, hand-printed throws and brightly coloured furniture. The Art Deco Housebar is a local favourite for cocktails. Doubles from NZ$290 (£129), room only, but including a pre-dinner drink.
The Heritage Auck-land (5) at 35 Hobson Street (00 64 9 379 8553; heritagehotels.co.nz) has a more corporate feel, but rooms are spacious and balconies overlook the harbour. Facilities include a rooftop pool and tennis courts. Doubles from NZ$259 (£115), room only. 
Budget travellers should check out Base Backpackers (6) at 229 Queen Street (00 64 9358 4877; stayatbase.com), where beds start from NZ$27 (£12). 
If you venture west, Lyons Rock B&B (7) at 83 Piha Road (00 64 21 744 283; lyonsrockbandb.co.nz) is a homely retreat at Piha Beach. Doubles from NZ$180 (£80), room only.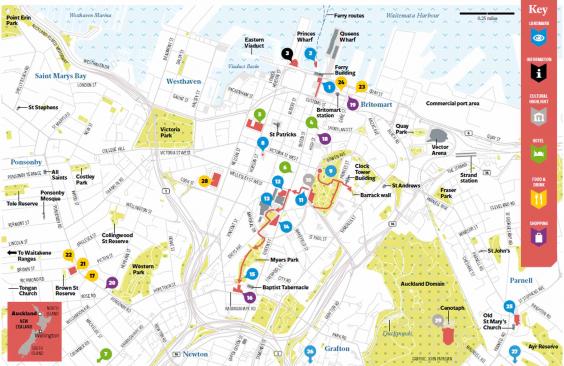 Day one
Take a view
Get a bird's-eye-view of Auckland from the southern hemisphere's tallest structure, the Sky Tower (8) at the corner of Victoria and Federal Streets (00 64 9363 6070; skycityauckland.co.nz). Open 8.30am to 10.30pm Sunday to Thursday; 8.30am to 11.30pm Friday and Saturday. Tickets cost NZ$28 (£12), but admission to the observation decks is free if you dine at The Sugar Club or the rotating Orbit restaurant at the top. 
Feeling adventurous? SkyWalk around the perimeter (00 64 9 368 1835; skywalk.co.nz) from NZ$145 (£64) or you can skyJump off the top (0064 9 368 1835; skyjump.co.nz; 10am to 6pm daily) from NZ$225 (£99). 
Take a hike
Start in Albert Park (9) at Princes Street, a Victorian garden bordering Auckland University's campus. In 1845 this was the site of a military barracks and an original fortification wall still exists on the campus. Facing the Art Deco University Clock Tower on the park's east side is a row of early merchants' houses, now housing commercial tenants and offices. Leave the park, passing the Auckland Art Gallery (10) at the corner of Kitchener and Wellesley Streets (00 64 9379 1349; aucklandart gallery.com) on your left, and you soon reach Khartoum Place (11), with tiling celebrating New Zealand women as the first in the world to win the vote. Turn left up Queen Street, passing the mighty Civic Theatre (12) on the corner, a fine survivor from cinema's Golden Age. Heading up Queen Street, you pass the civic heart of the city, Aotea Square (13) and Auckland Town Hall (14), on your right. Cross through Myers Park, looking out for the marble copy of Michelangelo's Moses (15), until you reach the second-hand boutiques of St Kevin's Arcade (16) on K Road.
Lunch on the run
The Street Food Collective (17) at 130 Ponsonby Road (00 64 2120 64503; thestreetfoodcollective .co.nz) is a new, permanent space for pop-up restaurants. The line-up includes The Food Truck, which serves healthy fast food, such as beef and beetroot burgers (NZ$12.50/£5.50). .
Window shopping
Queen Street is the main shopping drag, but you'll find the best shops on the High Street and Vulcan Lane behind it. The Vault (18) at 13 High Street (00 64 9377 7665; thevaultnz.com) sells jewellery. 
The area around the Britomart Transport Centre (19) at 8-10 Queen Street, is Auckland's latest fashion precinct, with plenty of Kiwi designers. For independent fashion, music and homeware shops, head to Ponsonby Road (20).
An aperitif
Ponsonby is home to Auckland's busiest restaurant-cafe-bar strip. New York-style bar Bedford Soda & Liquor (21) at 4 Brown Street (00 64 9378 7362; bedford sodaliquor.co.nz) is popular for after work drinks. Try the Jamaican Cobbler (NZ$13/£6), made with rum and tiki-spiced bitters, or the Scarlet Fizz.
Dine with the locals
Pan Asian restaurant Blue Breeze Inn (22), 146 Ponsonby Road (00 64 9360 0303; thebluebreezeinn.co.nz) is known for its rum cocktails and delicious pork buns.
Near the port, the Ostro Brasserie and Bar (23) at 52 Tyler Street (00 64 9302 9888; ostro.co.nz) once provided lodgings for incoming sailors. Try the line-caught kingfish steak.
For al fresco dining, Ortolana (24) at 31 Tyler Street (00 64 9368 9487; britomart.org) is a chic Italian bistro that focuses on garden-to-table dishes, such as organic chicken with kale.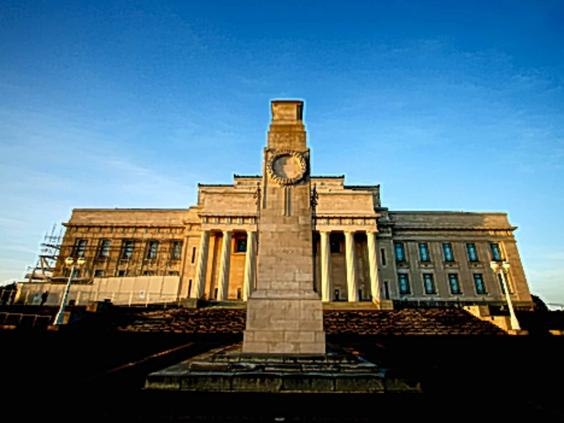 Day two
Sunday morning: go to church
Holy Trinity Cathedral (25) at the corner of St Stephens Avenue and Parnell Road (00 64 9303 9500; holy-trinity.org.nz; 10am to 4pm) is a mish-mash of architectural styles, with a neo-Gothic chancel and a nave constructed in the Nineties. Above the altar is a striking rose window by English artist Carl Edwards. Eucharist is at 8am and 10am.
Take a ride
Don some leathers and see the city from the back of a Harley Davidson (00 64 7863 6069; bularangi.com/motorcycle-tours). A driver collects you from your hotel and takes you on an exhilarating two-hour ride through the city, pointing out landmarks along the way, including the summits of volcanic mounds Mount Eden (26) and One Tree Hill (27) with its remnants of old earthworks. From NZ$295 (£131).
Out to brunch
In the funky new City Works Depot, Odettes Eatery (28) at 90 Wellesley Street (00 64 9309 0304; odettes.co.nz) serves traditional favourites with a sophisticated twist. Try Odettes Complete, which adds whipped feta to your eggs, bacon and avocado (NZ$25/£11).
Cultural afternoon
The Auckland Art Gallery (10) reopened in 2011 after a four-year expansion and now has a beautiful glass-and-wood entrance added to its French château-style exterior. Inside, highlights include a gallery of turn-of-the-century portraits of tattooed Maori leaders by Charles Goldie, and works by Cezanne, Matisse and contemporary Kiwi artists. Open daily, 10am to 5pm. Free entrance, but charges may apply to exhibitions.
The Auckland War Memorial Museum (29) at the Auckland Domain (00 64 93 09 0443, aucklandmuseum.com) houses the world's largest collection of Maori artefacts including a carved meeting house and striking feather cloaks. Open daily, 10am to 5pm, NZ$25 (£11).
Icing on the cake
The Waitakere Ranges are a 45-minute drive west of Auckland and it's worth exploring this epic rainforest if time allows. Book a private tour of the native bush and deserted black sand beaches with local guide Michael Haswell (00 64 9811 8002; tehuiatours.com), whose celebrity clients include Justin Timberlake. Prices from NZ$399 (£177) for a full day Whatipu Discovery Tour, including lunch and transfers to and from Auckland.
Discover your perfect holiday in Auckland with The Independent
Reuse content