Why go now?
Melbourne has long prided itself as Australia's arts capital. This year its premier arts showcase, the Melbourne Festival (5-23 October; festival.melbourne) welcomes a new (British) director, Jonathon Holloway, who has promised more public acts – such as Les Tambours De Feu by Catalan company Deabru Beltzak, which will see dancers with pyrotechnics and drums traverse Melbourne laneways.
Spring in Melbourne is also synonymous with horse racing, which culminates in the Melbourne Cup Festival (29 October-5 November; flemington.com.au), so pack your fascinator. 
Get your bearings
The Central Business District (CBD) lies at the heart of the city, on the Yarra River's north bank. The Melbourne Visitor Centre (1) is here, at Federation Square, on the corner of Swanston and Flinders streets (00 61 3 9658 9658; visitmelbourne.com; 9am-6pm daily). 
Melbourne is often called Australia's "Garden City" thanks to its parks, some of which run either side of St Kilda Road, south of the river. St Kilda itself is a hip district located along the beach that lines Port Phillip Bay. The edgy eastern suburbs of Fitzroy, Richmond and Collingwood, and the more upscale southeastern suburbs of South Yarra and Prahan, meanwhile, offer plenty of shops, restaurants and cafés.
£1 is currently worth AU$1.70; US$1 is worth AU$1.30
Day one
Take a hike
Start at the visitor centre (1). Cross Flinders Street and take the second left into Hosier Lane (2), Melbourne's most celebrated lane for street art. Double back towards the city centre along Flinders Lane, mentally noting dinner options along this restaurant-lined street.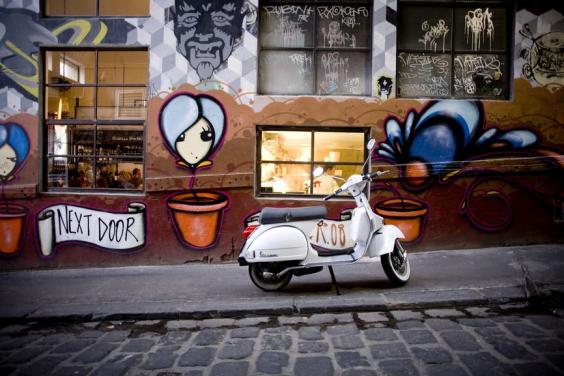 Turn right at Elizabeth Street, and pop into the beautiful Block Arcade (3) on the corner of Collins Street. Designed in the style of Galleria Vittorio Emanuele in Milan, this stunning shopping arcade was the place to be seen in 19th-century Melbourne. 
Continue up Elizabeth Street, making a right into the retail haven of Bourke Street Mall (4). Turn left at Swanston Street, admiring the State Library of Victoria (5) with its iconic octagonal dome at the corner of La Trobe Street. Opposite the Library sits the Old Melbourne Gaol (6) where infamous Australian bushranger, Ned Kelly, was hanged in 1880.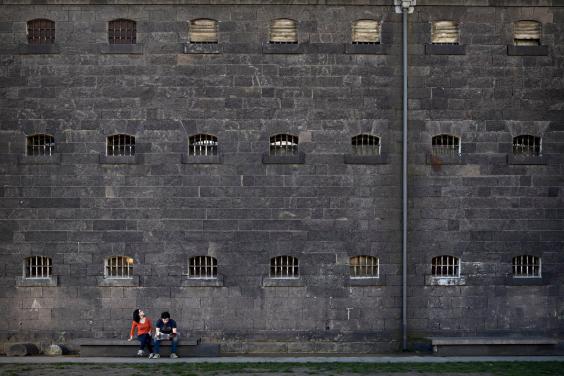 Heading west along La Trobe Street, turn right on Elizabeth Street until you reach the century-old Queen Victoria Market (7), the largest open-air market in the Southern Hemisphere. 
Lunch on the run
Pick up some soft cheeses and cured meats in the Queen Victoria Market's deli hall (7) for a picnic on the go. If you'd rather sit down, tuck into modern Australian comfort food (think chicken and sweet corn soup in a dashi broth) – and perhaps a glass of natural wine – at new all-day laneway café Sun Moth Canteen & Bar (8) at 28 Niagara Lane (00 61 3 9602 4554; sunmoth.com.au). Open 12-11pm on Saturday, and from 8am weekdays.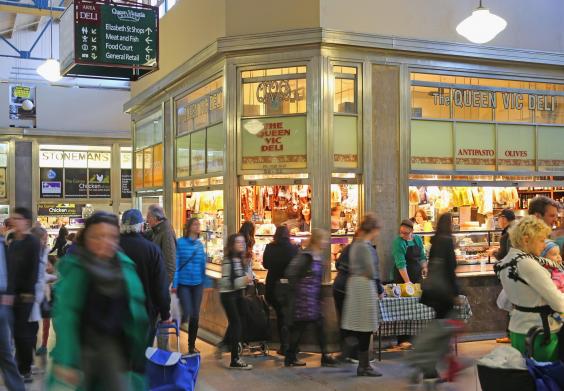 Window shopping
While known for its fashion, Melbourne is also a great place to shop for accessories. Head to Flinders Lane to coo over the Aladdin's cave of designer fashion accessories at Christine (9) at No 181 (00 61 3 9654 2011; christineaccessories.com.au; open 10am-5pm Monday to Saturday, closed Sunday).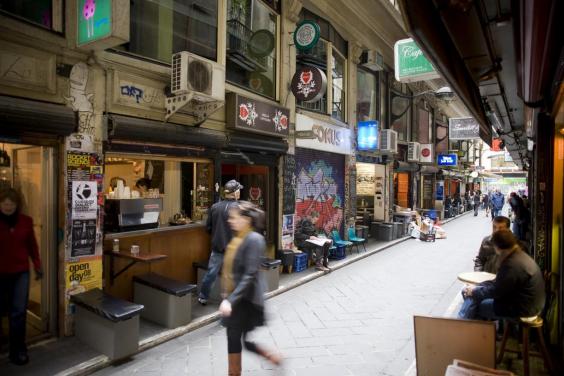 Alternatively, take the lift to level five of Mitchell House at the corner of Lonsdale and Elizabeth Streets to peruse the wares of Lord Coconut (10) (00 61 3 450 015 263; lordcoconut.com), arguably Australia's best contemporary jewellery retailer for men. Open 11am-6pm Monday to Friday, and 12pm-4pm Saturday, closed Sunday. 
A walk in the park
Just east of the CBD, the centrepiece of Fitzroy Gardens (11) is a 1930s conservatory featuring five floral displays each year. Open 9am-5pm daily (until 5.30pm during daylight savings), entry is free. 
If you really need to stretch your legs, hit the trails that that weave through the 31 living plant collections at the Royal Botanic Gardens Melbourne (12) (open 7.30am until sunset daily; rbg.vic.gov.au).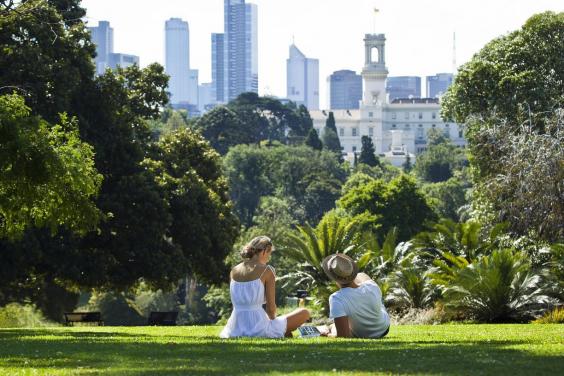 An aperitif
Spring in Melbourne signals rooftop boozing, with plenty of options to choose from – enjoy a carafe of sangria on the AstroTurf at Rooftop Bar (13) atop Curtin House, 252 Swanston Street (open noon-1am daily), or sip a locally brewed Mountain Goat beer in a train carriage perched on a Collingwood rooftop at Easeys (14), 48 Easey Street (easeys.com.au). Open 11am-10pm Sunday to Thursday, to 11pm Friday and Saturday.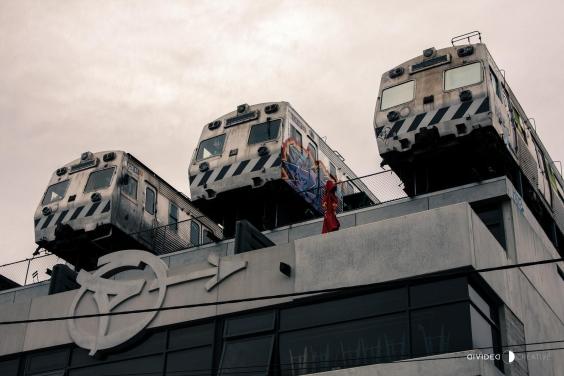 After dark, crowds disperse into hip laneway bars like Eau de Vie (15) at 1 Malthouse Lane (eaudevie.com.au/melbourne) for cocktails with serious flair (order the espresso martini here to see what I mean). Open 4pm-1am Friday and Saturday; hours vary on other days. 
Dine with the locals
Step back into mid-century Melbourne by pulling up a stool at Pellegrini's Espresso Bar (16) at 66 Bourke St (00 61 3 9662 1885; open daily 8am-11.30pm), a Melbourne institution that has barely changed since opening in 1954. There's no printed menu – simply tell counter staff how you like your home-style Italian pasta and it'll be served up in a flash, accompanied by a buttered roll. Wash it down with a homemade watermelon granita or an espresso.
Day two
Out to brunch
Melbourne's restaurants are key to the city's reputation as one of the world's most sustainable cities. In Richmond, just one train stop from Flinders Street Station, Feast of Merit (17) at 117 Swan Street (00 61 3 9428 8480; feastofmerit.com) pumps its profits into initiatives that improve the lives of people living in poverty, which makes its Middle Eastern-style crumpets with vanilla and cinnamon labneh, pear puree, and pistachio praline (AU$13.50/£8) taste that much better.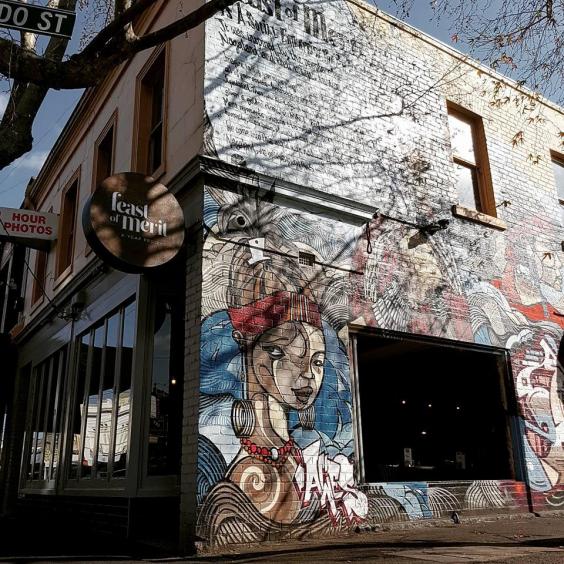 Take a ride
Riding Melbourne's excellent tram network in the CBD is free, but you'll need to purchase a Myki card (AU$6; ptv.vic.gov.au) for journeys into the suburbs (a two-hour pass for trips in zones 1-2 costs UA$3.90/£2.30). Jump on number 12, 16, 96 or 3a to St Kilda (about 25 minutes travel time) for a stroll along the foreshore Bay Trail (18) and a beetroot latte at Matcha Mylkbar (19) at 72A Acland St (00 61 3 9534 1111; matchamylkbar.com), a vegan cafe at the forefront of Melbourne's "rainbow coffee" trend. Open 7.30am-4pm daily.
Cultural afternoon
The National Gallery of Victoria (00 61 3 8620 2222; ngv.vic.gov.au) is split across two venues; peruse works by indigenous and other Australian greats at The Ian Potter Centre: NGV Australia (20) at Federation Square before heading across the river to ogle the extensive collections of the NGV International (21) at 180 St Kilda Rd. Both galleries are open daily from10am-5pm, with free general entry.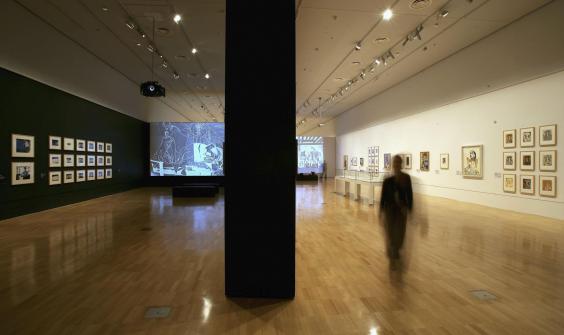 At the other end of the city, Melbourne Museum (22) (00 61 3 8341 7777; museumvictoria.com.au) offers a window into Australia's natural and cultural history. It's located in Carlton Gardens, just north of the CBD, behind the resplendent Royal Exhibition Building (23). The museum is open 10am to 5pm daily; entry is AU$14. 
The icing on the cake
You can expect high-calibre coffee across Melbourne, but for a guaranteed good drop, try Dukes Coffee Roasters (24) at 247 Flinders Lane (00 61 3 9417 5578; dukescoffee.com.au; open 9am-5pm Saturday, and from 7am-4.30pm Friday), or Brother Baba Budan (25) at 359 Little Bourke Street (sevenseeds.com.au; open 7am-5pm Monday to Saturday, and from 9am Sunday).
Travel essentials
Getting there
Melbourne Airport (26) is served by various one-stop flights from the UK, including British Airways (ba.com) with its partner, Cathay Pacific; Qantas (qantas.com) with its partner, Emirates, and Qatar Airways (qatarairways.com).
The SkyBus (skybus.com.au) runs from the airport to Southern Cross Station (27) in the CBD every 10 minutes, 24/7. Tickets for the 40-minute journey cost AU$19 one-way. Taxis costs around AU$50-60. 
Staying there
The brand new QT Melbourne (28) at 133 Russell Street (00 61 3 8636 8800; qthotelsandresorts.com/melbourne) plays up to its location at the French fashion-influenced "Paris end" of Collins Street with trademark QT quirkiness – bold art, a lobby patisserie and interactive elevators that call out to guests. Its industrial-style rooms start at AU$280, room only.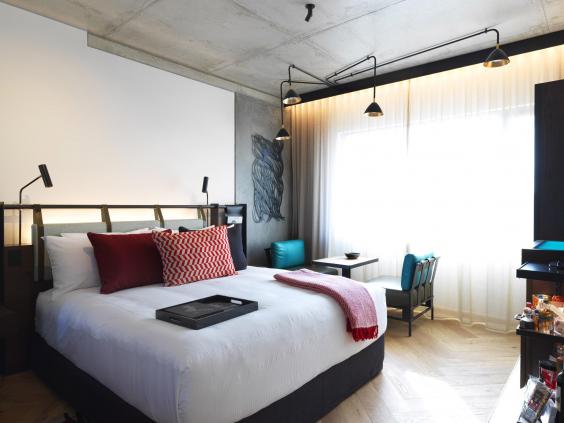 More affordable boutique hotels are scattered throughout Melbourne's suburbs. In seaside St Kilda, the 39 uniquely furnished rooms tucked behind the Art Deco façade of The Prince (29) at 2 Acland Street (00 61 3 9536 1111; theprince.com.au), start at AU$170 without breakfast. 
Cheaper still is the Space Hotel (30) at 380 Russell Street (00 61 3 9662 3888; spacehotel.com.au). Private rooms at this "flashpacker" favourite are a steal given its central location: AU$82 (not including breakfast). Bonus facilities include a rooftop deck, gym, home cinema and a kitchen for self-catering.
Reuse content