Travel essentials
Why go now?
This year marks the 250th anniversary of the formation of the Sons of Liberty. Who? Exactly – this secret society founded in Boston in 1765 brought together dissidents including Paul Revere, John Hancock and Benedict Arnold (probably) to foment the discontent that sparked the revolution a decade later. So, it's an auspicious year to discover Boston's history, those insurrectionary stirrings being commemorated by exhibitions and events across the city this year.
Touch down
The only non-stop flights from the UK to Boston are from Heathrow, on Virgin Atlantic (0844 209 7310; virgin-atlantic.com), its partner Delta (020 7660 0767; delta.com) and British Airways (0870 850 9 850; ba.com).
Lower fares are likely to be available via Iceland. Wow Air (0118 321 8384; wowair.co.uk) starts flights from Gatwick via Reykjavik on 30 March, with a £356 return fare for the weekend of 10 April, while Icelandair (020 7874 1000; icelandair.co.uk) has up to three flights a day with connections from across the UK.
Logan airport is just three miles east of downtown Boston, with a free bus link on Silver Line route SL1 (massport.com). It runs frequently from every terminal to South Station (1) in 20 to 30 minutes. Returning, the journey costs $2.50 (£1.70). A taxi will cost at least $25 (£17) and takes 20 minutes.
Get your bearings
Pick up maps from the Boston Common Visitor Center (2) at 139 Tremont Street (001 617 635 4505; bostonusa.com). To the north rise the genteel 19th-century townhouses of Beacon Hill, beyond which flows the Charles River, separating Boston from Charlestown and, to the west, Cambridge, home of Harvard University.
The bulk of the historic sites sit east and north-east of the Common, including the Italian-dominated North End district. South is the Theatre District, while the stylish shops of Newbury Street, in Back Bay to the west, lead to Fenway Park (3), home of the legendary Boston Red Sox baseball team.
While Boston is eminently walkable, America's first subway system – known as the "T" – is the backbone of the city's public transport. Most of the colour-coded lines use proper underground trains, while the Green Line has streetcars (trams) that run below the surface for some of their journey.
The standard fare on the T and buses is $2.50 (£1.70).
An alternative is the Hubway, Boston's rent-a-bike-here-leave-it-there system. You pay $6 (£4) for 24 hours' access (or $12/£8 for three days) at any of 100 stations spread across the city and its surrounding area; rentals of 30 minutes or less incur no additional charge (thehubway.com).
Check in
The Revere Hotel (4) at 200 Stuart Street (001 617 482 1800; reverehotel.com) is a sleek, contemporary option near Boston Common and the Visitor Center (2). Doubles start at $286 (£191), room only.
The Boxer (5), in a 1904 flat-iron building near North Station at 107 Merrimac Street (001 617 624 0202; theboxerboston.com), has the muted tones and calm of the best boutique hotels. Its Finch Restaurant teams New England classics with cocktails. Doubles from $227 (£151) room only.
There's a dearth of budget accommodation in central Boston; consider the large, recently refurbed HI Hostel (6) at 19 Stuart Street (001 617 536 9455; hiusa.org), where private en-suite doubles/twins cost from $140 (£93) including breakfast.
Click here to see a bigger image of the map
Day one
Take a view
The Skywalk Observatory on the 50th floor of the Prudential Center (7) at 800 Boylston Street (001 617 859 0648; skywalkboston.com; $17/£11) provides 360-degree vistas. Top of the Hub, the bar-restaurant on the 52nd floor (001 617 536 1775; topofthehub.net), offers an alternative place to drink in the views.
Take a hike
It would be perverse not to walk the Freedom Trail (thefreedomtrail.org), a 2.5-mile route marked by red bricks embedded in pavements. Starting at Boston Common (2) – the US's oldest public park, established in 1634 – strike north to the golden-domed, 1798 Massachusetts State House (8) (001 617 727 3676; sec.state.ma.us/trs); call ahead to book a free guided tour (Monday to Friday 10am to 3.30pm).
The trail leads east to a succession of historic gems. Pick of the bunch are the Granary Burial Ground (9) (001 617 635 4505; 10am to 5pm daily), where Samuel Adams, John Hancock and Paul Revere are interred; the fascinating Old State House museum (10) at 206 Washington Street (001 617 720 1713; revolutionaryboston.org; 9am to 5pm daily; entry $10/£7), where the Declaration of Independence was read in 1776; and Paul Revere House (11) at 19 North Square (001 617 523 2338; paulreverehouse.org; 9.30am to 5.15pm 15 April to 31 October, to 4.15pm November to 14 April; entry $3.50/£2.35) dating from 1680 and reflecting 17th- and 18th-century life .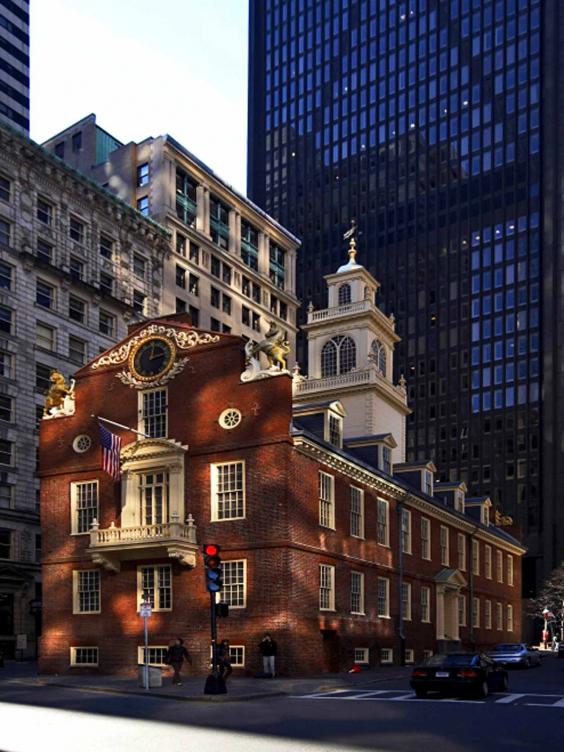 Lunch on the run
Queues snake out of the door of Galleria Umberto (12) at 289 Hanover Street (001 617 227 5709), a place dishing up slices of exceptional Sicilian pizza for $1.65 (£1.10). Cross to Mike's Pastry (13) at 300 Hanover Street (001 617 742 3050; mikespastry.com) to join locals munching the dozen-plus flavours of ricotta-stuffed cannoli, from $3.50 (£2.35).
Window shopping
Riffle the style spectrum of Newbury Street: luxury brands at the east end, independents to the west. The International Poster Gallery (14) at 205 Newbury (001 617 375 0076; internationalposter.com) is a trove of vintage prints, from 1920s luggage labels to collectible travel posters.
An aperitif
Chi-chi or Cheers? For the former, sleek slammer Alibi (15), in the former Charles Street Jail at 215 Charles Street (001 857 241 1144; alibiboston.com), serves prison-themed cocktails – try Jail Bait, a blueberry mojito for $14 (£9). The Beantown Pub (16) at 100 Tremont St (001 617 426 0111; beantownpub.com) claims to be the only place where you can sup a pint of Sam Adams beer ($6.50/£4.50) and admire the headstone of ... Samuel Adams.
Dining with the locals
Bostonians ensure substandard places don't last long in the North End, Boston's Little Italy. Panza (17) at 326 Hanover Street (001 617 557 9248; panzarestaurant.com) is a low-key favourite where signature chicken Panza is $16 (£10). There's more authentic Italian at Antico Forno (18) at 93 Salem Street (001 617 723 6733; anticofornoboston.com); a Napoletana pizza is $12.50 (£8.50).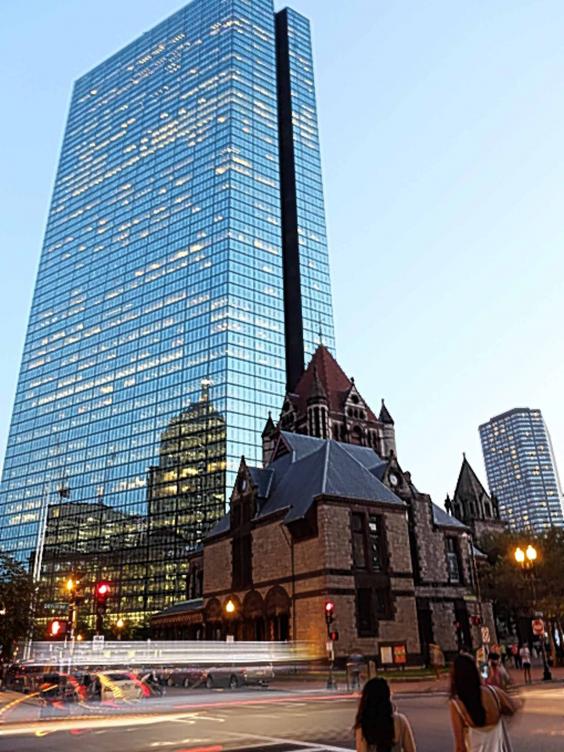 Day two
Sunday morning: go to church
Completed in 1877, Trinity Church (19) on Copley Square, 206 Clarendon Street (001 617 536 0944; trinitychurchboston.org), is recognised by the American Institute of Architects as one of the country's 10 most significant buildings. Join a guided tour for $7 (£4.70).
Out to brunch
Trident Booksellers & Café (20) at 338 Newbury Street (001 617 267 8688; trident bookscafe.com) has been dishing up books and brunch for three decades. Omelettes start at $8.50 (£5.90).
A walk in the park
The Esplanade fringes the Charles River for some three miles and is perfect for ambling among cyclists and joggers and statues.
Take a ride
Boston Duck Tours (001 617 267 3825; bostonducktours.com) go past the main historic sites before splashing into the Charles to view the skyline from the river. Departing from the Prudential Center (7) and the Museum of Science (21), it costs $35.99 (£24).
Cultural afternoon
The Museum of Fine Arts (22) at 465 Huntington Avenue (001 617 267 9300; mfa.org), has a vast collection from the Americas, plus European greats. It's open 10am to 4.45pm, Saturday to Tuesday, 10am to 9.45pm, Wednesday to Friday; entry $25 (£17).
In contrast, the nearby Isabella Stewart Gardner Museum (23) at 25 Evans Way (001 617 566 1401; gardnermuseum.org) is both intimate and opulent, an early-20th-century palace built to house a collection of art and artefacts. It's open 11am to 5pm, Wednesday to Monday, (to 9pm Thursday); admission $15 (£10) – free if you're named Isabella, or it's your birthday.
The icing on the cake
Baseball provides unique insights into the Boston psyche. If you can't bag a ticket for a game at Fenway Park (3) at 4 Yawkey Way (001 617 226 6000; boston.redsox.mlb.com) in advance, try the Scalp Free Zone at Gate C, where fans buy and sell tickets at face value.
Reuse content