Travel essentials
Why go now?
The weather might be chilly, but the Hungarian capital is warming up with some of its most interesting events. The annual Farsang carnival continues until 10 February with balls and parades held across the city, closely followed by food festivals celebrating the mangalica (the native curly-haired pig) and the Budapest Fish Festival honouring the popular halaszle (fish soup).
Touch down
Several airlines fly to Budapest from the UK. I travelled with British Airways (0844 493 0787; ba.com), which flies daily from Heathrow. Norwegian (0330 828 0856; Norwegian.com) and easyJet (0843 104 5000; easyjet.com) operate from Gatwick, while Wizz Air (0907 292 0102; wizzair.com) flies from Birmingham, Glasgow, Liverpool and Luton. Ryanair (0871 246 0000; ryanair.com) flies from Bristol, Manchester and Stansted.
Flights arrive at Ferenc Liszt airport, named after the much-loved composer who died in 1886, located 22km south-east of the city centre. Public bus 200E will take you from outside the terminal to Kobanya-Kispest metro station, where you can hop on the M3 line. Buses depart roughly every 8-20 minutes between 4.15am and 12.20am: the total journey time to the central Deak Ferenc ter station (1) is about an hour. Purchase a one-way "transfer ticket", valid for one hour, from the machine outside for 530 forints (£1). Alternatively, take a taxi for around 7,500Ft/£18.
Get your bearings
Located on a sweeping bend of the Danube River, Budapest was born in 1873 with the union of Buda on the west bank and Pest on the east. The two districts were first linked in 1849 by the iconic Szechenyi Chain Bridge. Long before that, however, the area was occupied by the Turks, who stayed for more than 150 years from 1526.
Today, Buda and Pest retain their individual personalities: the former is atmospheric and medieval, while the latter is modern and bohemian, with long boulevards, ring roads and interesting neighbourhoods. Together, they form an irresistible whole, a city that delivers for those seeking history and culture.
The main tourist information office (2) is at Suto utca 2 (00 36 1 438 8080; budapestinfo.hu; open 8am to 8pm daily). A 48-hour Budapest card, providing free public transport and discounts for museums, costs 7,900Ft (£19).
Check in
Housed in a former palace, the Four Seasons hotel (3) at Szechenyi Istvan 5-6 (00 36 1 268 6000; fourseasons.com) has all the luxury you'd expect – comfy rooms, attentive service and a fancy restaurant – but it's the river views that are really worth shouting about. Doubles from 80,612Ft (£196), room only.
Across the water in Pest is the riverside Art'otel (4) at Bem Rakpart 16-19 (00 36 1 487 9487; artotels.com) with 166 contemporary rooms decorated with art by the American painter Donald Sultan. It's a short stroll to the Szechenyi Chain Bridge. B&B doubles start at 45,000Ft (£107).
The Maverick City Lodge (5) at Kazinczy utca 24-26 (00 36 1 700 4598; mavericklodges.com) is cheap and cheerful. Located in the heart of the lively Jewish Quarter, its rooms are small but stylish, with a minimalist feel and cityscape photography. Double rooms from 12,650Ft (£30), room only.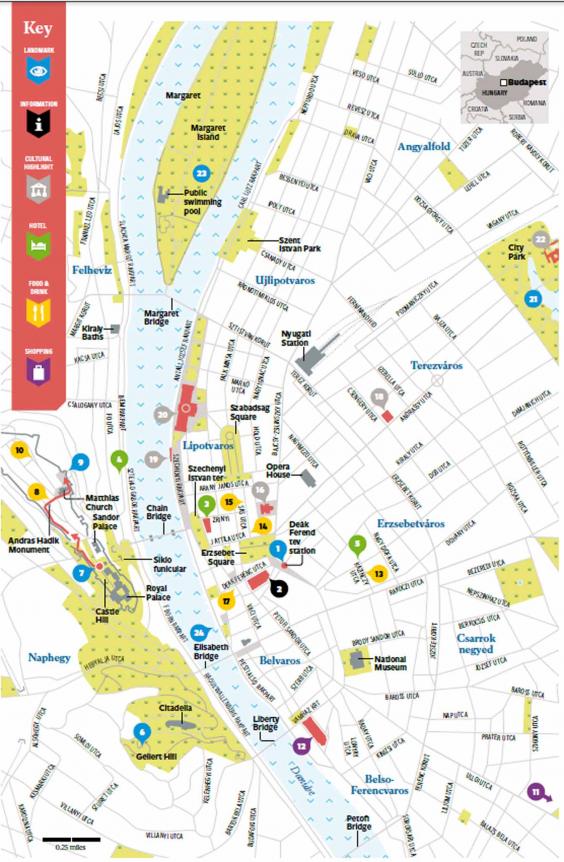 Day one
Take a view
Gellert Hill (6) stands 235m above the city and offers an unrivalled vantage point of the Danube, the Buda Hills, Pest and the distant mountain ranges. Take a look at the old walls of the citadel, built in the 1800s, as well as the Liberty statue.
Take a hike
Head to nearby Castle Hill, the medieval hilltop district that was once the seat of Hungarian royalty. It is a charming enclave with galleries, design stores, canary yellow houses and a network of underground caves and cellars.
Start at Szent Gyorgy (7), a small square between the Royal Palace and Sandor Palace, the official residence of the president. From here, stroll west along the sunken excavations of the original foundations before veering left along Toth Arpad Setany. Follow this pedestrianised, tree-lined avenue before turning right on to Szentharomsag utca.
Pause briefly at the statue of nobleman Andras Hadik on horseback before ducking into Ruszwurm (8). Dating from 1826, it's a cosy café serving homemade dobostorta (550Ft/£1), a layered sponge cake of chocolate and caramel. Continue straight towards Matthias Church and Fisherman's Bastion (9), a popular lookout where fishermen once sold their catch.
Lunch on the run
Enjoy a bowl of Hungarian fish soup (2,180Ft/£5) at Pest-Buda (10) at Fortuna utca 3 (00 36 1 225 0377; pestbudabistro.hu; noon to 10.30pm daily), a bistro housed in a former inn.
Window shopping
The best market is Ecseri Piac (11) at Nagykorosi utca 156 (open 6am to 3pm Saturdays, to 1pm Sundays), one of the largest flea markets in Europe. It's a little way out but well worth the effort.
Closer to the centre is the 1897 Central Market Hall (12) at Vamhaz korut 1-3 (6am to 6pm Monday to Saturday). It's packed with Hungarian delicacies, from Tokaji wine to paprika sausages.
An aperitif
Szimpla Kert (13) at Kazinczy utca 14 (00 36 20 261 8669; szimpla.hu; noon to 4am daily) is the most famous of the city's "ruin bars" (drinking dens in abandoned buildings). It's a bustling spot with graffiti covered walls and bizarre knick-knacks. Order a pint of Kazinczy (550Ft/£1), a craft beer that's brewed locally.
Novel cocktails can be found at Kollazs Bar (3), part of the Four Seasons hotel (11am to 1am). The Viktoria's Secret (2,900Ft/£7) – a sweet tipple of gin, cherry brandy and blueberry marmalade – is served in a teacup.
Dine with the locals
Book a table at swanky Aszu (14) at Sas utca 4 (00 36 1 328 0360; aszurestaurant.com; noon to midnight daily), where classic dishes are given a modern makeover. There's goulash soup, too. Mains from 3,900Ft (£9).
Down the road at No 17 is Café Kor (15) (00 36 6 1 311 0053; 10am to 10pm Monday to Saturday), a relaxed restaurant with an extensive list of specials including homemade soups, hearty Hungarian mains and stodgy puddings. The chicken fillet with parsley potatoes and peach compote (2,290Ft/£5.50) comes recommended.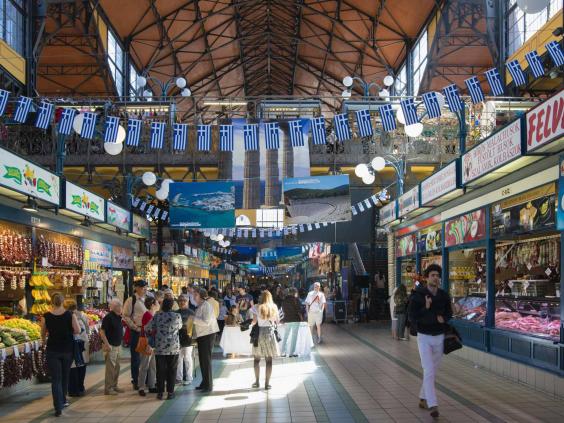 Day two
Sunday morning: go to church
Half a century in the making and decked out in red marble, the basilica of St Stephen's (16) at Szent Istvan ter 1 (00 36 1 311 0839; open 9am to 5pm daily; free) is named after the first king of Hungary. His mummified right hand can be seen in the Holy Right Chapel (open 10am to 4pm Monday to Saturday; 1pm to 4.30pm Sunday).
Out to brunch
Tuck into a traditional Hungarian breakfast (1,650 Ft/£4) of mangalica sausage, cottage cheese, boiled eggs and ratatouille amid the Art Deco splendour of Szamos (17) at Vaci utca 1 (00 36 30 565 5971; szamosmarcipan.hu; 10am to 9pm daily).
Cultural afternoon
Delve into the darkest chapter of Budapest's history at the House of Terror (18) at Andrassy utca 60 (00 36 1 374 2600; terrorhaza.hu; 10am to 6pm Tuesday to Sunday; 2,000Ft/£5), which looks at Hungary's role in the Second World War. Then, head to the riverside for a look at Shoes on the Danube (19), a sobering memorial to murdered Jews.
Lighten the mood with a visit to the Hungarian Parliament building (20) at Kossuth ter 1-3 (00 36 1 441 4000; parliament.hu; 8am to 4pm daily; tours 2,000Ft/£5). Its greatest treasure is the Holy Crown of Hungary worn by more than 50 kings.
A walk in the park
At City Park (21), Kos Karoly utca (open 24 hours), you'll find an ice rink that's a boating lake in warmer months, as well as Vajdahunyad Castle and the most celebrated of Budapest's thermal baths, the neo-Baroque Szechenyi Thermal Bath (22) at Allatkerti krt 9-11 (00 36 30 462 8236; szechenyibath.com; 6am to 7pm daily; from 4,900Ft/£12) has 18 indoor and outdoor pools heated to 38C.
Take a ride
Meander along the Danube and visit Margaret Island (23), the city's Central Park. Legenda cruises (00 36 1 317 2203; legenda.hu) cost from 3,900Ft (£9.40) and depart from dock No 7 (24).
Click here to view Hungarian tours and holidays, with Independent Holidays.