Travel essentials
Why go now?
Detroit's balmy evenings are ideal for strolling on riverside paths and sitting on brew pub decks. That is, after you've visited the landmark exhibition, "Diego Rivera and Frida Kahlo in Detroit", at the Detroit Institute of Arts (1), which explores the year the artist couple spent here in the Thirties.
The city has been decaying for decades, but is now in the early stages of an exciting renaissance. "Detroit is finally coming back" is the constant refrain from upwardly mobile young people who cycle around Motor City and frequent its new bars, cafés and designer shops.
And this week, Virgin Atlantic (0344 209 7777; virgin-atlantic.com) introduces a daily, year-round Heathrow-Detroit flight, in an expanded partnership with Delta.
Touch down
Detroit is one of the main hubs for Delta (0871 22 11 222; delta.com) which, along with Virgin, flies here non-stop from Heathrow.
As a city dedicated to the motor car, public transport is lamentable. Bus No 125 (smartbus.org; $2/£1.35 fare) connects the airport to downtown, but it's infrequent, and makes 125 stops en route. A new shuttle van operated by Skoot (001 855 937 5668; rideskoot.com) charges $23pp (£15). It departs every 30 to 45 minutes but it's best to reserve ahead. McNamara Ground Transportation Center can advise about taxis (around $60/£40 to downtown) and car hire.
From their hub at the sail-roofed Rosa Parks Transit Center (2), city buses (detroitmi.gov/ddot) serve major thoroughfares like Woodward (No 53) and Michigan Avenue (No 37). The basic fare is $1.50 (£1). Construction of the new M-1 Rail streetcar along Woodward Avenue is due to finish in late 2016.
Get your bearings
This city's glory is its setting on the mighty River Detroit that separates the US from Canada. Downtown is roughly encompassed by the People Mover, a driverless overhead train that does three-mile city loops every four minutes ($0.75/50p).
The main thoroughfare is Woodward Avenue, which goes north to the museum district and increasingly gentrified Midtown. The old Corktown neighbourhood, west of downtown, and the vibrant Eastern Market (3) are accessible by bike, bus or on foot.
The tourist office (4) on the 10th floor at 211 W Fort Street (001 313 202 1800; visitdetroit.com; 9am to 5pm weekdays, closed weekends) is a convention bureau but it will give you a Visit Detroit guide and a good map.
Check in
The Inn on Ferry Street (5) at 84 E Ferry Street (001 313 871 6000; innonferrystreet.com) occupies several Victorian mansions in leafy residential Midtown. Rooms are comfortable and elegant, and the buffet breakfast is generous. A free shuttle runs within a five-mile radius. Double rooms from $169 (£111), B&B.
Westin Book Cadillac (6), downtown at 1114 Washington Boulevard (001 313 442 1600; bookcadillacwestin.com), has revived one of Detroit's landmark 1920s skyscrapers. The standard rate for a double, without breakfast, is $270 (£178) though third-party websites can show rates under $150 (£100). Rooms on higher floors have good views and less noise.
Through Airbnb (airbnb.co.uk/rooms/2938617) you can stay in the guest room of a lovingly renovated 19th-century mansion at 82 Alfred Street (7), which featured in Jim Jarmusch's 2013 film Only Lovers Left Alive. Double from £97, without breakfast.
Click here to see a bigger image of the map
Day one
Take a ride
The flat terrain and riverfront bike path make cycling easy and fun. Wheelhouse Detroit (8) at 1340 Atwater Street (001 313 656 2453; wheelhousedetroit.com; 10am to 8pm Monday to Saturday, 11am to 5pm Sunday) rents bikes for $15 (£10) for two hours (half price Tuesday and Thursday) or $25 (£17) for a half-day.
Whizzing east along the riverfront for 15 minutes brings you to MacArthur Bridge, which crosses over to Belle Isle (9) (belleisleconservancy.org), an island park where you can visit the Anna Scripps Whitcomb Conservatory (10am to 5pm, Wednesday to Sunday) and the Beaux Arts aquarium (weekends 10am to 4pm), both free of charge.
Alternatively take the Dequindre Cut Greenway, a mile-long, sunken disused railway, exuberantly decorated with graffiti that emerges near the Eastern Market (3).
Lunch on the run
In down-to-earth Detroit, two hotdog diners (10) on West Lafayette Boulevard command a passionate local following. Despite its name, Coney Island Dog is a Michigan institution and you must pop into either the American at No 114 (open 24 hours) or the pleasingly grungy Lafayette at No 118 (8am to 4am) to spend a couple of dollars on a sausage in a bun heaped with mustard, chilli sauce and onions. At the Lafayette, the sole waiter balances multiple dishes up his arm – pure theatre.
Window shopping
An ardent campaign has been successfully waged to revive the Eastern Market (3). Every Saturday (6am to 4pm), its four blocks hum with local farmers, artisan food producers and quirky craftspeople (easternmarket.com). Free samples and lively conversation are part of the experience. Look for the man at the Crème Détroipolis stall selling delicacies made from sweet potato.
A cluster of idiosyncratic shops on West Canfield Street, in the bohemian Cass Corridor area of Midtown, includes Shinola at 441 (11) (001 313 285 2390; shinola.com; open daily 10am to 7pm Monday to Friday, to 6pm Saturday and 5pm Sunday). Here, both the workshop and display room have beautifully hand-made bicycles, watches and leather goods.
For unusual table linen and retro curiosities visit Nest at No 460 (001 313 831 9776; nestdetroit .com; 11am to 7pm Monday to Saturday, noon to 5pm Sunday), while City Bird next door (same opening hours; 001 313 831 9146; ilovecitybird.com) sells gifts and stationery including Moleskine notebooks costing $11 (£7.50).
An aperitif
Join the hipsters at the stylish circular bar in the tasting room of the first distillery to operate in Detroit after Prohibition. Skilled bartenders at Two James (12), 2445 Michigan Avenue, Corktown, create seasonal cocktails with vodka, gin, whisky and bourbon distilled onsite (001 313 964 4800; twojames.com; 1pm to 1am Friday and Saturday, to 8pm Sunday, 11pm or midnight Tuesday to Thursday, closed Monday).
Dining with the locals
The throngs of diners at Wright & Company (13) at 1500 Woodward Avenue prove that downtown Detroit is on the rise (001 313 962 7711; wrightdetroit.com; 4pm to midnight Monday to Wednesday, 4pm to 2am Thursday to Saturday, closed Sunday).
Looking at the heritage building you'd never guess that on the second floor a local chef serves sharing plates of smoked rabbit rillette, Sriracha chicken skewers and raw Brussels sprout salad, costing $8-$10 (£5-£6.50) each. The no-reservation policy means a wait at weekends – that's best done at the long vintage bar.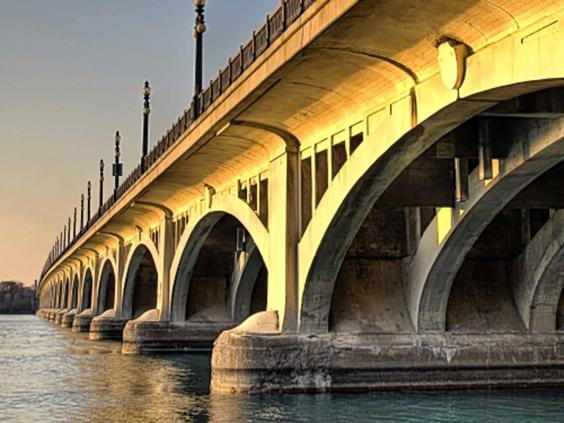 Day two
Sunday morning: go to church
With an azure sea scene, lighthouse in stained glass, carved anchor motifs and its window in the form of a ship's compass, there's no mistaking the theme of the Mariners' Church (14) at 170 Jefferson Avenue (001 313 259 2206; marinerschurchofdetroit.org). It is sited at the tunnel to Canada – apt considering it was once a stop on the Underground Railroad for fleeing slaves. Though independent, the church follows the Anglican liturgy and is celebrated for its organ and choral music which can be heard at the 11am service.
Out to brunch
The Hudson Café (15) at 1241 Woodward Ave; 001 313 237 1000; hudson-cafe.com; 8am to 4pm weekends) takes its name from the Downtown store that dominated this block. The café serves dishes such as French toast with warm maple syrup, voodoo eggs benedict, corn cake with chorizo, cheese and a piquant sauce, each for less than $10 (£6.50). Be warned, waits can be long.
Take a hike
An easy stroll through Downtown shows the wonders of Detroit's architecture in its heyday. The Art Deco Penobscot Building (16) at 645 Griswold Street, adorned with native American motifs, presides over Campus Martius, a central piazza where people come to relax and eat from food trucks. The Guardian Building (17) at 500 Griswold Street stands out with its astonishing colours and geometry, inside and out. Continue south across Hart Plaza to the Gateway to Freedom (18), a riverside statue of fugitive slaves looking across to Canada.
Cultural afternoon
At the end of last year, the treasure house that is the Detroit Institute of Arts (1) at 5200 Woodward Avenue (001 313 833 7900; dia.org) was saved from being sold off by the bankrupt city council. Among a splendid collection on permanent display is the courtyard covered with Diego Rivera's frescos, Detroit Industry, which was painted in the Depression and features heroic workers and icons of capitalism (10am to 7pm weekends, closed Monday; 9am to 4pm Tuesday and Wednesday, 9am to 10pm Thursday and Friday; $8/£5).
Icing on the cake
Join the army of baseball fans at Comerica Park (19) for an essential Detroit experience. Tickets for Tigers games are always available and start at $12 (£8). Don't worry if you don't know your short stops from your pinch hitters, enjoy the beer, nuts, and fireworks.
Reuse content