In the Mwani language, Gorongosa means "place of danger" and it was with some trepidation that I ventured back there last month. Five years ago, I'd described the best-known of Mozambique's seven national parks as being on the cusp of something wonderful, coming back to life after years of devastation as a result of the country's civil war. Now, driving through the gates, I was apprehensive that the scars of another conflict might have fractured a fragile revival.
Gorongosa's story is a classic narrative of rise, fall and redemption. It was once one of Africa's most sophisticated safari destinations. Bit-part actors in its real-life drama included Hollywood A-listers such as John Wayne and Joan Crawford, who along with expatriates and rich Rhodesians, frequented the glamorous Chitengo camp in the park's 1960s heyday. Huge herds of elephant, buffalo, antelopes and wildebeest stole the show while up to 500 lions prowled the flood plains.
Forty years ago this week, Mozambique celebrated its independence from Portugal. But the party was short-lived: by 1977, Frelimo, the government forces, and Rhodesian-backed rebels, Renamo, had taken centre stage at Gorongosa, the unwitting epicentre of an unrelenting 16 years of internecine strife during which the wildlife was decimated through poaching for food and ivory. Peace in 1992 brought commercial hunters, helping themselves to what little remained.
A staggering 90 per cent of animals had been killed; the park was ruined, eerie and empty. It seemed its story was over. But in 2004, American philanthropist Greg Carr arrived on the scene and four years later, the Gorongosa Restoration Project was formed, involving a multimillion dollar commitment from Carr, to manage the park jointly over 20 years with the Mozambican government.
When I visited in 2010, Gorongosa's story made a profound impression on me – the positivity and passion of the people who lived and worked there, the wildlife becoming braver and bolder by the day and the serene beauty of the landscape as it shifted from waterfalls to lakes, gorges, plains and fever tree forests. Gorongosa got under my skin.
Much has happened in those intervening years, not all of it positive. In 2013, renewed tensions developed between Renamo and Frelimo. Renamo's armed forces moved on to Mount Gorongosa, which comes under the park's auspices but lies 100km away. Violent clashes ensued, and the Foreign & Commonwealth Office advised against travelling to the province. Following peaceful elections in October, won by Frelimo with new leader Filipe Nyusi, the FCO lifted its advisory in March. It was safe to go back.
"Gorongosa is a land of endless surprises," Carr told me on my return. He was right. Chitengo, now managed by the Portuguese company Girassol, has been attractively revamped with comfortable bungalows and a new bar and restaurant. My first night felt like a party, with a lavish barbecue, local dancers and the chatter of tourists, scientists and researchers.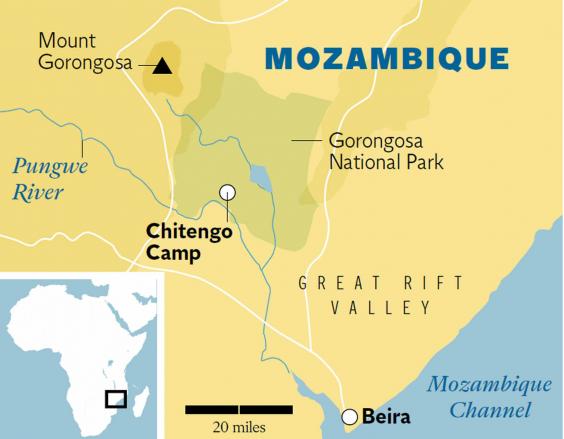 The throng was hardly surprising. In 2011, Edward O Wilson, one of the world's leading biologists, described Gorongosa as "ecologically, the most diverse park in the world". In his honour, the Edward O Wilson Biodiversity Laboratory opened last year near Chitengo Camp to catalogue the thousands of species found there; lecture halls, laboratories, a veterinary clinic and a palaeontology centre are planned. "Our vision is for this field station to be the best in the world," Marc Stalmans, the director of scientific services, revealed.
Joyce Poole, one of the world's leading authorities on elephants, was there too, studying Gorongosa's herds against the background of their gruesome history. "These circumstances place a distinctive stamp on the behaviour, traditions, and culture of an elephant population," she told me, adding: "My husband and I are drawn to Gorongosa's restoration. We feel so inspired … it's an honour to be part of this team." Lion research is also breaking new ground, focusing on restoring the lion population long term, rather than reintroducing them. "That's not often done in Africa," scientist Paola Bouley explained.
But it's not all about science. "There's so much history and romance here," Mike Marchington, the park's operations director, told me. "The love people have for Gorongosa is incredible."
Those sentiments were easy to understand as I rediscovered the park on wildlife drives. In 2010, you worked hard to see the animals. Not any more. I was blown away by the abundance of antelopes: last year's aerial survey counted more than 70,000 herbivores in the park and Gorongosa now has the largest population of waterbuck in Africa's protected areas. It seemed every time we turned a corner, there they were, strong with distinctive white rings on their backsides.
Lions eluded us but elephants sauntered around the waterholes and flood plains. It's a strange irony that the park in which elephants were virtually wiped out is now their safest refuge in Mozambique: "Out of 500 elephants, we had two killed by poachers last year," Pedro Muagura, director of conservation said. "That's two too many."
With 400 staff, 97 per cent of which are local and with an emphasis on training women, Gorongosa's recovery is about people as well as wildlife.
The park features in two films, the 2010 Africa's Lost Eden and 2012's War Elephants as well as a new National Geographic documentary series, Africa's Wild Kingdom Reborn, which premieres in October. It was also a model for future conservation in David Attenborough's BBC series, Africa.
I asked Carr how he felt when he watched the final episode. Characteristically humble, he explains: "There's a lot of hard work. Sometimes you have to take these moments of encouragement and motivation and say 'it's worth it, you know ...'." For much of Mozambique's 40 years of independence, the park has been immersed in conflict, but it has emerged ever more resilient and inspiring. Now at peace again, Gorongosa is growing stronger and more beautiful by the day.
Getting there
Sue Watt travelled with Cedarberg Africa (020 8898 8533; cedarberg-travel.com) which offers a 10-day tour of Mozambique at Terraco das Quitandas on the Ilha de Mocambique, Nuarro Beach Lodge on the Baixo do Pinda Peninsula, and three nights at Girassol Chitengo in Gorongosa from £2,900, including flights, a week's B&B and three nights' full board.
More information
British passport holders require a visa. A single-entry visa is available from the Mozambique High Commission in London (020 7383 3800; mozambiquehighcommission.org.uk; £40).
Mozambique Tourism Board: visitmozambique.net
Gorongosa National Park: gorongosa.org
Bradt Mozambique, by Philip Briggs is £16.99 (bradtguides.com).
Reuse content