If you close your eyes and imagine New York, what comes to mind is a picture of dazzling towers lighting up a night sky, with thousands of reflecting windows stretching for miles across a skyline of endless rooftops.
Below the glittering surface, however, New York is a crowded, busy place, as millions of people strive to live and work in this large, complex city. But there is another side to the city that many people long for and cherish; a quieter, more reflective side that is treasured but rarely celebrated. These quieter corners of the city don't shout for attention, and won't be advertised on the huge neon hoardings in Times Square. So where are these tranquil places that are often hidden away and only discovered through word of mouth?
THE MUSEUM
The Cloisters
99 Margaret Corbin Drive, Washington Heights (001 212 923 3700; bit.ly/cloistersNYC).
ADMISSION: $25 (£16.70).
OPEN: March-October, daily 10am-5.15pm; November-February, daily 10am-4.45pm.
SUBWAY: A to 190th Street.
The northern outpost of the Metropolitan Museum of Art, this extraordinary museum is made up of 12th- to 15th-century European abbey cloisters which were brought to New York over 75 years ago. The building itself is imposing - positioned on top of a wooded hill overlooking the Hudson River, it can be seen from miles around.
With over 20,000 sculptures and medieval treasures, it's worth taking time to wander slowly through the stone passageways and cool castle-like rooms. Some of the highlights of the museum are the late 15th-century tapestries showing a damsel luring a unicorn in a hunt for the mythical animal. Outside, the planting in the cloistered gardens follows advice given in the herbals from medieval French monasteries; the gardens are very peaceful places to sketch the angelica, forget-me-nots and borage flowers.
THE LIBRARY
New York Society Library
53 East 79th Street (001 212 288 6900; nysoclib.org).
ADMISSION: free for reference library; members only for reading room ($175/£117 for six months).
OPEN: Monday, Wednesday, Friday, Saturday, 9am-5pm; Tuesday, Thursday, 9am-7pm; Sunday 1-5pm.
SUBWAY: 6 to 77th Street.
Founded in 1754, the New York Society Library is the oldest in New York and it has a long tradition of organising talks and literary debates, as well as being a very comfortable place to read or study. This classical Italianate Edwardian building is located in the Upper East Side. Once inside, it's as if you have been transported back in time a hundred years - although the library catalogue can now be accessed online. Recently acquired first editions and rare books are shown in glass display cases at the top of the stairs, turning the landing into a museum-like exhibition space. The collection is particularly strong in literature, biography, history and books about New York. In addition to the 300,000 volumes available for loan, the members' room also subscribes to over 100 journals and literary magazines.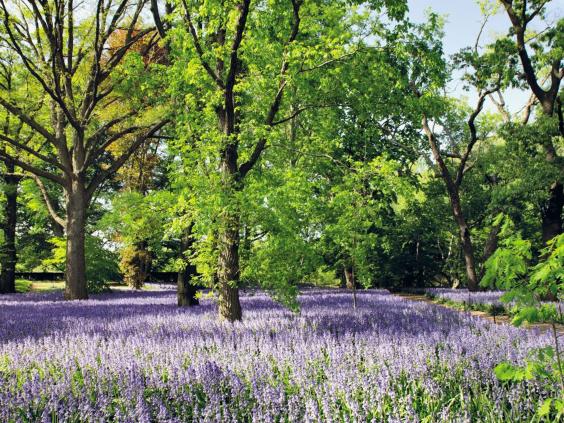 THE PARK
Brooklyn Botanic Garden
990 Washington Avenue, Brooklyn (001 718 623 7200; bbg.org).
ADMISSION: free on Tuesdays and Saturdays 10am-noon, and weekdays from November-February. Otherwise, $10 (£6.70).
OPEN: March-October, Tuesday-Friday, 8am-6pm, weekends 10am-6pm; November-February, Tuesday-Friday, 8am-4.30pm, weekends 10am-4.30pm; closed Mondays.
SUBWAY: 2 to Eastern Parkway/Brooklyn Museum; 4, 5 to Franklin Avenue; B to Prospect Park.
Brooklyn Botanic Garden is an incredible place with 52 acres of plants and flowers. Begin your visit by walking through the surprisingly wild and untamed Native American Garden. At the end of April, sit under the trees in the cherry esplanade, surrounded by a glorious display of pink blossom. Then in mid-May wander down to the bluebell wood, where the ground is totally covered in pale blue-mauve, bell-shaped flowers lit by dappled sunlight. End your day sitting by the tranquil lake in the exquisite Japanese Garden, watching the slowly moving fish in the still water.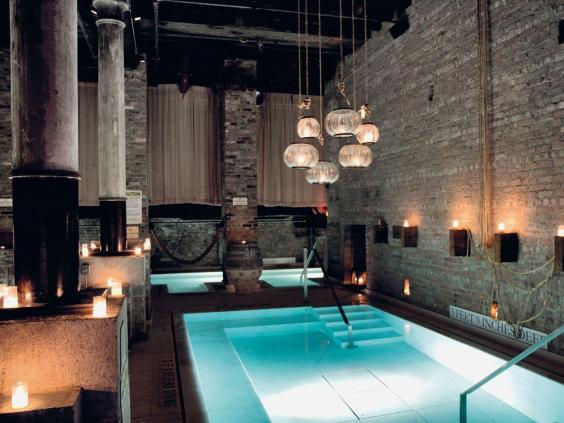 THE RETREAT
Aire Ancient Baths
88 Franklin Street (001 212 274 3777; ancientbathsny.com).
ADMISSION: free; thermal bath from $75 (£50).
OPEN: daily, 9am-11pm.
SUBWAY: C, Q, R to Canal Street.
Modelled on the remains of ancient Roman baths, this beautiful spa is a wonderful place to relax. From the high-ceilinged lobby with stone water troughs and hanging iron birdcages to the dramatic stonewalled interior lit only by candlelight, it's a real treat to spend time here alone or with friends. The blissful experience begins with an invigorating massage, then immerse yourself in the Jacuzzi bath and let the energetic bubbles ease your tired muscles. After a languorous dip in a warm pool, let yourself gently drift in the flotarium, where the rich mix of Epsom salts suspend your body in a delicious caress. This is the most beautiful way to surrender to the idyllic sensation of doing nothing at all. At 8.30am on Thursdays the day starts with a complimentary yoga class and if you prefer your music to be live, flamenco is also played on Tuesday and Friday evenings.
THE SHOP
Olde Good Things
124 West 24th Street (001 212 989 8401; oldegoodthings.com).
OPEN: daily, 10am-6.30pm.
SUBWAY: 1, M to 23rd Street; R to 28th Street.
Even if you arrive here with a particular object in mind, you're sure to come across something different that you didn't expect to see in this capacious, eclectic store. The owner seems adept at finding items that would enhance any SoHo loft, from marble mantels and crystal chandeliers to a working harmonium or a flashing street sign with red and blue light bulbs. Olde Goode Things sometimes plays background music and sometimes doesn't, so it's a bit hit and miss whether or not music will be playing during your visit. Every item for sale has its own story and the sociable owner enjoys telling people about the unusual objects in his always surprising emporium.
THE RESTAURANT
New Leaf Restaurant in Fort Tryon Park
1 Margaret Corbin Drive (001 212 568 5323; newleafrestaurant.com).
OPEN: Tuesday-Friday, midday-3.30pm; weekends, 11am-3.30pm; Tuesday-Thursday, 6-9pm; Friday, Saturday, 6-10pm; Sunday, 5.30-9pm. Two courses around $37 (£25) pp without wine.
SUBWAY: A to 190th Street; 1 to 191st Street.
Like most restaurants in New York, New Leaf plays background music, but the outdoor setting is idyllic. In warmer weather, sit at one of the tables surrounded by trees and large-leaved hostas. Order a delicious Cobb salad with blue cheese followed by ricotta ravioli and a slice of Hudson Valley apple tart. The woodland setting is quite entrancing, especially surrounded by the most delightful ambient sounds you'll hear in the city - birdsong.
THE CAFE
Fanelli Cafe
94 Prince Street (001 212 226 9412).
OPEN: Sunday-Thursday, 10am-1.30am; Friday-Saturday, 10am-4am. Dishes around $12 (£8).
SUBWAY: N, R to Prince Street; 1 to Houston Street; D to Broadway/Lafayette Street.
People seem to be drawn to Fanelli Cafe wherever in the world they're from. Whether New Yorkers come here for the bison burgers, salmon with mash, or the Brooklyn Brewery beers, you'll just have to ask fellow drinkers after a pint or two. The café has been here since the mid-19th century and the interior is split into two parts - a long bar on the corner of Prince Street and a smaller dining area with red-and-white chequered tablecloths at the rear. Despite having a television set on the wall, the sound is turned off so all you'll hear at Fanelli is lively conversation and food and drinks being served. This is a good place to find traditional New York dishes served by friendly, hospitable locals.
THE GALLERY
The Drawing Center
35 Wooster Street (001 212 219 2166; drawingcenter.org).
ADMISSION: $5 (£3.30); free Thursdays, 6-8pm.
OPEN: Wednesday and weekends, midday-6pm; Thursday, midday-8pm; closed Monday-Tuesday.
SUBWAY: 1, 2, 6, A, C, E, J, N, Q, R to Canal Street.
The Drawing Center is located on Wooster Street, one of the most interesting streets in New York for art and innovative theatre. This former industrial building has been beautifully converted into two impressive exhibition spaces and a small film viewing area. This is the only non-profit centre in the US to focus exclusively on drawing, with both historical and contemporary work shown. As well as professional artists, student work is often premiered here, as the centre runs the Drawing Connections programme in Lower Manhattan public schools. As well as renowned American architects and artists, such as Louis Kahn and Leon Golub, previous shows have included international painters such as Constant from The Netherlands and a solo show of work by Italian artist Giosetta Fioroni.
THE ESCAPE
Roosevelt Island Tramway
Entrance at East 59th/2nd Avenue on the Manhattan side and at Tramway Plaza on Roosevelt Island (001 212 308 6608; rioc.com/transportation.htm).
ADMISSION: $2.50 (£1.70) with an MTA MetroCard.
OPEN: Sunday-Thursday, 6am-2am; Friday, Saturday, 6am-3.30am.
SUBWAY: 4 to 59th Street; Q, R to Lexington Avenue/59th Street.
The aerial tramway ride from midtown to Roosevelt Island is one of the most dramatic journeys you can make in New York. Although it only takes around 10 minutes, the short ride offers some amazing views of the East River, the Ed Koch Queensboro Bridge and views high above Manhattan. Inside the cabin, the tram is also a rather quiet means of transport and it's a pleasant surprise to find yourself in tranquil, village-like streets when you are on Roosevelt Island. The atmosphere here is very different to the frenetic pace of Manhattan. At the southern end you can wander through the recently constructed Franklin D Roosevelt Freedom Park, a good place to get amazing views of the New York skyline. It's also worth paying a visit to the small booth close to the tramway entrance, where you can learn about the history of the island from enthusiastic volunteers.
THE PLACE TO STAY
East Village Bed & Coffee
110 Avenue C (001 917 816 0071; bedandcoffee.com). Double rooms start at $125 (£83), room only.
SUBWAY: L to 1st Avenue; F to 2nd Avenue; 6 to Astor Place; J, M to Essex Street.
Built in 1901, this large, interesting house is full of work by local artists, including a huge collage of the owner's grandmother's travel journals on the landing. Breakfast is not included, but each of the floors has a shared kitchen area and living room, making it easy for guests to prepare their own food. Anne, the welcoming owner, has lived in the area for over 30 years, so can also recommend great restaurants and cafés nearby. She has collected some fascinating artefacts over the years, from a hand-carved Pakistani marriage chest to unusual recycled lamps. Her placid dog sits quietly in the first-floor room, making it feel even more homely. Free loans of bicycles (with helmets) also make this a great place from which to discover New York on two wheels.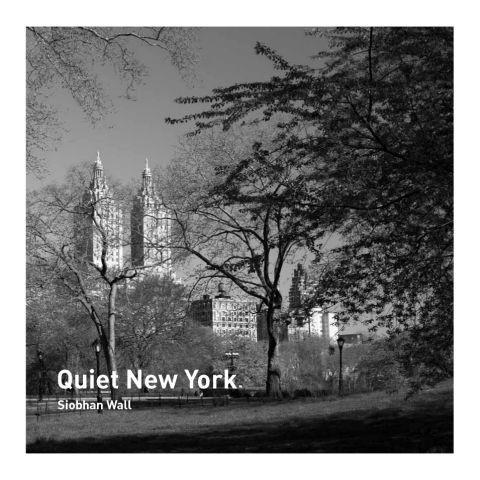 This is an extract from 'Quiet New York' by Siobhan Wall, published by Frances Lincoln (£12.99)
Reuse content