My barber in the East Village doesn't agree with me and lets everyone know it: "There's nothing in Queens, trust me," he bellows, making short work of the bristles on my neck with a cutthroat razor. "I never leave Manhattan," chips in a customer from the next chair, "I don't even go above 23rd Street." My enthusiasm won't be dampened: "But what about Long Island City? And the new places around Astoria? It's all happening." 
Although Queens is a 15-minute cab or Subway ride from midtown Manhattan, in psychogeography terms it's a world away. This is a city of tribes. When you pay $4,000 a month for a tiny one bedroom apartment in Manhattan, you stay put.
But to stay put in New York City is to miss out. It might not all be happening in Queens, but it is happening. It's not the aggressively industrial wasteland of yuppie high-rise flats that it used to be. There's a lot to recommend, particularly in terms of using the borough as a base to explore the city as a whole. And if you do, focus on Long Island City – the heart of the borough, with Subway stops aplenty and a scene that's heating up.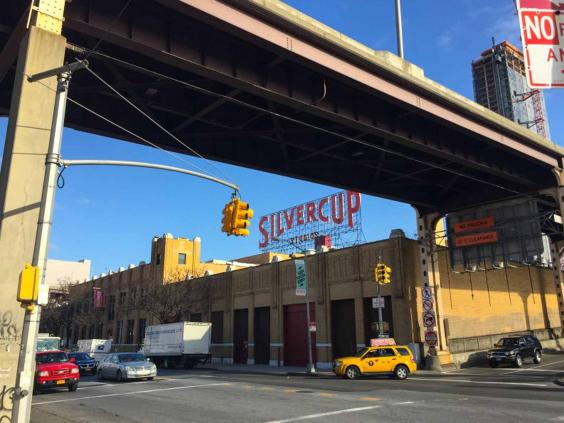 You can gauge the temperature of a neighbourhood by its coffee shops. When Styrofoam cups and drips dominate, there's nothing to see. Where the typography on the café signs has been laboured over, the tables are reclaimed wood, walls are bare brick and light bulbs are filament, you can tell a 'hood has turned a corner. Into cliché territory, perhaps, but then when the latte is as good as it is at Birch, so what? 
Birch roasts some of the best beans in the city, and it has been doing it here in LIC for its Manhattan cafés for years. It recently opened a counter and café at its warehouse HQ, offering an alternative to Coffeed, another giant roastery hangout for caffeinated users of titanium laptops, 15 minutes' walk away. Birch in Queens is a different beast from Birch in NoMad back in "The City": sometimes it's unstaffed, and a sign invites you to help yourself to any size black coffee and leave $3. 
The other way you can tell an area is changing is the arrival of, if not boutique hotels, then at least ones that have their own Instagram accounts. There are now places to stay that give the likes of the Wythe in Williamsburg a run for their money for off-Manhattan, heavily art directed, modernist concrete digs. And they are less than half the price of their Brooklyn counterparts. 
The newest, and most handsome kid on the block is The Boro, full of unrefined industrial grey pillars and walls, offset with graphic tiled surfaces and chic contemporary furniture. Offering an early check-in for $50 when your room is obviously available isn't the best way to greet guests, but there is a gratis breakfast, which is unusual anywhere in the city. It feels light and luxurious and if it was in the Meatpacking District, the rack rate would be through the roof.
Close by, the Z New York feels like a repurposed block of council flats, with lots of flashy reds and blacks. There's a funky little yellow bus that shuttles you to Manhattan hourly, and the shell of an old car above the entrance. Bedrooms are decorated with stencil graffiti dancing Rockettes, and jam jar lighting pendants. It's comfortable, quirky, and there's a rooftop bar with what might be the best view of Manhattan you will ever see.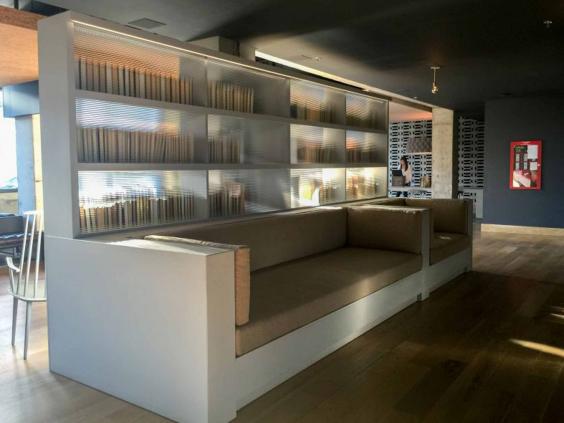 A short walk from Coffeed is the Paper Factory Hotel, which brought much-loved neighbourhood Latin restaurant Mundo back to life. As its name suggests, the hotel is in a repurposed factory. The rooms are XL, and there's an eye catching tower sculpture of hardback books in the lobby.
The Paper Factory Hotel is a cornerstone in what was last year christened the Kaufman Art District. There's been a compelling cultural scene around Long Island City and Astoria for decades: MoMA PS1, in a century-old school building, offers a less polished but more engaging contemporary art experience than the mothership over on W 53rd Street. Regardless of what shows are on, it's always worth visiting for the M Wells Dinette and the summertime courtyard parties.
The new arts district is based around the Kaufman Astoria Studios, where Sesame Street was filmed. Queens is quite the mini-Hollywood – the area is also home to Silvercup Studios, a former bakery where NYC and New Jersey-centric series Sex & the City, 30 Rock and The Sopranos were made.
Next door to the Kaufman Astoria Studios is the shiny new Museum of the Moving Image, which has an impressive and offbeat collection of memorabilia, including sets from Blade Runner, SFX mannequins from The Exorcist and a tattered Freddy Krueger sweater from the Nightmare on Elm Street series. The nostalgia fest of the Star Wars merchandise collection is enough reason to visit in itself.
From the Movie Museum it's a 25-minute walk towards the river, and the Noguchi Museum. Isamu Noguchi, who lived opposite the building from 1961 until his death in 1988, might be thought of as the American-Japanese counterpart to Henry Moore. The Sculpture Garden at the museum has just opened after a lengthy restoration project, and the Museum is the best place in the world to experience the diversity of Noguchi's output, from his organic and modernist stone shapes to the shadow play of his iconic Akari lanterns (on sale in the shop). Nearby, the waterside Socrates Sculpture Park shows giant artworks that are frequently site-specific, riffing on the view of Manhattan across the river. 
For many locals, eating out in Queens is synonymous with one style of cuisine: Greek. There's no denying that the best grilled octopus and lamb with orzo can be found within a square mile of central Astoria, but there's a lot more to come for. The best restaurant in the area right now is Milkflower, which serves New York's finest pizza. The bases are doughy Neapolitan, the toppings inventive: The Ghost, with three cheeses and burnt honey; the Van Dammer comes with with Brussels sprouts, egg and truffle oil. Both are outlandishly delicious.
In Long Island City the best restaurant by a borough-wide distance is M Wells Steakhouse – the grander sibling to the Dinette at nearby PS1. Walking from the Subway, it seems highly unlikely that one of New York's coolest dining rooms could be located here – but once through the doors you are transported into what might be the buzziest and of-the-moment space in the city. Everything is with a twist here: The Manhattans are made with Amaro not vermouth, the bone marrow comes with snails and, as well as the perfect strip steak, there's truite au bleu, using trout plucked live from a tank, dunked in vinegar and poached in bouillon that turns it blue. It's served with browned butter, cabbage and potatoes and it's unusual, hearty and wonderful.
A few minutes from the sizzling grills of M Wells, there's a growing buzz around Casa Enrique, a handsome, artfully lit Mexican with a cute, covered backyard, all caught in the light of a Michelin star. In Manhattan, it would have a celeb-scene similar to the incandescent nonsense of Cosme on E 21st Street, but this is Queens, so you're more likely to find a family of 15 locals dining than Adele. Which isn't to say that the chicken mole or the tacos aren't at least as inventive and delicious.
There's a lot going in Queens, but realistically no one is going to travel across the world to get no closer to Manhattan than the view from the roof of their Long Island City hotel. It would be like staying in Bromley to experience London, albeit edgier. Some of the more desolate waterside avenues look like the backdrop for Assault on Precinct 13, and there are power stations that look like something from 1970s Doctor Who. Few things are obvious or grouped together: this is an area that invites investigation and rewards with discovery. 
As you settle into a booth at Dutch Kills, which bartenders from London to Tokyo routinely reference as one of the five most inventive cocktail bars in the world, it feels like the city perfected. The dark, intimate space is uniquely Old New York. It's comfortable, the acoustics are kind, the pineapple daiquiri is the best summer holiday you've never had distilled in a glass, and the tables aren't full of people glued to their iPhones. It's a happening place, but there's nothing irritating about it. Go now. In five years things will be dramatically different.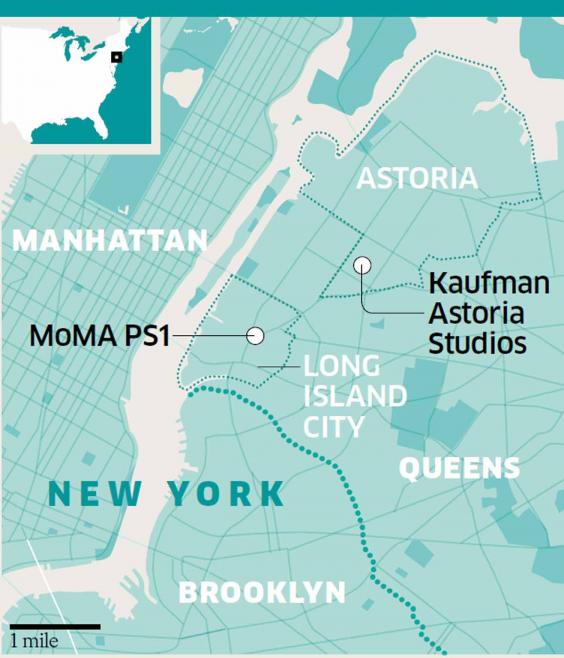 Getting there
Mark C O'Flaherty flew as a guest of La Compagnie (020 3481 1575; lacompagnie.com), which flies an all-business class service with 74 flat-bed seats, five times a week from Luton to Newark, from £575 one way. It is currently offering a return Duo fare of £1,700 for two people travelling together.
Staying there
The Boro Hotel, 38-28 27th Street (001 718 433 1375; borohotel.com). Doubles from $140 (£93), B&B.
The Paper Factory Hotel, 37-06 36th Street (001 718 392 7200; paperfactoryhotel.com). Doubles from $175 (£117), room only.
Z NYC Hotel, 11-01 43rd Avenue (001 212 319 7000; zhotelny.com). Doubles from $147 (£98), room only.
Visiting there
MoMA PS1, 22-25 Jackson Avenue (001 718 784 2084; momaps1.org).
Museum of the Moving Image, 36-01 35th Avenue (001 718 777 6800; movingimageus.com).
The Noguchi Museum, 9-01 33rd Road (001 718 204 7088; noguchi.org).
Socrates Sculpture Park, 32-01 Vernon Boulevard (001 718 956 1819; socratessculpturepark.org).
Eating & drinking there
Birch, 40 23rd Street (001 212 686 1444; birchcoffee.com)
Casa Enrique, 5-48 49th Avenue (001 347 448 6040; henrinyc.com).
Coffeed, 37-18 Northern Boulevard (001 718 606 1299; coffeednyc.com).
Dutch Kills, 27-24 Jackson Avenue (001 718 383 2724; dutchkillsbar.com).
M Wells Steakhouse, 43-15 Crescent Street (001 718 786 9060; magasinwells.com).
More information