Will a week in an internet-free zone lead to the most serious case of withdrawal symptoms since Absolutely Fabulous's resident dipsomaniac, Patsy, desperately tried to give up drinking, an experience she later called "the worst eight hours of my life"? This is what my family – my wife, three teenage daughters and I – are attempting to find out as we drive, more than a little apprehensively, deep into California's Yosemite National Park. 
As we settle into the comfortable Arts and Crafts-inspired Ahwahnichi Lodge at the "Scenic Wonders" complex, in the heart of the thickly forested Yosemite West village, there is some first-night twitchiness. We are nervously contemplating the potential horror of a week without checking either the Test score (me) or the latest gossip that Taylor Swift's Girl Squad have posted on Instagram (me again). 
But even by the next morning, our "cold turkey" symptoms are subsiding. The stunning beauty of Yosemite, which celebrated its 125th anniversary as a National Park this week, helps us very quickly forget our internet addiction. 
Designated a Unesco World Heritage Site in 1984, Yosemite is traditionally given reviews so positive as to verge on the hyperbolic. President Theodore Roosevelt remarked after camping here in 1903 that being in the Park "was like lying in a great solemn cathedral, far vaster and more beautiful than any built by the hand of man".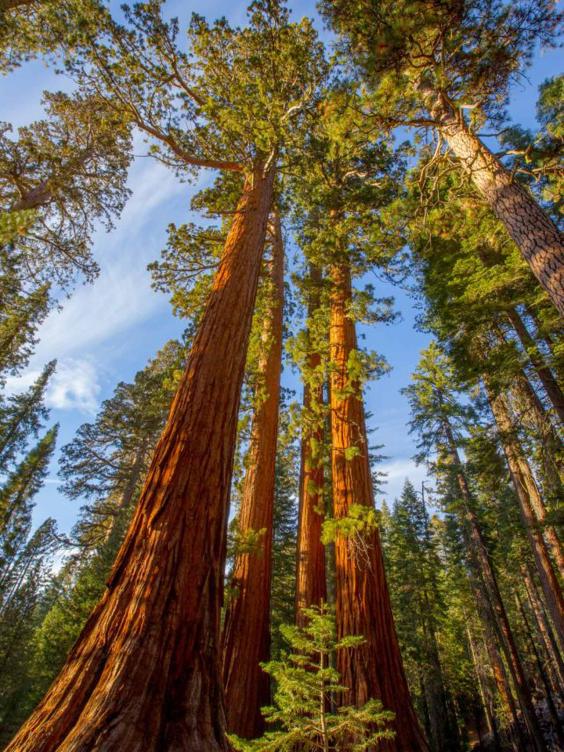 But Yosemite can't possibly be that astonishing in real life; it can't really live up to the hype, can it? Well, actually it can. It is very unusual to visit a place that exceeds expectations and is, in fact, even more breathtaking than the fevered publicity suggests. But Yosemite is.
Driving down the twisting Big Oak Flat Road on our first day, we are confronted by a view which makes us stop in our tracks. A mile wide and seven miles long, Yosemite Valley is the most celebrated part of the park; a spectacular gorge flanked by mighty granite cliffs. As we halt every few yards for yet another photo, we start to realise it's virtually impossible to take a bad one.
And it is very easy to get off the beaten track when almost 95 per cent of the Park is still wilderness. On the first day, we hire bikes from Yosemite Lodge at the Falls in Yosemite Village, the Park's main "metropolis", and follow the well-marked, 12-mile circular cycling path along the valley floor. After passing through Housekeeping Camp (which is, as you'd expect, extremely neat and tidy), we reach the deserted beach by the River Merced, which meanders lazily between the mighty granite cliffs. We paddle in beside a family of deer frolicking in the shallow waters in glorious sunshine, and all seems right with world.
Later on, we spot a small crowd gathered by the roadside and pull up on our bikes, eager to see what all the fuss is about. One woman points out a black bear cub foraging for food in the undergrowth, barely 30ft away from us. Only 300 bears are thought to exist in the whole park, so this is an incredible chance encounter. But then the woman adds that the cub has come on its own from the other side of the road, and it dawns on me that we are probably standing in the world's worst spot: between a bear cub and its mother. We make our excuses and leave, avoiding a meeting with an angry mama bear. 
The other major anxiety concerns the plague – which you want to avoid like the plague. The recurrence this summer of this medieval-era disease sounds scary. But I am reassured that it is extremely rare and that the two cases reported in Yosemite in recent months, which thankfully did not prove fatal, are the only ones to have occurred in California during the past decade.
For the rest of the week, we explore the roads less travelled in the 1,169sq-mile park. Although it is visited by some four million tourists a year (and permits are now required to trek the ever-popular John Muir Trail) and is perhaps the world's most famous National Park, it is easy to get far from the madding crowds in Yosemite. On one day we stand in quiet stupefaction at the base of the impossibly imposing El Capitan rock-face – the world's largest granite monolith.
On other days, we enjoy a delicious lunch at the grand old Ahwahnee Hotel in Yosemite Village and a fun few hours indulging our inner Indiana Joneses at the Yosemite Ziplines and Adventure Ranch in the nearby village of Mariposa.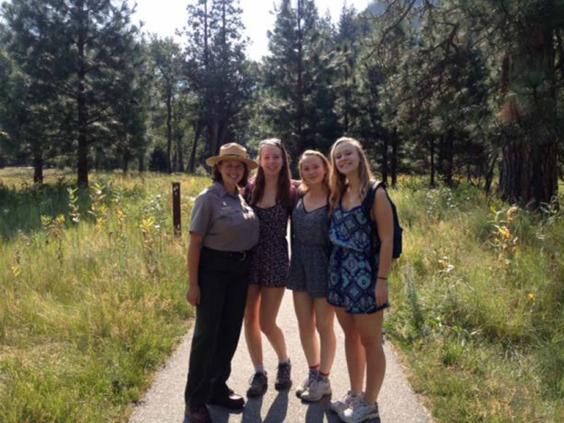 We then travel further away from civilisation to find absolute tranquillity at Tuolumne Grove, which features 25 sequoias that truly merit the epithet "giant". Thought to be 3,000 years old, they can grow 200ft from the ground and are among the largest living things on the planet.
Next, we move on up Tioga Road to Tenaya Lake, tucked beneath dramatic cliffs which tumble into the water. At an altitude approaching 9,000ft – the countryside morphs into a captivating moonscape the higher you climb – this is the perfect, remote spot for a peaceful swim. It is also a wonderful place to sit and listen to the silence, known locally as "the symphony of the Sierra".
What better way to get to know Yosemite, the third US National Park to be designated after Yellowstone and Sequoia, than through someone who lives and works here? Ashley Mayer, a park ranger who lives in Yosemite Village, gives us a guided tour of the Valley floor. "Yosemite is really special," she said. "I've been here for four and a half years, and I've only just scratched the surface of Yosemite. We can all get caught up in our own day-to-day worries, but the moment you come here, you forget all about them."
She's right. Yosemite is a place which exemplifies the old cliché about getting away from it all. At the end of our marvellous week here, Twitter and Tumblr couldn't seem further away.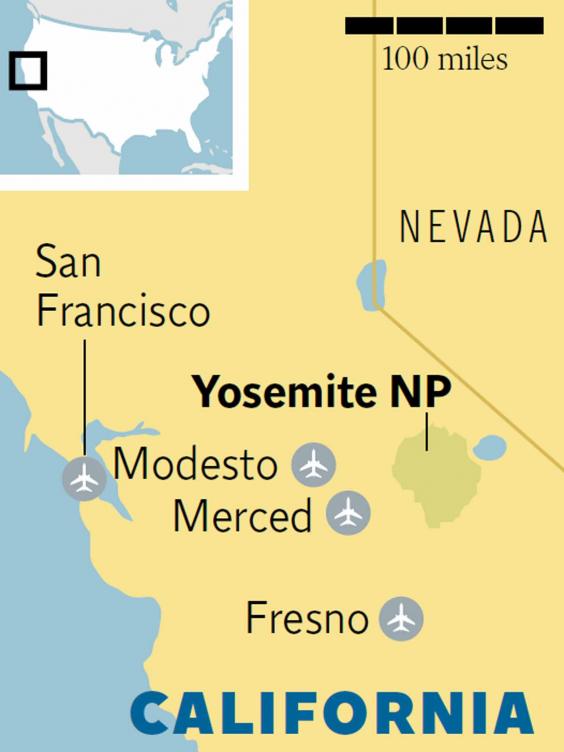 Getting there
The nearest airports to Yosemite are Fresno, Merced and Modesto, accessible on a range of connecting flights. The closest airport for direct transatlantic flights is San Francisco, served non-stop from Heathrow by Virgin Atlantic (0344 209 7777; virgin-atlantic.com), British Airways (0344 493 0787; ba.com) and United (0845 607 6760; unitedairlines.co.uk).
Staying there
Scenic Wonders (001 888 967 3648; scenicwonders.com) offers cabins to rent all year round. From $169 (£113) a night for up to four people.
Visiting there
Yosemite Lodge at the Falls (bit.ly/YosemiteBike). Bike hire from $34 (£23) a day.
Yosemite Ziplines and Adventure Ranch (001 209 742 4844; yosemiteziptours.com). Zipline tour from $95pp (£63). Ahwahnee Hotel (001 801 559 4884; bit.ly/Ahwahnee).
More information 
Yosemite National Park: nps.gov/yose
Reuse content