"When I first came to Bandra, there was nothing here," says food blogger Kalyan Karmakar. It's 16 years since he first moved from Calcutta to the northern suburb of Mumbai, and things have changed.
We meet in a branch of Gloria Jean's Coffee – an Australian-owned franchise. The air-conditioned chill, taupe leather seats and list of lattes and mochas are disorientating. Windows stifle the chorus of honking auto-rickshaws and tinted glass hides the dusty streets. We could be in Sydney.
"There were only two restaurants when I first moved to the area," Karmakar says. He now struggles to keep track of all the openings for his site, Finely Chopped. "You have to remember that Mumbai is a relatively young city, and things move quickly," he says.
Bandra's story is a familiar one. Until 1845, it was an isolated fishing village; a causeway improved its accessibility, then the railway linked it to what was then Bombay. Cheap accommodation made the northern suburb the first port of call for immigrants. Soon a more bohemian crowd was attracted to the comparatively low cost of living. Advertising executives and filmmakers followed, and new apartment blocks – Bella Vista, Delphi and High Trees – started shooting up.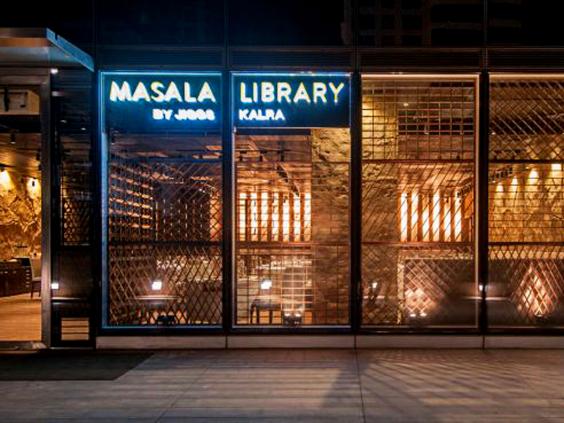 Then came the Bollywood stars. They began moving to the mansions hidden behind electronic gates along Pali Hill, where the tree-lined streets provide a quiet, cool canopy. At the top of Pali Hill, an all-day crèche sits alongside Aroma Thai Foot Spa, Aura Thai Body Spa and a juice bar.
As property values soared, restaurateurs flocked to Bandra to cater for the affluent new residents. A Hakkasan and a Yauatcha opened. Dominos, Starbucks and KFC followed. "The south is dying," says Karmakar, referring to the areas which get the air-time in guide books – Colaba and Marine Drive. "The city is shifting," he says.
At first, Bandra's food scene catered to its new residents' international tastes. There's The Bagel Shop on Pali Mala Road, the cured meats and cheeses at Santé delicatessen on Pali Market Road and chilled chablis and a saffron crème brûlée in Pali Village Cafe. "India's exposure to the rest of the world is still relatively new," Karmakar explains. "There is still a lot of intrigue in foreign cuisine."
However, now a counter movement is emerging – a return to traditional cuisine. The middle classes are showing revived interest in Indian dishes. Not just restaurant dishes, but street food as well.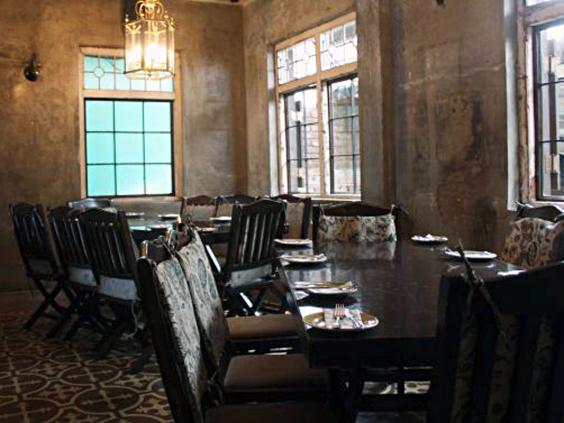 I set out to explore this new wave of Indian cuisine. My first port of call is Elco Pani Puri Centre, which serves traditional street food in a bricks-and-mortar restaurant. Karmakar explains how Elco started out as a cart on Hill Street – but as Bandra's demographic changed, so Elco changed too. "The food is the same," he says. "But by offering seating, cutlery and napkins, it is a more sanitised version which attracts people who wouldn't eat street food otherwise."
Under a striped awning on the ground floor, are two "pani puri centres". Lines of eager diners form a queue in front of a server, who picks up a hollow, round, deep-fried puri and uses his thumb to puncture the crisp outside. With a flick of the wrist, he ladles water flavoured with spices, chutney and chickpeas into the crisp shell, and invites diners to pop it into their mouths for 60 rupees.
I move upstairs, where laminated menus are stacked in the middle of cafeteria tables. I pick sev puri – one of several "chaat", savoury street food snacks. The crispy puri are stuffed with potato, sweet tamarind, chilli and onions. There's a liberal sprinkling of crispy "sev" noodles on top, which are used to garnish lots of other Mumbai street snacks. "It is interesting how middle-class Indians won't eat food on the street, but they will eat street food in a restaurant" laughs Karmakar. "But I suppose it's the same as people going to smart London restaurants to eat fish and chips."
After a decade-long dalliance with Japanese and South-east Asian cuisine, lots of high-end restaurants are also re-igniting a love of Indian dishes. "It's a bit like the UK's gastropub movement, which helped British people fall back in love with their own cuisine," Karmakar observes.
As night falls, I head to the buzzing Pali Bhavan restaurant. The interior is inspired by Indian history – a romanticised Rajasthan design, with antique wooden doors, framed sepia photographs of maharajas and wall-mounted china. Tables of twenty-somethings feast on Alleppey fish curry and paan kulfi, washed down with local sauvignon and chenin blanc from Maharashtra's Sula vineyards.
The next day, I venture further east to the Bandra Kurla Complex, Bandra's business district, where legendary chef Jiggs Kalra celebrates traditional dishes at Masala Library. His presentation is unmistakably European: smears on black slates, disproportionately wide-rimmed bowls and stacks on little wooden boards. Yet, nothing disguises the distinctly Indian flavours: tandoori meat and beautifully spiced, with butter-rich sauces.
"In a career spanning close to five decades," reads the restaurant blurb, "[Kalra] has been instrumental in introducing Indian cuisine to the international audience." There is an irony that his latest stop is in this Mumbai suburb – re-introducing Indian cuisine to an Indian audience.
The theatrics of Masala Library come to a close. I pay up and turn out of the hard, glassed Bandra Kurla Complex, which swirls with Bandra's bankers, brokers and business analysts. Just around the corner is a branch of Pizza Hut. And in front of that, an old man is selling newspaper cones of sev puri to passersby. My footsteps fall in line with the brogues, the flip-flops, the trainers, the bare feet – and I walk on into modern-day Bandra.

Getting there
Mumbai is served from Heathrow by BA (0844 493 0787; ba.com), Virgin Atlantic (0844 209 7777; virgin-atlantic.com), Jet Airways (0808 101 1199; jetairways.com) and Air India (020-8560 9996; airindia.com).
Visiting there
Santé Patisserie and Delicatessen, Shop Number 1, Sahina Apartment, Pali Market Road.Pali Village Cafe, Pali Naka, B R Ambedkar Road (00 91 22 2605 0401).
Elco Pani Puri Centre, 2/A Elco Market, 46 Hill Road (00 91 22 6587 7171; elcocatering services.com). Pali Bhavan, 10 Aadarsh. Nagar, Pali Naka (00 91 22 2651 9400; facebook .com/PaliBhavan).
Masala Library, Ground Floor, First International Financial Centre, G – Block, BKC Rd, Bandra Kurla Complex (00 91 22 6642 4142; masalalibrary.co.in).
Kalyan Karmakar runs Finely Chopped walking tours of Mumbai's eateries (finelychopped.net) for R1,800 (£18)pp.
More information
Reuse content