It's a familiar experience: the baggage carousel, the jetlag-induced microsleeps in the back of the taxi and the realisation that you haven't got any local currency to tip the bellboy.
Then, once he's gone, you could be anywhere. Most chain hotels are virtually identical wherever you are in the world, even in Tokyo, where the most Japanese elements consist of electronic toilets, lobbies above the 40th floor, and anachronistic cigarette smoke in the bar. But the country has other unique and increasingly innovative options.
Essentially developed as luxury B&Bs for journeying samurai in the 17th century, ryokans are today as good a reason to visit the country as the temples, the cherry blossom and the boutiques of Omotesando.
They immerse you entirely and holistically in Japanese design, from the slippers to bathing rituals, bonsai gardens and meals served to you as you sit on tatami mats in voluminous  yukata robes. But centuries after the first properties appeared, ryokan culture is developing new twists, with a fresh awareness of contemporary style and food that takes traditional kaiseki (multi-course) cuisine in a new direction.
The two-Michelin starred Miyamasou, a relatively new ryokan an hour from Kyoto, is booked solidly months in advance, with a kitchen that shares much of the foraging philosophy of celebrated Nordic chefs. And for a unique twist on the usual tatami floors and fusuma paper doors, check into one the rooms at Hotel Kowakuen, on the southern island of Kochi, which edgy bondage-art photographer Nobuyoshi Araki has decorated as part of this year's Dogo Onsen Art festival.
I was on a journey that looped around the south of the country, from the capital, to Nagasaki prefecture and back again, staying only in ryokan-style properties.
While they are often pegged in the same category as five-star hotels, ryokans currently present surprising value – the all-inclusive offering takes the sting out of a high-style touring holiday while sterling remains strong against the Japanese yen.
I decompressed from Tokyo with trips to a couple of spa towns a short train ride away. "I'm impressed, that's not a beginner's onsen destination," the concierge at the Peninsula hotel remarked of my impending hot-springs itinerary, as she helped me with my train timetable to Ikaho in Gunma prefecture. Indeed.
As I arrived at Kaichoro ryokan, I got the sense that few Westerners made it this far. In fact, I had only been drawn here after seeing intriguing images on a website of Kaichoro's 1950s-meets-22nd-century bedrooms.
It was a gamble that paid off: it may be just a couple of floors bolted on to a curiously retro conference-style hotel in the misty hills of Gunma, but Kaichoro is spectacular.
The decor is sci-fi meticulous. There are £10,000 futons in each room. With its backlit panels and windowless minimalist restaurant serving the most ornate sequence of small dishes in a range of elegantly screened-off spaces, it feels like a seven-star resort conceived by Bladerunner's Tyrell Corporation. Alongside the large, architecturally slick Hoshinoya resort close to Kyoto, this is ryokan style for the  21st century.
My next stop was at perhaps the best-known ryokan in the country – the Relais & Chateaux Gora Kadan in Hakone. I made my way there via what appeared to be an over-sized toy train, journeying from Odawara up into the mountains, where the local delicacy is the sulphuric black shelled eggs that are said to give you seven more years of life (per egg, so tuck in).
From here, you can take a cable car that provides views of Mount Fuji during a golden, blinding sunset, over smoking volcanic terrain.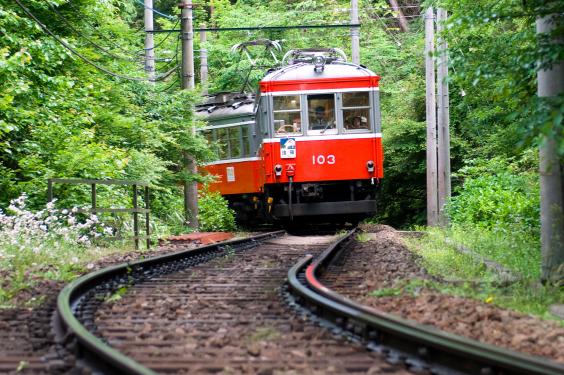 Gora Kadan is the grande dame of luxury ryokans, blessed with the most perfect location imaginable. Its outdoor hot baths, central corridor, and rooms are beautiful, although some of it seems suspended in a kind of Crossroads motel aspic of unintentional retro cool. The balconies overlooking the candy-pink blossom of spring and the luminescent, fiery Japanese maple leaves of autumn are a wonderful place to sit in your yukata and work on a few haikus.
There's a "real" restaurant for non-residents, but kaiseki is served customarily in the screened-off area of your room, and it is, as might be expected, fantastic. One course comprised individual components that seemed to be strategically arranged in vessels that make up a winking emoticon, with a mackerel nigiri nose.
There are huge similarities between many ryokans in Japan, and the uniformity can become slightly wearing: one morning, in Kyoto, I rose early and went out for corporate coffee and a croissant before the grilled fish and rice arrived.
And such a high level of service can feel intrusive until you get comfortable with it. But one way to gauge the differences in the country is via the food in each ryokan – good or bad (and of course all down to personal taste).
I had one unsavoury experience in a ryokan-style hotel. Visiting the Unzen Hell hot springs in Kyushu, the pillows were torture devices, breakfast was an abomination of processed sausage and grilling your own live abalone (sea snail ) was the highlight of dinner. It was a rare low point of my trip. Far better was the Sakamotoya ryokan in Nagasaki.
Here, I was invited to sit on a real chair rather than on the floor – this is, historically, the most European port in Japan, and all those visiting Scots and English tradesmen were sticklers for furniture.
I ate shippoku cuisine, which embraces Chinese elements into kaiseki. The meal began with seafood soup, a sign of hospitality and generosity – one whole fish had been prepared just for me. There followed course after course … and then soft, dark, sweet pork belly, which smacked of Shanghai more than southern Japan.
The culinary highlight was during an unscheduled trip to Kinosaki onsen, a couple of hours from Kyoto. I had spent a night in the old capital at the Sumiya ryokan, which has been a perfectly groomed, ultra traditional and superb place to stay for over a century.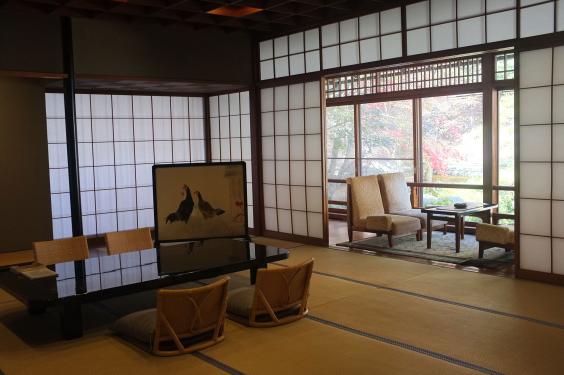 The next night, I'd gambled on bagging a cancellation at Hiiragiya – the Claridge's of Kyoto ryokans. It's glorious, right down to its meticulous gardens and the intricate silk covers that disguise the flat-screen TVs. But it's always full. And my cancellation didn't materialise. So it was that I found myself on a train heading to what might be the most beautiful town I have ever visited.
Kinosaki Onsen is the Willow Pattern come to life. There are hot springs on every other corner, and while there's a fair amount of tourist tat – including the de rigeur Hello Kitty emporium and a very angry-looking town mascot called Gundun, who resembles a nearby rock formation and greets you in Disneyfied dress-up form outside the railway station – nothing can take the shine off the iconic architecture and the experience of gazing down the river at twilight, filled with giant gold carp.
Slowly, the lights around its banks come to life, casting shadows through the fine, delicate fringed edges of the surrounding willow branches, while illuminating scores of pretty little arched stone bridges.
On a fine afternoon, scores of couples and families stroll, from spa spot to hot spring, dressed in their yukata. They leave offerings of canned fizzy pop at temples, drink tea and immerse themselves naked in hot water.
Kinosaki Onsen's two best places to stay are Nishimuraya Shogetsutei, with ryokan-style rooms, and its sibling, Nishimuraya Honkan, one of the most beautifully-designed ryokans in the country. It's over 150 years old, with the kind of sculptural inside gardens that are straight out of a classic Japanese woodcut print. The sukiya-style annex takes clear influence from the linear modernism of  Frank Lloyd Wright.
Both properties share the same menu and executive chef, and it would be worth coming to Kinosaki Onsen just for the food. The speciality is locally caught Matsuba (snow) crab from November to March, and Tajima beef for the rest of the year.
When I visited, crab wasn't so much in season as having its own festival – there were stalls on every street, selling gargantuan sunset orange crustacean. When I had my kaiseki dinner in my room later, every dish seemed to incorporate crab. Most impressive was the sashimi, which needed demonstration from my kimono-clad server: a whole leg is snapped off, stripped, and the flesh scraped off in one movement with teeth.
The real joys of a ryokan, no matter how new wave its approach to design or cuisine, is in what it offers in terms of peace and tranquillity. Everything is designed to make you feel at home. Every delicate flower arrangement is crafted to create a visual calm. On my last day in Kinosaki Onsen, I booked one of the three spa suites in Nishimuraya Shogetsutei.
This is where the classic ryokan meets the likes of the Four Seasons or Mandarin Oriental. Each suite is private, with a maze of modern wet rooms and a lounge, and a bucket with champagne on ice. Each has its own outdoor hot tub on a terrace, steaming in the morning air, invisible to anyone outside.
Immersed here, looking out across the countryside, I got to grips with why the ryokan can be such a wonderful thing – being here, doing nothing, surrounded by such studied design, took no effort at all on my part, and yet it counted as one of the most uniquely Japanese experiences I'd ever had.
Getting there
The writer flew with Air France (0871 663 3777; airfrance.co.uk), which has flights from a range of British airports via Paris to Tokyo. They can be combined with the services of its partner, KLM (0871 231 0000; klm.com), from 15 UK departure points via Amsterdam.
Inside Japan (0117 370 9764; insidejapantours.com) offers a 14-night Traditional Japan tour from £1,700pp (upgraded ryokans from £2,610pp).
Staying there
Gora Kadan, Hakone (relaischateaux.com/gora). Doubles Y100,000 (£583), half board. 
Hiiragiya, Kyoto (hiiragiya.co.jp). Doubles Y64,000 (£373), half board.
Hoshinoya, Kyoto (global.hoshinoresort.com). Doubles Y50,000 (£291).
Kaichoro, Ikaho Onsen (kaichoro.jp). Doubles Y157,500 (£918), half board.
Miyamasou, Kyoto (miyamasou.jp). Doubles Y90,000 (£525), half board.
Nishimuraya Honkan, Kinosaki Onsen (nishimuraya.ne.jp). Doubles Y60,480 (£353), half board.
Nishimuraya Shogetsutei, Kinosaki Onsen (nishimuraya.ne.jp). Doubles Y54,600 (£318), half board.
Sakamotoya, Nagasaki (www.sakamotoya.co.jp). Doubles Y30,000 (£175), half board.
Sumiya, Kyoto (ryokancollection.com). Doubles Y52,140 (£304), half board.
More information
jnto.go.jp; kyoto.travel; dogo.or.jp
Reuse content