Apply for planning permission, talk to an architect ... consult a priest. If you're building a hotel in Bali – or a tented mountain resort in the lush, green interior, you have to factor in Tri Hita Karana, a Hindu philosophy centred on a holy trinity of harmony. It not only keeps the spiritual, human, and natural worlds perfectly aligned on this sultry Indonesian island, but helps you figure out where to put your beds: a sort of Balinese feng shui.
"We had to make some changes to the drawings so that the headboards all pointed towards Mount Batukaru," said Yunsar, the owner of Sang Giri, a new luxury camp resort in the verdant mountains of Jatiluwih, slap bang in the middle of Bali. We were standing on the, as yet unfinished, t'ai chi and yoga platform.
Hand-built by just seven villagers, it has evolved organically over the past three years. There are eight tents scattered across the slope, although eventually there will be 15. They are army green, hunkered into the hillside among rubbery banana plants, with outside decking for lounging, chunky wooden beds and pretty pebbled showers at the back. By the end of the year there will be a rustic spa, a spice garden and museum. What there won't be is a swimming pool. If you want a dip, there are natural, river-fed pools in the rainforest.
One guest asked for directions to the pool when she arrived. Yunsar thought she was joking and laughed. The guest cried. Then there was the Dutch couple who refused to get out of the car when they saw the dirt track down to the tents. However, most people who make it this far off Bali's beaten track embrace the nature of the forest hideaway.
"I had an Austrian group who wanted to do a long-distance trek through the rainforest – barefoot," said Yunsar. "There was a competition to see who had the most leeches on their legs at the end of each day."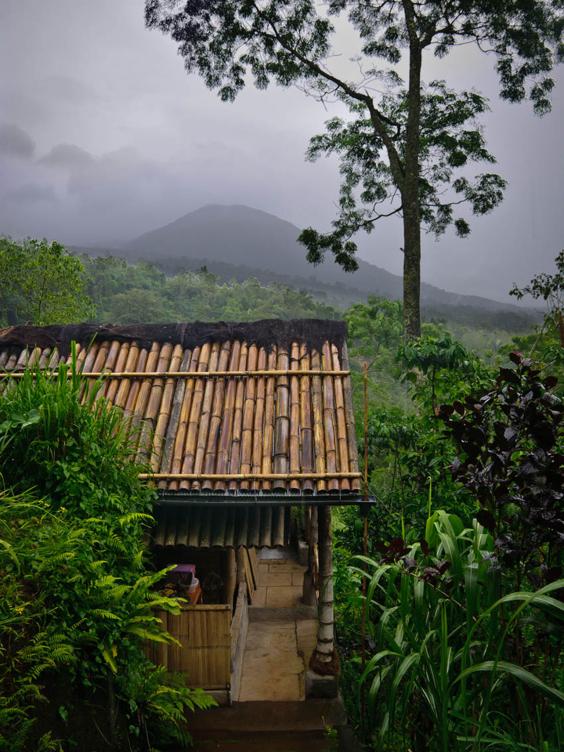 However, if you just want to kick back and chill out, you'll be right at home. The binoculars dotted around help you spot some of the 80 endemic species of bird found here. The tents come with sarongs, flip-flops and torches – but no phones or Wi-Fi. It's somewhere to switch off. It's a "book-eating place", with a well-thumbed library in the giant bamboo, open-plan restaurant, kitchen and lounge, along with a stash of board games. The local specialities, cooked in front of you, include catfish, eaten crispy-skinned with your fingers, soup made from banana plant bark (a little like French onion) and soothing red rice tea. Antlers, cowbells and wind chimes hang from the rafters, and the air is scented with incense and wood smoke from the open fire. It can be cool up here, at an altitude of 850m, and temperatures drop to a balmy 18C at night. Yunsar's background is in engineering but he worked for years as a guide and set up Bali's first guiding school. He was the perfect person to help me explore this less-trampled region.
Clambering on to mountain bikes, we set off in the sun along a dirt track through villages strewn with shrines, floral offerings, sleeping dogs and mats of drying rice. In Belulang, we nibbled a sweet potato snack and slurped a thick, gritty local coffee after watching as the beans were roasted on a fire then ground with a giant pestle and mortar.
As we veered down narrow paths through the iridescent rice fields, villagers in conical hats tended the plants as herons staggered among spindly stalks. These valleys, fringed by volcanoes, are the quintessential Bali. The Jatiluwih rice terraces are designated an important cultural landscape by Unesco. The subak irrigation system, dating back to the ninth century and incorporating water temples, canals and weirs, is also held up as the embodiment of Tri Hita Karana. The next day, we braved the leeches to explore the rainforest. Hiking trails from camp range from one to eight hours' duration, or you can do a two-day tramp to the northern lakes, camping at a forest temple.
Yunsar kitted me out in gumboots and gloves and sprayed me with a home-made leech repellent – a bright pink concoction of soap, water and salt. Armed with hand-hewn walking sticks, we set off, slithering down roughly cut paths and fording rivers on slippery stones. Every few minutes he paused to point out rare vanilla plants as well as coffee and cacao bushes, mahogany trees and delicate wild orchids. Hot and sticky after our trek, we sucked on chunks of sugar cane, spitting out the fibrous remains for the birds.
This is not the Bali that some write-off as Australia's Benidorm. Most tourists do still swarm around the built-up southern coastal strip of Kuta-Legian-Seminyak, with its beaches, boutiques and buzzing nightlife, or waft up to arty hill-top enclave Ubud. However, the island's western front is starting to open up and is home to a handful of new or revamped properties that are putting it on the map for more adventurous travellers.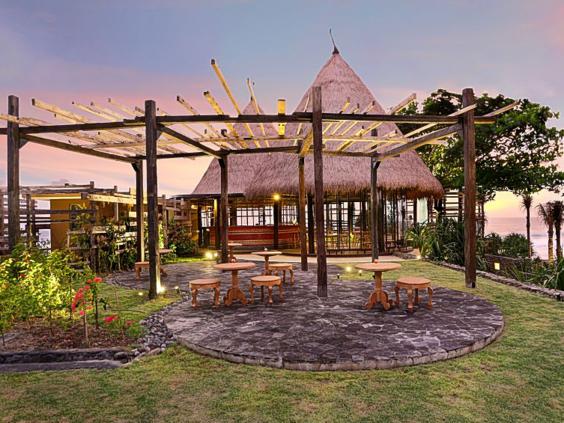 The other side of Bali is not, in fact, all that far away. Just an hour-and-a-quarter west from the airport is the Waka Gangga. The hotel has just reopened after a two-year renovation. The Gangga beach is wild and volcanic. The currents are too strong for swimming, but it makes the perfect dramatic backdrop for this Zen-like retreat. Horses gallop along the black sand, through crashing waves, while villagers play football on the shore.
A Japanese architect has redesigned the thatched villas with their soaring ceilings, private pools and four-poster beds. They're not overloaded with Balinese craftwork – just subtle touches such as traditional temple parasols, wood-carving and batik bedspreads. The dramatic, open-air restaurant on the cliff-top has an Ibiza-style vibe at sunset. The hotel feels remote, but is still close enough to the airport to be the perfect place to recover from jet lag before venturing further west.
For really remote, however, you have to head to Bali's north-western tip. The Menjangan is set in a reserve within the Bali Barat National Park, the island of Java visible across the limpid green water. I climbed to the top of the Bali Tower – a four-storey structure above the lobby, built from five 33-metre logs that soar above the treeline – and I gazed out over the swathes of forest. The greenery is unlikely to diminish here, as there's a $200,000 fine and jail sentence for anyone caught cutting down a tree in the national park.
The Menjangan comprises seven new beach villas as well as the alang-alang thatched-roof rooms at the Monsoon Lodge, cradled deep within the park. If you're staying at the lodge you can't just flip-flop down to the beach: it's 1.7km away. There are bikes or you can jump on a horse or into one of the golf buggies that trundle down the dirt tracks.
There's another reason why you can't just wander down to the beach: giant cobras. The nature reserve is also inhabited by 175 plant species plus wild boar, flying foxes, macaques, deer and 160 bird species, including the endangered Bali starling with its vivid white plumage. You're warned not to wander off the trails without a ranger.
There's also the marine life to discover. So, masks and flippers gathered up, I trooped down the jetty to the little boat that was to take me over to Menjangan Island, an uninhabited grassy rock half an hour away. The colourful coral garden and reef wall are spectacular; we swam through dream-like shoals of vivid, tropical fish.
Tri Hita Karana is sometimes described as the three causes of happiness. Dancing among rainbow-hued fish, listening to the water lapping among the mangroves while my muscles were pummelled and stretched in the open-air gazebo, and enjoying a lantern-lit dinner on the beach as wild deer wandered along the shoreline – these were my three moments of Balinese happiness.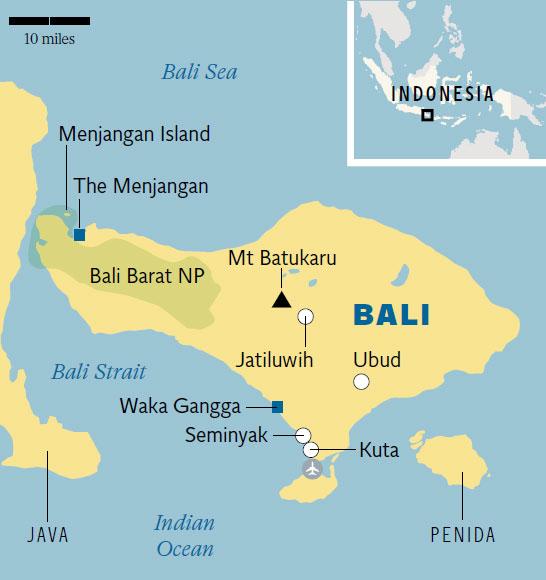 Getting there
Lucy Gillmore travelled to Bali with Western & Oriental (020 7666 1234; westernoriental.com) and stayed at the Waka Gangga Resort, Menjangan Resort, and the Sang Giri Resort. A similar seven-night trip costs from £1,545pp including accommodation with breakfast (some additional meals are included), flights on Singapore Airlines from Heathrow or Manchester, private transfers throughout and some of the activities.
There are no direct flights between the UK and Bali. Connecting flights are available on airlines such as Singapore Airlines, Malaysia Airlines, Thai and Qatar Airways, via their respective hubs.
More information
Reuse content