Clay tiled roofs glisten and silvery mist floats between the peaks of the Minou Mountains. An old man in a rice field waves his cane and a young girl in black thigh-high stockings smiles from her bike. As our train's sleek seven carriages pull slowly into the station, a little boy named Yuma holds a welcome flag. When he's older, he'll tell me later, he wants to be a train conductor.
Since its maiden journey in 2013, the Seven Stars train – a luxurious mini-cruise on rails – has generated its share of interest in lesser-known Kyushu, the third largest of Japan's islands. With a sub-tropical climate, a direct flight from Helsinki starting in May, and favourable exchange rate, it's a good time to find out more. Indeed, my six days – by coach, excursion train, and the luxurious Seven Stars itself – goes by in the click of a chopstick.
The hot-spring speckled island of Kyushu is slightly smaller than Switzerland, so the first two-hour train journey from Hakata covers a decent chunk of it. The Limited Express Yufuin No Mori (which stops at a limited number of stations rather than operating with speed restrictions) is one of nine excursion trains built by Seven Stars' J R Trains since Japan's railways were privatised in the 1980s. It weaves slowly past light industry and through the rice fields and fruit orchards known as the Garden of Kyushu. We are heading for Yufuin, prime onsen territory, home to the majority of Japan's hot-spring sources. I alight and promptly peel off my shoes and socks, plunging knee-deep into a steamy mineral-rich foot bath smack on the platform's edge. Heaven.
Surrounded on all sides by mountains, Yufuin steams like a bowl of miso soup in summer, but my cool autumn visit is timed for Japanese maple trees in full red flush. I hike between rice fields and climb stairs to a splendid cedar tree – 13 metres around and 1,000 years old – the focus of a Shinto shrine dedicated to effacing greed. The watery ablutions that begin any visit to a shrine – left hand, right hand, mouth and finally the handle of the water ladle itself – neatly wash away my disappointment at having only just missed the town's annual October Beef Eating Screaming Competition. (No idea. I'll just have to come back.) 
After another random foot bath – they're everywhere, and most welcome – I peek through the door of one of a dozen rustic onsens that dot Yufuin, somewhat shabby and priced for the people at 100 yen (£1.20). I delay gratification in favour of a later soak in the steamy mineral pools at my hotel, followed by an evening feast of delicious bungo, Kyushu's version of Kobe beef, and a deep, tatami-scented sleep.
Rising before dawn, I slip into my yukata – a casual version of the kimono – to join a group of elderly Japanese ladies in the outdoor onsen and face the day refreshed and zen. The next days will be coach-bound, southward to Kurokawa Onsen, a higgledy-piggledy pedestrianised village of cobbled pathways and traditional ryokans clustered on the edge of the rushing Chikugo River. Yukata, geta sandals and parasols are de rigueur here, and the streets are full of couples and families coming to and from public bathing houses and taking tea in inviting shops.
From the decadence of hot springs to Kyushu's geographic pinnacle, we are just 20km from Mount Aso – one of the world's largest active volcanoes. Topping out at 1,592m, Aso is meant to be shaped like a lying Buddha with an (occasionally) steaming penis. At least that's what I'm told by my guide. Heavy rain and cloud obscure this stirring moment, though the surrounding 125km ring of caldera makes an impressive cameo. 
Over the rise, lunch at a roadside restaurant – delicious shitake mushroom and beef barbecue with a cold beer for around Y2,500 (£15) – proves excellent value. From a tableside window, the Shira River runs furious and inky black with volcanic ash sludge, the product of two dramatic eruptions in as many years.
Coastal drives are beautiful; persimmon fruit hang heavy and orange from leafless branches, and pearl cultivation and seaweed farms poke their poles above tranquil water as we near Kumamoto Castle. Built during the Edo era, Kumamoto is considered one of Japan's three great castles, its curved stone walls and wooden overhangs designed to repel attack from samurai warriors. Fires gutted the mostly 17th-century fortifications and its vaulted walls have been largely reconstructed with concrete. Climbing the six-storey donjon, or great tower, offers a dramatic panorama little changed over the centuries. 
South of Kumamoto, history gets personal. Nagasaki is just 80km as the crow flies from the protected inland waterways of the Amakusa Islands, connected by a bridge to the mainland. In the sleepy fishing village of Utako, baskets of fish hang to cure and cats laze in streets undisturbed by modern life. Inside a tea shop, an 86-year-old woman offers me bean-paste sweets and, when asked, recalls how she and her family saw the mushroom cloud explode over Nagasaki in 1945, taking cover from they knew not what.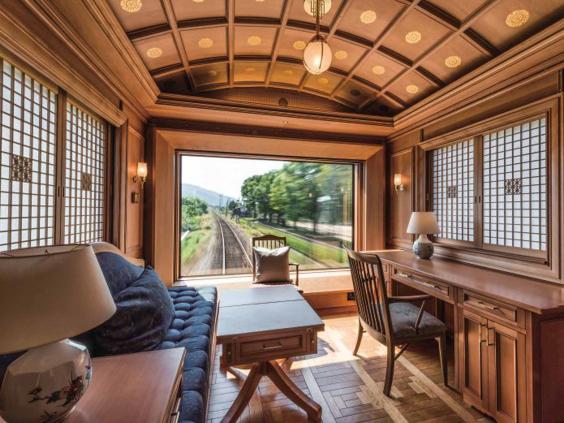 The next day's visit to a Nagasaki reborn – a hectic city of trams, shopping arcades and pachinko (pinball) parlours – is all the more poignant. The Nagasaki Bomb Museum displays a horrific collection of nuclear bomb-related exhibits – from victims' clothing and first-hand medical reports, to a reproduction of the three-metre-high plutonium bomb, Fat Man, itself. That evening's banquet strikes a suitably macabre note: blowfish, the infamous and potentially life-threatening delicacy, caps off a day devoted to life and death.
Soon it's time to board the Seven Stars. The overnight journey cuts a slow, regal sweep through northern Kyushu. Crystal flutes of Taittinger slosh satisfyingly in the Blue Moon bar car as the locomotive cranks into action, and gaggles of adults and children wave us on enthusiastically at every crossing. Japan's first luxury sleeper train and the smallest luxury train on earth – 30 passengers, nine staff, seven carriages – is catered with typical Japanese diligence, attention to detail – and a bank-blistering investment of Y3bn (£17.5m). There are rich, dark cherry and pear walls, parquet floors, soft linens and delicate stemware. 
Corridors in each carriage are staggered on opposing sides better to view the passing countryside. Even standard berths come with surprisingly spacious en suites – loo, basin and a cypress-panelled shower – as well as a writing desk and two cosy single beds. Deluxe Suite A at the back (or front, depending on direction of travel) is the ultimate blowout: bedroom, sitting room and a full floor-to-ceiling, wall-to-wall picture window. 
Meals are delicious, elegant affairs – one Japanese, one French – and wine is both free and flowing, served by attentive, white-gloved staff. There are even favourite tunes to accompany you: oddball requests – from Eric Clapton to Guns N' Roses – are duly met by the in-train violinist and pianist, while Japan rolls slowly by.
Demand for these delights is high. There is a lottery for bookings which, according to Simon Shimizu-Metcalfe of J R Trains, attracts 33 times more applicants than spaces for standard berths, and 316 times for the most expensive suite – lavish digs that come in at more than £1,800 per person for the two-day journey. Interested? The odds may smile on you, as international guests receive preferential odds by 2 to 1.
I pry myself away from smiling butlers and poised chopsticks for a much vaunted visit to Kakiemon porcelain workshop in Arita. Only Seven Stars passengers thus far have gained regular entry to the renowned atelier, a 15th-generation family business that produces highly prized fine porcelain in wood-fired kilns and a tiny adjacent workshop. Led round by Mr Kakiemon himself, we observe painstaking kneading, shaping and hand painting, and tiptoe through the gift shop where 15cm-tall vases fetch £400. Mr Kakiemon admits to me with charming modesty that even he "eats off the seconds".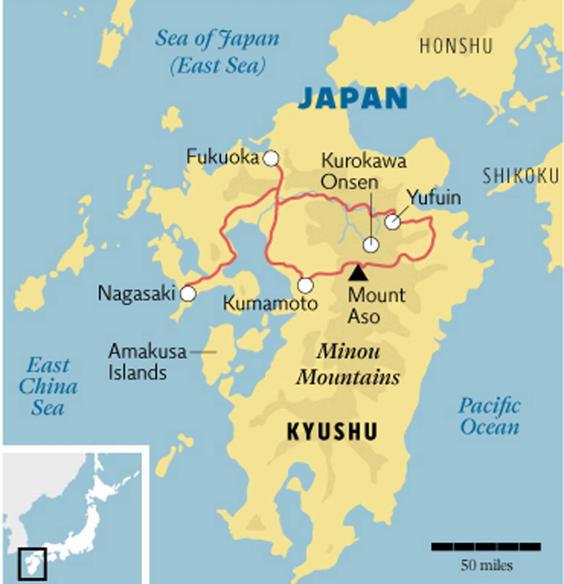 Back on board, my bathroom earns renewed respect: the flowery heptagonal basin was turned, baked and hand-painted according to ancient tradition by the skilled craftspeople of Arita. To spit or not I wonder, toothbrush poised, when through my window, I see 11-year-old Yuma, waving and bowing as he's done each week since 2013, a new tradition in a very old land.
Getting there
British Airways (0344 493 0787; ba.com) flies from Heathrow to Fukuoka, via Tokyo, with its codeshare partner JAL; returns start at £519. A new Finnair service between Helsinki and Fukuoka starts from 7 May, also bookable via British Airways. 
Staying there
Applications open in April for Seven Stars trips between October 2016 and February 2017 trips (cruisetrain-sevenstars.com). A four-day, three-night journey (two nights on the train and one at a ryokan) starts at Y530,000 (£3,110) with accommodation, sightseeing, guiding and internal transfers. Prices for an overnight journey on the train start at Y250,000 (£1,470) all inclusive.
More information