Travel essentials
Why go now?
Pre-communist Bucharest was dubbed the "Paris of the East" because of its architectural influences. Recently completed renovations have gone a long way to give the city back its old French charm. Its municipal buildings are shining, churches have been restored, some spectacular museums are waiting to be rediscovered.
Easter is the biggest festival in the Romanian calendar and spring is the best time to visit one of Europe's most affordable capitals. Indeed, Ryanair (0871 246 0000; ryanair.com) starts flights to Bucharest from Stansted on Tuesday, joining a throng of airlines offering flights to the Romanian capital.
Touch down
I flew as a guest of Romania's budget airline Blue Air (0871 744 0104; blueairweb.com) from Luton. Other than the new Ryanair flights, British Airways (0844 493 0787; ba.com) and Tarom (020 8745 5542; tarom.ro) fly to Bucharest from Heathrow; easyJet (0843 104 5000; easyjet.com) from Gatwick; Wizzair (0906 959 0002; wizzair.com).
Otopeni airport is 17km north of the city centre. There are two buses into Bucharest: number 783 to Piata Unirii (1) and number 780 to the main railway station, Gara de Nord (2). You can't buy tickets on board: go to the booth on your right as you exit, buy an Activ card for 3.70 lei (75p) and pre-load it with 7 lei (£1.50), enough for a return ticket. You can add money to the card for metro and bus journeys, as with an Oyster card in London, but the centre is compact enough to walk around.
If you prefer a taxi, avoid those that tout for business and head for the yellow cabs with the name of the company and lei rate per km inscribed on their bodywork. A fare into town should be around 50 lei (£10).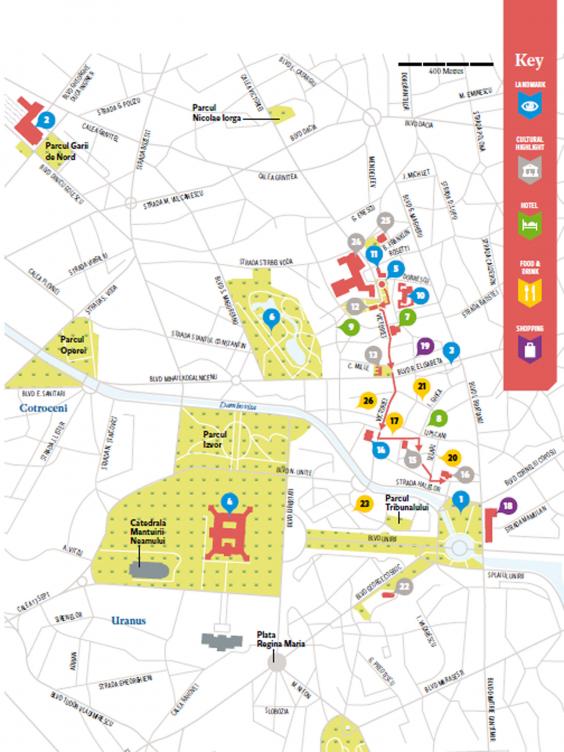 Get your bearings
The best stop to get off the airport bus is Piata Universitatii (3) from where the Regina Elisabeta Boulevard runs east to west. It soon crosses Calea Victoriei, Bucharest's genteel thoroughfare littered with listed buildings, which goes north-south up to the Dambovita River.
Bucharest is flat and easy to navigate. Most sights are concentrated between the Palace of the Parliament (4) in the south, Piata Revolutiei (5) in the north, Piata Unirii, in the east, and Cismigiu Park (6) in the west. The old town, between Lipscani Str and the river, is the centre of dining and nightlife. For more information, see romaniatourism.com.
Check in
The Grand Hotel Continental (7) at Calea Victoriei 56 (00 40 372 121 721; continentalhotels.ro) continues the tradition of illustrious 19th-century hotels interrupted by communism. Doubles from €130 (hotels charge in euros), including breakfast.
For a boutique hotel close to the nightlife go for the Rembrandt (8) at Smardan 11 (00 40 21 313 9315; rembrandt.ro). Doubles from €100, with breakfast; try for the attic room, with a balcony.
A quieter option is the Hotel Opera (9) at Ion Brezoianu 37 (00 40 21 312 4855; thhotels.ro/hotel-opera), near Cismigiu Park (6). Doubles from €60, with breakfast.
Day one
Take a hike
Start at Piata Revolutiei (5), scene of the 1989 anti-communist uprising, facing the old Communist Party headquarters (10). General secretary of the Romanian Communist party, Nicolae Ceausescu, escaped the wrath of the crowd using a helicopter that took off from the roof on the right. On the left, at Boteanu 1, stands the exuberant University Library (11), founded in 1895 by Carol I – ruler of Romania from 1866 to 1914. Notice his bronze statue in front.
The historic Kretzulescu church (12) opposite is an outstanding example of the Romanian Brancovenesc style, a mixture of Renaissance, Byzantine and Ottoman. Damaged during the revolution, it has now been painstakingly restored (open Monday-Friday 9am-5pm, weekends 7am-3pm).
Walk down Calea Victoriei until you see the Neo-Classical façade of the Military Club (13). Built in 1911-13, the lower floors now house temporary art exhibitions (Monday-Friday 10am-6pm, Saturday 4pm, entrance fee varies according to exhibition).
Cross the Boulevard Regina Elisabeta and continue until the striking National Savings (CEC) (14) building on your right; turn left into Stavropoleos alley with the diminutive Stavropoleos church (15), whose richly decorated porch never fails to capture the attention of visitors. Walk across the Old Town to the ruins of the Old Court (16) adorned with a bust of Vlad the Impaler, who first put Bucharest on the map (having started with Ceausescu it seems appropriate to finish with Count Dracula).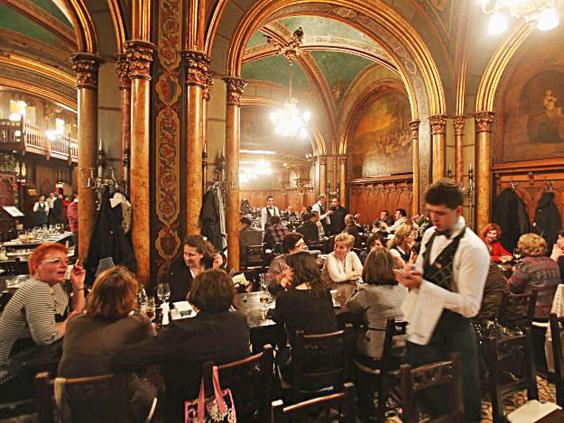 Lunch on the run
For a good measure of local atmosphere, head to the Caru' cu Bere (17) at Stavropoleos 5 (00 40 21 313 7560; carucubere.ro), a huge but always full restaurant that's been serving Bucharest since 1879 in ornate Belle Epoque surroundings. Choose from six set menus (vegetarian included) costing 22.40 lei (£4.50) each.
Window shopping
Bucharest is full of bargains, and many can be found within the maze of shops in the gigantic Unirea Shopping Centre (18), which takes up the east side of Piata Unirii (www.unireashop.ro; daily 10am-10pm).
For something special, try Demmers Teehaus (19) at Academiei 9 (00 40 21 310 3396; demmer.ro; daily except Sundays) for all things tea. Offering everything from quirky mugs to bright porcelain tea sets, this shop outlived even the communist regime, which was so hostile to private enterprise.
An aperitif
If you visit only one bar in Bucharest, make it Bordellos (20) at Selari 9-11 (00 40 748 881 085; bordellos.ro). And if you have only one drink there, make it a Palinca de Maramures (plum or apple brandy). The building was a 19th-century brothel and many of the old sepia photos that decorate it were found in its attic during renovation.
Try to book a table for the cabaret upstairs, starting at 9pm on weekends; it costs 99 lei (£20) including two courses and a drink. Open daily noon-2am, weekends until 5am.
Dining with the locals
The saying goes that nobody should leave Romania until they've tasted game. Terasa Doamnei (21) at Doamnei 9 (00 40 21 314 6481; terasadoamnei.ro; daily 10am-1am) is a hunting lodge in an urban setting that serves bear stew with forest mushrooms for 60 lei (£12) or a meat platter for two that will satisfy the most dedicated carnivore for 132 lei (£26). There is also a sizeable selection for vegetarians.
Day two
Go to church
The Romanian Patriarchal Cathedral (22) is the most imposing religious edifice in Bucharest (daily 7am-8pm). If you want to attend Orthodox Mass, go at 9am to enjoy its renowned a cappella choir. Men stand on the right, women on the left, and candles are left in the portico outside.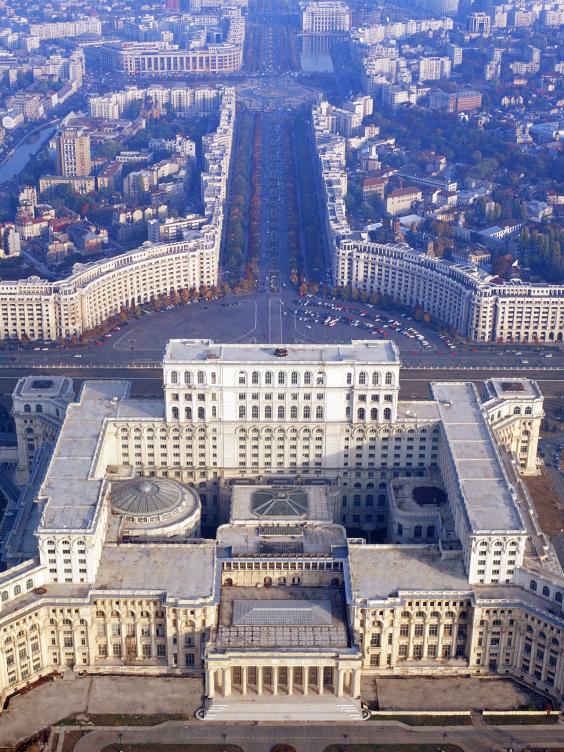 Take a view
You can't begin to understand modern Romania until you've visited the Palace of the Parliament (4), a megalomaniac folly of hubristic proportions at Izvor 2-4 (00 40 21 316 0300l). Ceausescu bled the nation dry to erect the second-largest building in the world (after the Pentagon) and, with a £3.8m annual maintenance bill, it's still a drain on resources. Take in the view down Unirii Boulevard from the balcony in the Union Hall and marvel at the destruction of the Old Town south of the river. Open daily; admission 35 lei (£7); take your passport.
Out to brunch
Hanu Berarilor (23) at Poenaru Bordea 2 (00 40 21 336 8009; hanuberarilor.ro; 8am-midnight, weekends until 2am) with its massive beer garden is a great place to relax al fresco. Feast on hearty Romanian peasant cooking for about 25 lei (£5).
Cultural afternoon
The National Museum of Art (24) in the grounds of the old Royal Palace at Calea Victoriei 49-53 (00 40 21 313 3030; mnar.arts.ro) is essential viewing. It's separated into a European Gallery, with an impressive quota of old masters, and a National Gallery of Romanian art. Open Wednesday-Sunday, admission 15 lei (£3); free first Wednesday of the month.
Just north of the museum is arguably the most beautiful building in town, the Roman Athenaeum (25) at Benjamin Franklin 1-3 (0040 21 315 6875; fge.org.ro), designed by architect Albert Galleron. It's worth visiting to sample its acoustics during a performance of the Romanian Philharmonic and to gawp at its opulence. Open daily; entry 10 lei (£2).
A walk in the park
The best place for a stroll is the gorgeously landscaped Cismigiu Park (6), which attracts the locals in droves on Sundays. There is a chess and backgammon retreat for seniors and an assortment of skateboarders and buskers for your entertainment.
Icing on the cake
The smell of freshly brewed coffee should be enough to lead you to Origo (26) at Lipscani 9 (00 40 757 086 688; daily 7.30am-2am, weekends from 9am). It offers the best coffee and cake in town in stylish black-and-white and smoke-free surroundings – a rare treat in Bucharest.
Click here to view the latest travel offers, with Independent Holidays.