Brussels has long been Europe's ugly duckling; romantics prefer Paris and hipsters prefer Berlin. Bashed about by brutalist architects and town planners in the 1960s and 1970s, its clumsy redevelopment even spawned a new word, "Brusselisation". Yet lately the Belgian capital has been enjoying a discreet renaissance.
Its ancient buildings have been spruced up, and its cultural institutions have acquired new gusto. The place that sums up this revival is the Musées Royaux des Beaux-Arts de Belgique (00 32 2508 3211; fine-arts-museum.be). It has always housed a superb array of fine art, from Bruegel to Ensor, but it used to feel dull and uninspired. Over the past few years, however, the entire building has been revamped. First, the Magritte collection was rehoused in its own gallery, then the 19th-century collection was relocated to a dedicated Fin de Siecle Museum. Finally, Brussels has a state museum to rival the Louvre or the Rijksmuseum.
For the next four months, the Musées Royaux is hosting a Chagall retrospective featuring over 200 of the painter's artworks. From poignant pictures of his Russian hometown, Vitebsk, to the tranquil, still life paintings of his dotage in the south of France, it's an exhilarating exhibition, bursting with vivid colours and full of tender insight.
Brussels' artistic heritage isn't confined to its art galleries. Dozens of street murals pay tribute to Belgium's fertile comic book tradition – not just Tintin, but also Lucky Luke, Blake and Mortimer and a host of other heroes. You can even track down the real-life locations of Hergé's Tintin drawings, like the Cinquantenaire Museum (00 32 2741 7211; kmkg-mrah.be) and La Monnaie theatre (00 32 2229 1200; lamonnaie.be). Pick up an annotated map at the Tourist Office in the Grand Place or at 2-4 Rue Royale.
For me, the spot that encapsulates Brussels' laid-back elan is the daily flea market in the Place du Jeu de Balle, where you can root around for hours among hundreds of outdoor stalls – this is where Tintin found the model ship which led him off in search of Red Rackham's Treasure.
Unpack
Tucked away on a busy shopping street, a short walk from the Grand Place and the Central Station, Le Dixseptième (00 32 2517 1717; ledixseptieme.be) feels more like a private members' club than a hotel. This handsome townhouse comprises just 24 rooms (a dozen in the original 18th-century building, a dozen in a modern extension) but it actually feels even smaller – not at all cramped but extremely intimate, a hideaway from the bustling boulevard just outside. And despite the parquet floors and antique furniture, the ambience isn't remotely stuffy. There's no restaurant, but you won't need one, with so many fine brasseries on your doorstep. Doubles from €140 (£102) without breakfast.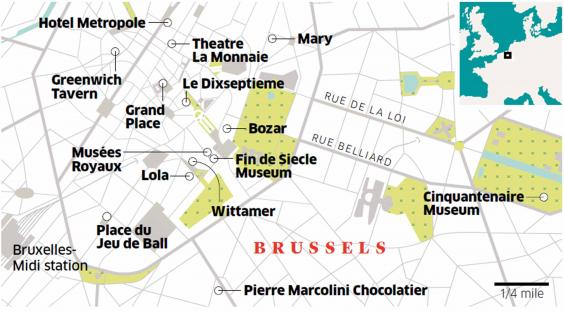 Eat
Standing in a perfect spot on the trendy Place du Grand Sablon, Lola (00 32 2514 2460; restolola.be) is the quintessential Belgian brasserie – relaxed but debonair, with the emphasis on stylish, simple food. The staff are informal yet attentive and the wine list is sublime. I ate fresh scallops in olive oil and lemon juice (€20/£15) followed by a tangy steak tartare (€20) with frites, rounded off with a rich chocolate mousse (€7/£5).
For breakfast or a light lunch, cross the square to Wittamer (00 32 2512 3742; wittamer.com), a renowned patisserie where you can buy a baguette for €2 (£1.50) or a croissant for €1.50 (£1.10).
Drink
Built in 1914 in ornate Art Nouveau style, and recently restored to its former splendour (even the toilets are spectacular) the Greenwich Tavern (00 32 2540 8878; greenwich -cafe.be) was one of René Magritte's favourite hang-outs. More famous for its decor than its food, it's a better bet for a few drinks than a full meal, but if you're feeling peckish, the Moules et Frites (mussels and chips) from €21 (£16) is a reliable standby. You'll also find the usual range of Belgian beers.
Spend
Founded back in 1919, Mary (00 32 2217 4500 mary.be) is the classic Belgian chocolatier. A 500g box of pralines will set you back €39 (£28), but you can buy a couple of samples for a few Euros. Pierre Marcolini (00 32 2514 1206; marcolini.be), conversely, is the new face of Belgian chocolate. On the Place du Grand Sablon, his suave flagship store looks more like an exclusive boutique. His chic chocolates are works of art, but they also taste divine. A box of 25 Palets Fins costs €20 (£15).
Think local
Cinema, concert hall and art gallery Bozar (00 32 2507 8200; bozar.be) is the crowning glory of Belgium's greatest architect, Victor Horta. Built in dramatic Art Deco style, its geometric interior has been meticulously renovated. Current exhibitions include Faces Now/Then (until 17 May), a juxtaposition of Old Masters and contemporary photography, and The Sultan's World (until 31 May), an intriguing insight into the relationship between the Ottoman Empire and Renaissance Europe.
The minimalist Bozar Brasserie (00 32 2503 0000; bozarbrasserie.be), run by top French chef David Martin, is yet another adjunct of Horta's multi-faceted design.
Brussels is the perfect place for lovers of Art Nouveau. The Hotel Metropole (00 32 2217 2300; metropolehotel.com) is a palatial example of the genre, but you don't need to spend the night here to see it. The communal areas are more impressive than the bedrooms, and a drink in the bar will give you a good excuse to wander round.
Other landmarks include the Old England department store, now the Museum of Musical Instruments (00 32 2545 0130; mim.be). However by far the biggest treat is stumbling on forgotten remnants of the form in old shop doorways, like the foyer of the Gresham Life Assurance building on Place Royale, decorated with intricate sgraffito, mosaics and stained glass.
Getting there
William Cook travelled to Brussels from London St Pancras with Eurostar (08432 186 186; eurostar.com). Eurostar travellers get two for the price of one at numerous museums and galleries in Brussels, including the Royal Museums of Fine Arts, the Magritte Museum, the Fin de Siecle Museum, and the Bozar; show your train ticket at the door.
Brussels is served by BA, BMI, Brussels Airlines and easyJet from a wide range of UK airports, including Birmingham, Bristol, East Midlands, Edinburgh, Gatwick, Heathrow, Manchester and Newcastle. Ryanair flies from Edinburgh and Manchester to "Brussels South" – Charleroi.
More information
Belgian Tourist Office (Brussels & Wallonia): belgiumtheplaceto.be
Visit Brussels: visitbrussels.be
Reuse content