First light is pouring over the horizon in lines of gold, illuminating the panorama offered by Goreme's highest hill. The melting coned forms extending beneath are a vast dreamscape; there's also an ominous droning, like an invasion of giant insects to account for – bizarre flabby objects are bloating in the valley below. Before long this host of hot-air balloons is floating towards the heavens.
My wonder at the sight is haunted, however, by the words of a tour guide the day before, who pointed out some of the adverse consequences of Cappadocia's growing popularity. "The balloon companies flattened the valley," Edip Ozcan Arslan had explained. "There used to be many trees and bushes there; now it looks like a balloon airport. It disturbs my eyes to see it, knowing how it was 10 years ago."
A similar misgiving casts a shadow over my visit to Goreme's open-air museum, which became one of Turkey's first Unesco World Heritage Sites in 1985. You approach it through the otherworldly wasteland of the Rose Valley, and the monastic honeycomb of churches buried within the peach stone conceals faded frescos of Byzantine art. These cave-dwellings are masterfully hewn out of soft rock, blending seamlessly with the landscape. The only indication of humanity is the little holes that pass for windows. At least, that's how it must have once felt, for today there's a swarm of tourists and imagining the original inhabitants is difficult.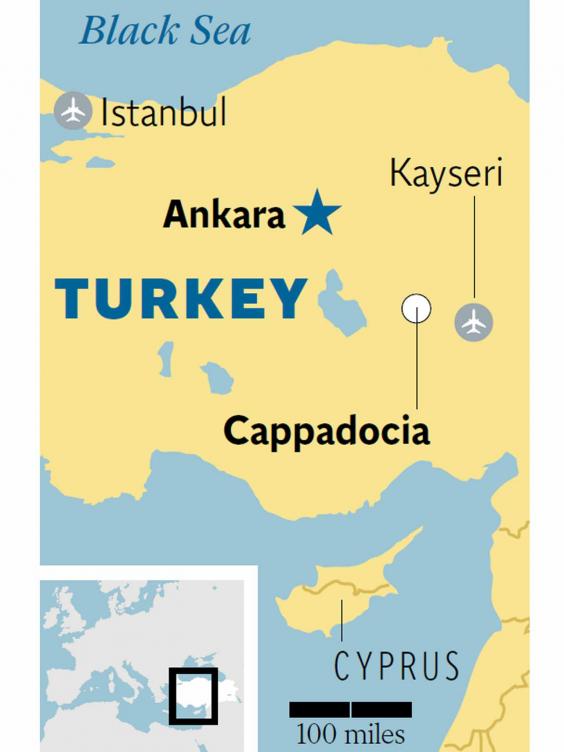 Interest in Cappadocia is soaring. In 2013, the central Turkish region welcomed more than 2.5m visitors. A wave of new hotels has opened, including luxury options such as the new Hezen Cave Hotel in Ortahisar, which merges ancient charm with contemporary comfort. Relais & Chateux recently added the lavish Museum Hotel to its collection.
But despite the area's World Heritage status, there has also been a spate of unauthorised constructions, with a handful of unscrupulous builders carelessly spoiling parts of this fairytale world. "There's already the natural erosion which crumbles the unique landscape away day by day," Edip tells me. "The last thing we need is man-made corrosion."
It's not hard to understand Cappadocia's appeal. Long before hotels emerged among the rocks, early Christians carved out dwellings here. Fourth-century Monks established a network of tunnels dotted with cave chapels whose soft-stone walls are furnished with precious well-preserved Byzantine art. Even further back in history – at least as far as 1200 BC – people were burrowing into this extraordinary landscape and creating fascinating settlements.
However, the story of Cappadocia's makeover began millions of years ago, when Mount Erciyes erupted leaving a thick layer of rock to be sculpted by the elements over the aeons. Seen at this height, the unreal empire that resulted is diverse, from the pockmarked Pigeon Valley to the jocular pinnacles of Love Valley, and many a cluster of mushroom-shaped caverns in between.
Edip has launched a new tour aimed at diverting interest away from the obvious tourist draws and on to local people. After all, their Hittite, Persian and Byzantine ancestors are responsible for fusing the landscape's scenic glory with their rock-carving ingenuity. There are few better ways of getting acquainted with a culture than through food. In the village of Ayvali, we join local women whose take on the 15th-century Ottoman recipe of mani involves tiny dumplings being stuffed with minced lamb and crushed chickpeas, served with yogurt and oil caramelised with tomato paste. Like small, spicy tortellini, they're exquisite.
Next, I meet the pottery makers of Avanos, who for centuries have used the deep-rouged silt from Kizilirmak, the Red River, to make their earthenware. Visitors can try their foot at the ancient kicking-wheel technique, though even under the watchful eye of a master potter I succeed in little more than making a mess.
According to Edip, the most rewarding way of experiencing Cappadocia today is to mix local encounters such as these, especially in villages on the outskirts, with the splendour of its landscape. I find this out for myself after a visit to the landmark Uchisar Castle.
Bursting out of an otherwise flat village, this glorious butte looks like an enormous sandcastle that's been eaten away by the tide.
"Many people used to live there," an elderly man astride a quad bike tells me, "but it's been empty for a long time now." I work my way to the top of what is now a museum and each ledge reveals new, stunning views. The highlight is seeing Mount Erciyes from the summit, dusted with snow.
Edip's tour includes the recently restored A'laturca restaurant, with superbly balanced dishes such as the tender, spiced kuzu pirzola kafes (lamb chops). But I've fallen for a small café, Nazar Borek, whose inexpensive fare includes a firm favourite of mine: gozleme, similar to pancakes, filled either with Turkish sausage, spinach and cheese, or minced lamb.
The friendly owner of the café, Refik, is full of stories. He tuts dismissively whenever a car drives by beeping loudly; apparently they're young men off to do military service. "When I did mine," Refik remembers back some 30 years, "I went quietly with nothing but my little knapsack. My mother wanted to come with me to the bus station. I said there was no need to make a fuss."
Getting there
Both Turkish Airlines (0844 800 6666; turkishairlines.com) and Pegasus (0845 084 8980; flypgs.com) fly from the UK to Istanbul, with onward connections to Kayseri
Staying there
The Museum Hotel (00 90 384 219 2220; museumhotel.com.tr) has doubles from €300, including breakfast.
Visiting there
The 11-day Turkish Flavours itinerary, run by Argeus Tours, costs £2,200pp, including domestic flights, bed and board, cooking classes and museum entry (00 90 384 341 4688; argeus.com.tr).
Red tape
British travellers to Turkey require a visa, which costs US$20 (£12.50), when purchased in advance through the website evisa.gov.tr
More information
Reuse content