Kim, our skipper, starts yanking on the lines attached to the boom of the boat, swinging it and its sail over to the port side (or, for the landlubbers out there, to the left). The yacht continues to zoom across the blue open water, tipping heavily to one side. Two of our party decide to crawl upwards from the starboard side and sit on the opposite edge of the cockpit. I'm gripping a metal handle, determined not to panic when I look down and see how close the edge of the boat looks to the water. Gradually, our skipper's efforts begin to take effect and we slowly level out. "A little to the left," he tells one of our party stationed behind the wheel, who duly steers as directed, as we come to an even keel. Everything is suddenly, er, plain sailing.
Kim, like the three other young skippers working the season, has an off-shore yacht master qualification. He needs this in order to drive and sail our boat along its 150 mile-long trip around Greece's Saronic Islands, between the marina in Athens to towns in Aegina, Spetses, Poros, Hydra and to Ermioni on the mainland. He tells us when to winch the sail and when to ease out the lines, fixes us breakfast and lunch and – most importantly – pulls the boat up for our much-needed swim stops in the deep, clear sea after we have baked ourselves on the boat's deck.
Deciding to take a MedSailors holiday requires a certain level of faith from the start. Each week up to 10 people walk their yacht's plank into the cockpit and get shown the ropes while meeting each other for the first time. Everyone on the tour is aged between 20 and 35. It is, in essence, an age-defined package holiday, with activities planned out and the evenings left for as much, or as little, partying as people fancy.
The concept instantly brings to mind images of buses full of Club 18-30 holidaymakers, of sunburnt louts drinking their weight in WKD in Benidorm, or super-yachts filled with loud teenagers on week-long benders. But co-founder Jeremy Gleeson says the company has tapped into a market where people want to be able to party but also relax on a yacht, learn to sail and soak up some culture for less than it would cost to charter your own vessel.
We spend the first few hours after setting sail from Athens making sincere efforts to become friends. Being similar ages is helpful, and proves to be a good way of holidaying with like-minded people who want to visit ancient ruins on the islands, eat fresh fish at local restaurants, swim, sunbathe, and above all, have fun.
The skippers and Hannah, the guest manager, have already spent a week doing a recce across our route, mapping out where the boats can safely anchor each day and agreeing special prices for us at local restaurants and businesses. They have even found us a set of towering rocks on the way to Ermioni and worked out which side is safest to climb up and where to jump off.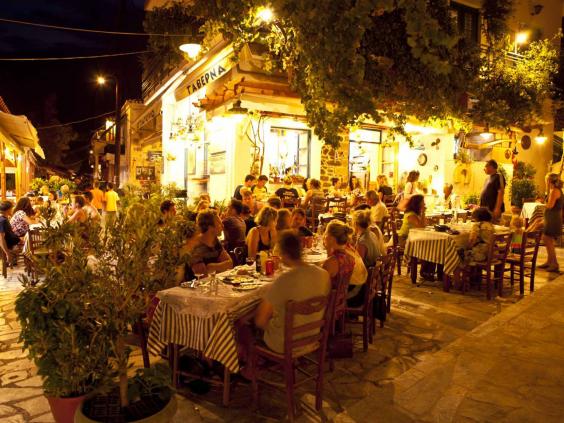 Lead skipper Huw is keen that we support the local economy as much as possible; the team recommends places to eat along the way for their affordability and the quality of their fresh sardines or lamb kleftico (Poseidon in Poros and Ganossis in Ermioni were highlights). In Spetses, we dock at a restaurant famed for its tuna called The Old Olive Press, run by Giorgios who serves us a set dinner for €20 as we look out on to the old harbour. We're also taken to a secret cave near Spetses that draws elegantly upwards out of deep water that is so clear that the bottom only feels a few feet away; Hannah has even arranged discount hire prices for scooters and quad bikes that we can use to explore the island itself.
It's not all quite so civilised: Ermioni is home to Millennium, one of the cheesiest nightclubs on the trip, where owner Nectarius puts on a bizarre show for his clientele involving him throwing napkins in the air while smoke and bubble machines create dramatic scenes around him. "Apparently he sets the bar on fire, too," says Hannah, "but I haven't seen him do that yet."
One lazy afternoon, Kim decides it's time for a spot of impromptu paddleboard surfing. We cheer each other on as we each manage to stand up on the board before falling off again seconds later. It is safe to say that I am the least talented at this sport.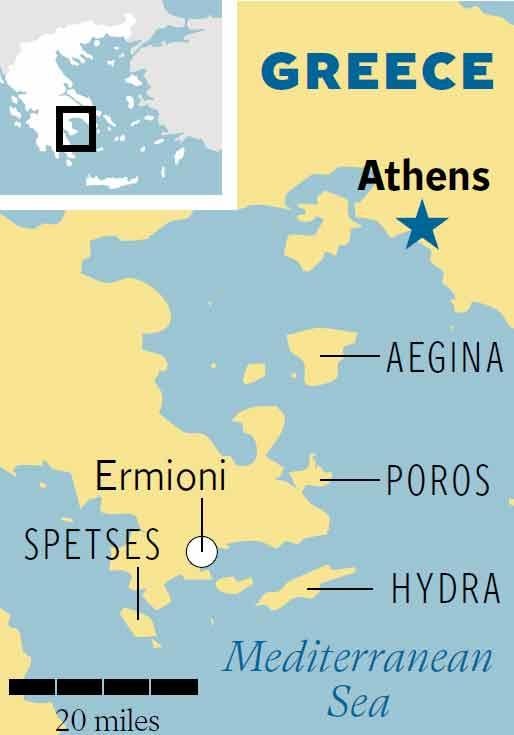 No sailing holiday would be complete without a regatta. So we prepare for the race against a rival boatful of MedSailors on Kallisto. It is against the rules for the skippers to touch a single thing – they can only direct us as we frantically tug and winch at the yacht's sails. After a tight race both yachts almost slow to a complete halt when the wind drops off, but we know our victory is secured when Queen's "We are The Champions" crackles through the skipper's radio. It is being played out by the self-proclaimed "race committee", otherwise known as Huw's boat, and marks an apt end to our adventure.
Getting there
Loulla-Mae Eleftheriou-Smith travelled as a guest of MedSailors (020 3637 0071; medsailors.com). The company offers one-week skippered sailing holidays around Greece, Croatia and Turkey between May and September from £413pp, with on-board accommodation and half-board meals. You can fly to Athens with easyJet (0843 104 5000; easyjet.com), British Airways (0844 493 0787; ba.com), Aegean (0871 200 0040; en.aegeanair.com) and Ryanair (0871 246 0000; ryanair.com) .
More information