'Dear Monsieur Renoir, I am sending you 500 francs for your painting which we have sold, and I invite you to join my next exhibition with Monet and Pissarro. Cordially yours, Paul Durand-Ruel, Paris, 1895." Paul's great-grandson, Paul-Louis, runs his finger across the ancient, fading letter and smiles.
"You know," he sighs, "Monet said that without my great-grandfather, the Impressionists would have died of starvation. Paul bought their paintings when they were unknown, paid their bills, almost went bankrupt – and finally made them famous. But he was never recognised here in France."
The heroic achievement of Paul Durand-Ruel will be recognised next week, when the National Gallery in London opens a fascinating exhibition, Inventing Impressionism. The show's theme is the life and collection of this forgotten art dealer who turned a bunch of scruffy Bohemians into the most famous artists in the world. With his support, they invented modern art. One third of all the paintings the Impressionists ever produced went through his galleries in Paris, London and New York – and the ones he kept for his personal collection form the bulk of this new show.
I've come to Paris to see the exhibition before it moves to London, and to explore the glittering belle époque world of the Impressionists. I'm starting at the Archives Durand-Ruel, on a handsome Haussman boulevard near the Arc de Triomphe, where Paul-Louis keeps his ancestor's records. On his wall is a tiny sketch by Toulouse Lautrec of Paul walking proudly round his gallery. Next door are shelves of leather-bound ledgers where purchases from Renoir, Monet and the rest were recorded in copperplate handwriting, with prices of just a few hundred francs. "Only last year," muses Paul-Louis, "a Monet of waterlilies sold in London for £31m."
The Impressionists' Paris
The Impressionists' Paris
1/5 The Impressionists' Paris

The Lapin Agile (Getty)

Getty

2/5 The Impressionists' Paris

Renoir's portrait of Paul Durand-Ruel (Durand-Ruel Archives)

Durand-Ruel Archives

3/5 The Impressionists' Paris

Hotel Particulier Montmartre

4/5 The Impressionists' Paris

Moulin Rouge (Marc Bertrand)

Marc Bertrand

5/5 The Impressionists' Paris

Paris map
There are plenty of Monets in the main exhibition, which is my next stop. And it's a revelation. Forget the chocolate boxes and cheap postcards that have ruined our view of Impressionist art. Go and see these passionate paintings face to face – vibrant landscapes in orange and blue, tender nudes in dappled shade, flirting dancers under tall trees, shimmering days on sea-cliffs. Light and colour dance off fierce brushwork. And among all the fireworks are Renoir's sparkling portraits of Paul Durand-Ruel and his children.
After the show, I head for lunch at a historic restaurant in the Tuileries Gardens that was once a haunt of Monet and Degas. They used to meet other artists here on the opening day of the annual Salon, the grand art show held nearby; a painting of 1886 shows them all at a slightly riotous breakfast. Today, the Alléno Paris Carré des Champs-Elysées is one of the grandest restaurants in France, awarded three Michelin stars just last month. As I climb the marble stairs I begin to understand why. The dining room sits at treetop level, like a belle époque birdcage, its gold-framed windows overlooking the park. The elegance of the interior is matched by the extraordinary food: exquisite plates of oysters with pistachio, caviar ravioli, and chicken with black truffle create the most astonishing meal I've ever eaten.
Staggering out, I cross the river to Saint-Germain-des-Prés. This area was the hub of the arts in the Impressionists' day, and I am staying at its heart, on the Rue des Beaux-Arts. At one end of the street is the Ecole des Beaux-Arts, a Neoclassical campus that dominated the art world – and refused admission to the Impressionists.
At the other end is a more welcoming haven – La Palette, a café that has hardly changed since it opened in 1902. Inside, there are paintings on the walls, artists' palettes on the ceiling, and a gaggle of students setting the world to rights. Its tables fill with art dealers from the surrounding streets, where galleries specialise in everything from African statues to Chagall prints – for this quarter is still a wonderful centre for art.
In the middle of the Rue des Beaux-Arts, and even older than La Palette, is l'Hotel. Once a royal lodge, by the 1890s it was a raffish maison close where Oscar Wilde lived out his final days. So many paintings of the period were set in places like this, and today it's been restored in lush period style, the walls draped in green satin, the floors lined with leopard-skin print. Stepping inside its bronze doors is like stepping back in time.
In the evening, I head for another icon of fin de siècle Paris: the Moulin Rouge. Memorably painted by Toulouse Lautrec and Picasso, this vast nightspot has staged the can-can every night since it was invented here in 1889. Once it was a cheap dance hall notorious for its courtesans, but now it is a dinner cabaret serving 240,000 bottles of champagne a year. As the lights fall and the curtain rises, I think of all the artists who came here to meet or paint the working girls.
Next morning, I visit the Musée Marmottan, home to the world's largest collection of Monets. The standard places to see Impressionism in Paris are the Musée d'Orsay and the Orangerie, but they can get really crowded. Whereas the little-known Marmottan, by the Bois de Boulogne, has 100 Monets and no visitors. Here are all his great themes – waterlilies, Japanese bridges, poppy fields, Charing Cross bridge, Rouen cathedral and, in pride of place, is the painting that gave a name to this art: Impression, Sunrise. Its title was chosen for a group exhibition at Durand-Ruel's gallery in Paris, where its hazy image of a copper sun piercing blue sea-mist was dismissed by hostile critics as worse than half-printed wallpaper, a mere impression indeed. The name stuck and the group were taunted with it forever.
One area of Paris was more welcoming: Montmartre, a rustic village where they found tolerant locals, cheap lodgings and willing models. I walk up there at noon, clutching photocopies of pictures painted in these steep streets, searching for their locations. They're easy enough to spot, so little has changed. On one corner is Utrillo's pink-walled Maison Rose, now a charming restaurant. Down an alley is Cézanne's shabby Rue des Saules, by the tiny Montmartre vineyard. Gloriously, the Moulin de la Galette, made so famous by Renoir, still has the old wooden windmill on its roof, its sails tethered with a string.
Renoir himself lodged at 12 Rue Cortot, the oldest house in the quarter, now the excellent Musée de Montmartre. On the top floor is a recreation of the studio of Suzanne Valadon, sometime milliner, acrobat and model for Renoir and Lautrec, who was encouraged by Degas to take up painting and finally exhibited at the Salon. Walking into this room, with its bright windows and messy tubes of paint, its bare floorboards and empty canvases, you realise what this world was really all about – not the girls and the absinthe of legend, but the dedicated making of pictures, often against great odds.
I pause for dinner at the Hotel Particulier, an 1870s mansion among formal gardens off Avenue Junot. Inside it's a belle époque paradise of velvet sofas and stags' heads, where dashing waiters, dressed like dandies, fuss over elegant plates. Then I head for the ultimate Bohemian shrine: the historic cabaret, Au Lapin Agile.
Since at least the 1860s this tiny house has been a haunt for artists, and fading photos from the 1900s show it much the same as today – the dim-lit room crammed with paintings, the bare wooden tables where a scattering of devotees drink prune brandy and listen to traditional chansons. Renoir ate here when he lived up the street, Picasso painted himself at one of these tables in 1905, Vlaminck and Utrillo sketched in the visitors' book.
As I push open the low door into the dark wood interior, I am greeted by Frédéric Thomas, whose family have run this place since 1903. All of them have sung here too, and Frédéric himself has a spot tonight. Before the piano starts to play, he shows me around, telling by heart the stories of the paintings and the painters, the singers such as Aristide Bruant, and poets such as Paul Verlaine.
"The place was almost like today," he grins, "there is no break in its history." He points at a reproduction on the wall of Picasso's picture, Au Lapin Agile. "The young girl in that picture, Germaine, she married the painter Pichot, and moved into the Maison Rose. My mother still goes every year to tend her grave. We are the guardians of something special."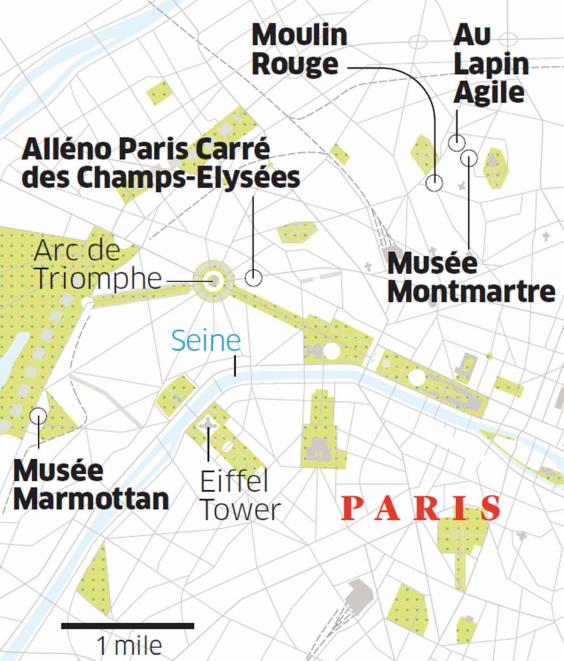 GETTING THERE
Eurostar (03448 224 777; eurostar.com) trains run from London St Pancras, Ebbsfleet and Ashford to Paris; fares start at £69 return.
STAYING THERE
Hotel Particulier Montmartre has suites from €390/£286 (00 33 1 53 41 81 40; hotel-particulier-montmartre.com).
l'Hotel (00 33 1 44 41 99 00; l-hotel.com) has doubles from €315 (£231).
VISITING THERE
Alléno Paris Carré des Champs-Elysées (00 33 1 53 05 10 01; yannick-alleno.com).
Moulin Rouge (00 33 1 53 09 82 82; moulin-rouge.com).
Musée Marmottan (00 33 1 44 96 50 33; marmottan.fr).
Musée Montmartre (00 33 1 49 25 89 39; museedemontmartre.fr).
Au Lapin Agile (00 33 1 46 06 85 87; au-lapin-agile.com).
MORE INFORMATION
Inventing Impressionism is at the National Gallery, London, 4 March to 31 May (020 7747 2885; nationalgallery.org.uk).
Reuse content