Frilled by pearly-white beaches and with three picture-book harbours, the tiny Ionian island of Paxos is one of the most enchanting hideaways you could hope to find.
According to Greek myth, it came into being as the private love nest of Poseidon, god of the sea, who struck off a section of nearby Corfu with his trident to create a secluded island paradise for himself and the sea-nymph Amphitrite. 
Nowadays, their secret is out. And although the lack of an international airport has helped restrict the numbers of mortals following in their footsteps, pocket-sized Paxos has become a popular retreat for honeymooners and loved-up couples of all ages.
Lingering over memorable meals in dreamy settings is an intrinsic part of many people's idea of a romantic holiday, and this little green jewel of an island serves up a brilliant menu of options for magical dinners à deux. Be warned that the food of love may not come as cheaply as you might have expected in Greece – Paxos's very exclusivity makes it one of the more expensive islands for eating out. But plan your fine dining carefully and you'll find food fit for the gods and restaurants with some of the most heavenly views imaginable.
Unsurprisingly, the regional specialities local to Paxos are similar to those of Corfu. Most widespread are sofrito (beef in wine sauce with garlic and parsley), pastitsada (a stew of chicken or veal with tomatoes, cinnamon and onions, served with pasta) and bourdeto (a fiery fish stew, spiked with paprika, usually made with scorpionfish).
But Paxos also has a few unique culinary aces up its sleeve. Most notably is its distinctive deep-golden olive oil made from the island's exquisite lianolia olives. Another, if you can track a bottle down, is the rare but celebrated wines of vine-clad Antipaxos, Paxos's even-more-miniature neighbour, 3km to the south. White varieties include Asproudi, Lianorgo and Tsoukanarias. For full, smooth reds try Fidias or Petrokoryntho. 
Waterfront dining on Paxos is a delight – especially under the stars. Gaios, the largest of the island's three harbours, is sheltered by two wooded islets. Head to local favourite Taverna Pan and Theo (00 30 26620 32458) for fabulous harbour views over a forest of yacht masts and across to sea-green St Nicholas's Island.
As in all of the harbours, fresh seafood is a highlight. You'll see the obligatory army of live lobsters scaling heaps of crushed ice before returning in the restaurant's signature seafood spaghetti (it's priced by weight; expect to pay around €21/£16 per person).
In Longos, the smallest and prettiest harbour on the island, you're spoiled for choice by seafront eateries. Aste Doue (00 30 26620 31888), run by Stelios and his mother, Lily, has a lovely, laid-back charm.
The menu includes unusual meze (fried calamari with smoked paprika is €6/£4.70; bruschetta with feta and caramelised onions costs €4/£3), as well as traditional Paxiot specialities such as seabass "bianco" (cooked in lemon, garlic and thyme; €16/£13).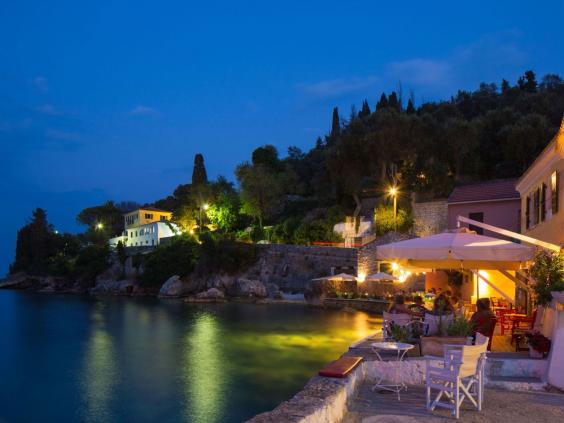 In the pine-ringed bay of Lakka, on the north of the island, the elegant La Rosa di Paxos (00 30 26620 31471) is the locals' top spot for harbour-side eating. It specialises in impressively bounteous seafood risotto (the full works, with mussels, clams and prawns, costs €15.50/£12). But Lakka is one place where there's really no need to get too hung up on waterfront views. The buzzy, lantern-lit piazzas behind the harbour are packed with charming family-run tavernas dishing up traditional food.
For a more intimate backstreet setting, lovebirds flock to Stasinos (00 30 26620 31924), which has a pretty walled garden, or to Taverna Alexandros (00 30 26620 30045) on Edward Kennedy Square. The square was so named because Jackie Kennedy's marriage to Aristotle Onassis was brokered here in the 1960s – probably (or so Alexandros will tell you) at the very table where you're sitting.
Want to feel the sand beneath your feet? Outside of its harbour towns and scattering of mountain villages, Paxos has some 30 beaches, mostly on the east coast.
There are fewer beachside tavernas than you might expect, but Taverna Bouloukos (00 30 26620 31336), on pretty Levrechio beach – just a five-minute walk from Longos – is impossibly romantic. Feast on baked sardines (€8/£6.30) under wild olive trees, while cicadas hum in the background.
Or seek out nearby Monodendri Beach, a stunning enclave backed by cypress trees. Ben's Beach Bar and Taverna (00 30 6974 105529), at the northern end of the beach, is more cosmopolitan than Bouloukos and almost Caribbean in atmosphere.
The décor is rustic-chic, with boardwalks, decking and colourful gardens tumbling into  lazy-hazy outcrops of palm-leaf umbrellas, sunbeds and hammocks (all free to customers). Bar snacks include pesto made with basil from the gardens (€9/£7). Or you can linger over seafood treats such as barbecued octopus (€12/£9.50) on the terraced restaurant.
It's possible to find yet more romantic spots on Paxos. As the evening sun begins to fade, head for Erimitis (00 30 6977 753499; erimitis .com), a swishly sophisticated bar/restaurant, poised on a vertiginous west coast cliff-top cloaked in thick green forest. It's known locally as the Sunset Bar, for reasons that will soon become obvious.
Modern Mediterranean-Italian standards (such as tagliatelle with fresh tuna, olives and capers; €14/£11.10) are served on large glass-balconied dining platforms, commanding amazing views over the island's magnificent Erimitis cliffs.
The purr of seductive jazz standards suffuses the evening air, as 150-metre vertical folds of sheer limestone shimmer and glow with the colours of sunset. High romance, indeed. Raise a glass of the house Sunset Soul cocktail (€9/£7.10) to Poseidon and Amphitrite, in celebration of their excellent taste.
Getting there
Linda Cookson travelled with Paxos specialist Planos Holidays (01373 813022; planos.co.uk), which offers self-catering properties on the island. A week in Samsu Villa, a two-person cottage with its own swimming pool, a 15-minute walk from Longos, starts at £725pp, inclusive of flights  and transfers.
There are no flights to Paxos. You can reach the island by ferry from Corfu, which is served by flights from the UK on Ryanair (0871 246 0000; ryanair.com), Monarch (0871 940 5040; flymonarch.com), Norwegian (0843 3780 888; norwegian .com/uk), easyJet (0843 104 5000; easyJet.com) and Jet2 (0800 408 1350 ; jet2.com).
More information: visitgreece.gr
Reuse content