Oslo's skyline has changed radically in the past five years and so has its footprint, but nothing has brought more to the inhabitants of this oil-rich city, than the district of Tjuvholmen.
"A small town within a city," is how property developers Aspelin Ramm and brothers Olav and Frederik Selvaag, describe it – and that is exactly what won the vote on their tender.
It's a tapestry of housing and restaurants, art galleries and bakeries, a high-end hotel and a "starchitect"-designed museum, alongside wide steps to sit on lining the edge of the Oslo Fjord, and there's even a beach to bask on in the short summer months.
Tjuvholmen was given its name in the 18th century (it translates as "Thief Island") because of its reputation as a place where drunks and thieves lurked and criminals were often taken to be executed. In more recent years, it was still tarnished by this seedy association, even in its later incarnation as part of the city's dock.
But with Gothenburg taking over much of the shipping business from Oslo and a growing need for land in the Norwegian capital, Jens Selvaag, an engineer and residential contractor, renowned for his innovative vision, proposed to develop the district.
That was in 2001. By 2005, his grandsons, together with Aspelin Ramm and local architect Niels Torp had created a master plan, one which would, Frederik Selvaag told me, "put Oslo on the contemporary art map".
Fast forward to today: the area was finally completed in January and Selvaag's aim has been more than met. Tourists and locals stream across the bridge to graze and gather, meet and shop, to take in a bit of culture or purchase the latest work from the artist of the moment, all in an ambience that has brought a gloss and a coating of cool to Oslo that was noticeably absent.
UNPACK
"Steals you away from everyday life" is the slogan of the neighbourhood's signature hotel: The Thief (00 47 2400 40 00; thethief.com). This design-focused hotel was created by Mellbye Architects.
It glitters with modern art, from Julian Opie's wonderful animated video installations in the lift, where serene women blink at you when you least expect it, to the Andy Warhol which looks down on to your Jerusalem-artichoke-cured leg of lamb.
The 119 rooms are warm, in shades of rich brown with glints of gold and granite and views over the Oslo Fjord as befits the city's first waterfront hotel. Together with its  new spa, it has redefined Norwegian luxury for the visitor. Doubles start at NOK1,890 (£190), with breakfast.
THINK LOCAL
Coffee is a national obsession: not home-grown here, of course, but certainly home-roasted. When Starbucks opened its first Norwegian outlet at the airport in 2012, it was reported that crowds took the train out there to try it. However, Bergshaven (00 47 37 04 04 46; bergs haven.com) in Tjuvholmen, wins the local vote.
A family firm for more than a century, it relocated to Tjuvholmen and sells Torungen Kaffe, grown in Guatemala, and roasted in a lighthouse in Arendal. It won top prize at this year's national Roaster Championship and brings the capital's cognoscenti to this relaxed café to browse the newspapers and get their caffeine hit of the day.
EAT
It has to be seafood in Norway and poised right at the water's edge is Sjomagasin (00 47 23 89 77 77; sjoma gasinet.no), a restaurant, shellfish bar and fishmonger's. Choose from the much loved, local blue mussels, steamed with ginger, chilli and garlic; or a whole platter of lobster and the most delicate of shrimps (NOK285/£29).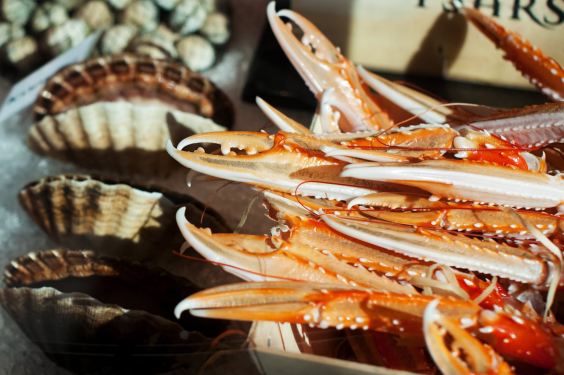 But what you mustn't miss is the seriously good Skagen toast (NOK 185/£19): shrimps, caviar, avocado and dill. It's like the national character – low key – but the combination of fried dark bread under the chunky mayonnaise mix – is unforgettable and like the economy, deliciously rich.
DRINK
The slickest offering in Tjuvholmen is Hanami (00 47 22 83 10 90; hanami .no), a fusion Japanese restaurant and bar that aims to stand out from the crowd and has, according to manager Jan Kristian, "collected concept, chef and barman from London's Zuma".
The large bar spills out on to the waterfront on summer evenings, while inside tables are arranged around a brightly lit panel of pink cherry blossom – a reference to Hanami, which is the time when people celebrate the arrival of the blossom in Japan. Fitting then, that its most popular cocktail is a Geisha Martini: a mix of Zubrowka vodka with fresh apple juice, raspberries and passion fruit (NOK139/£14).
SPEND
It is rare that a living artist has his own gallery, but Oslo native Terje Brofos, who paints under the name of Pushwagner has just that. At  Galleri Pushwagner (00 47 22 83 16 18; pushwagner.no) his vivid, vibrant pop art clamours from the white walls and draws you in with its mix of bold blocks and minute details.
With his work already hanging in Oslo's National Gallery of Art, Pushwagner is considered one of the greatest contemporary artists working today. "His dream," I was told, "is to have his own museum one day." Hand coloured serigraphs and digital graphic artworks cost from around NOK5,000 to NOK 60,000 (£500-£6,000).
For more accessible purchases, the cult shop Milla (00 47 22 83 83 66; millaboutique.no) has just relocated to a few minutes' walk away across the bridge in Aker Brygge. Here, sea green marble boxes and bowls jostle with butterflies in glass globes and alphabet rings by Bjorg from NOK 599 (£60).
Getting there
Fly to Oslo from Heathrow, Gatwick, Aberdeen, Edinburgh or Manchester; Norwegian (0843 3780 888; norwegian.com), SAS (020 8990 7000; flysas.com) and BA (0844 493 0787; ba.com) are the airlines.
More information: visitnorway.co.uk
Reuse content