Built in grandeur for the nouveau riche of the industrial revolution, the grade-II listed mini-mansion at Stowford Manor in Devon has been revamped for the 21st century, with vivid colour and plenty of quirkiness.
The work has been done by its owner, Fiona Wilson, a catering and hospitality lecturer who won over DIY-lovers late last year when she was runner-up in the BBC's Great Interior Design Challenge. So, along with the original stained-glass window depicting Sir Francis Drake being knighted by Elizabeth I, expect to find a Blighty-themed bedroom emblazoned with Union Flags and a table inspired by the wing of an airliner.
Surrounded by a large garden (including a tennis court and with enough grass left over for the croquet set to see some use – just watch out not to hit the ducks or chickens), the beautiful house is perfect for a long weekend away for up to 12 people, everyone no doubt fuelled by Pimms. And, in colder weather, log and coal fires keep it toasty.
The rooms
The luxurious living room epitomises the great mixture of modern and old-fashioned – a traditional mirror, fireplace, and chandelier at one end of the spectrum, and bright purple sofas at the other. It's a contrast in decor that you might not want to try recreating yourself, but it works brilliantly in making this potentially imposing building feel like a fun holiday home rather than a National Trust property to be tiptoed around.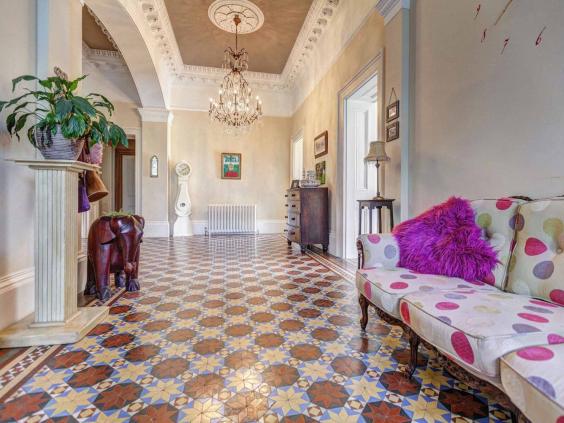 There's space for plenty of cooks in the kitchen – painted a dark blue in the way that only large, high-ceilinged rooms can get away with – and there's a grand dining room. During our visit, my friends and I had planned on cooking a big evening meal but decided against it after having trouble with the hefty Aga-style oven, which struggled to reach the right temperature even with plenty of warning – perhaps we shouldn't have been so shy (or environmentally-conscious) of leaving it on high for the whole weekend.
With a cot and a high-chair on hand, the house is family friendly. There's a games room too, with a healthy stock of Lego, board games, books, and a Wii games console.
After climbing the stairs in a hallthat's way bigger than many urban homes, you'll find six bedrooms to choose from. All have king-size or super king-size beds, and range from the huge to the cosy (as in the case of the love nest on the top floor). Only two are en suite; the others have a big bathroom to share.
Out and about
The house could barely be better located for countryside walkers. It's just a quick stroll across the Ivy Bridge and up the road to the edge of Dartmoor National Park (01626 832093; dartmoor-npa.gov.uk), where we found ourselves staring up through the trees at the magnificent Victorian viaduct, where trains still run on their way to Plymouth, with the tall pillars of Brunel's original bridge for his ingenious but ultimately foolhardy "atmospheric railway" which stands behind it. From here, you can follow the river Erme upstream for miles on the forest footpath.
If you have a car, the coast is around 30 minutes' drive away – just be sure to check the route your GPS is plotting first so you don't risk scraping your paintwork by driving through near-impassable lanes that are scarily narrow and steep, even by rural standards. We visited Hope Cove for a cliff-top walk, before driving on to the pretty harbour town of Salcombe to rest our bones by playing board games at the Victoria Inn (01548 842604; victoriainn-salcombe.co.uk).
Food and drink
Fiona had left two gorgeous loaves of artisan bread, as well as milk, tea and coffee, and in the dining room we found a good selection of gin, vodka and quirky, exotic spirits to help ourselves to.
If you're expecting little Ivybridge to be brimming with gastro pubs and restaurants, you'll be disappointed, though The Ivy Fish Bar (01752 657 324), a short walk away, is highly recommended; the haddock was fresh, hot and tasty. You can eat upstairs but with such a plush house waiting for us, we opted for takeaway.
There are one or two decent old-fashioned boozers in the town for a pint of beer or West Country cider – the Duke of Cornwall (0175 289 2867; dukeofcornwallpub.co.uk) was our favourite, thanks to the friendly bar staff and the pub's traditional vibe.
The essentials
Stowford Manor, Harford Road, Ivybridge, Devon, PL21 0AR. From £1,047 for three nights (minimum stay) through Blue Chip Holidays (0333 331 4275; bluechipholidays .co.uk). Sleeps 12.
Reuse content