Serbian friends chuckled when I told them I was sleeping in a "stay-over museum" that pays homage to life in the old Yugoslavia. Surely it's just like visiting your family in Belgrade, they said. Well, yes and no. Yugodom is the brainchild of 32-year-old interior designer Mario Milakovic, who turned his passion for collecting and restoring mid-century Yugoslav furniture and artefacts into a witty evocation of life during the Tito years – but with modern comforts.
The two-bedroom flat in Belgrade's Dorcol district is on the first floor of a bland-looking low-rise building that housed army families in the 1960s. Inside is a social history of Yugoslavia told through its vintage furniture, decor, artwork, kitsch holiday souvenirs, books and even a display of vintage bathroom products. It's all very stylishly done; its light and airy rooms certainly have much more flair than anything I remember from my first visit to Yugoslavia in the Seventies. In a way, it's also poignant – a visual representation of a country that no longer exists.
The rooms
While all the rooms have typically mid-century furniture, each one has its own decade and a Yugoslav cinematic theme. The Sixties bedroom is inspired by the 1960 comedy Ljubav i Moda (Love and Fashion); the Seventies bedroom has posters from sexually provocative films that were banned by the communist government; the living room has a playful Eighties theme based on screwball comedies of the era.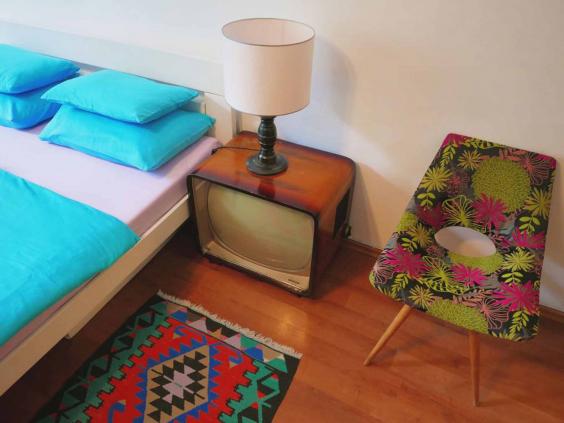 All have wonderfully retro details – vintage stereos, fans, lighting, TVs, objets d'art – and there are sofa-beds in both the Seventies room and the living room. (Technically it can sleep eight, although that would be very tight.) While the bed frames are decades old, they have new and very comfortable memory foam mattresses. Other nods to the 21st century include free Wi-Fi, a flat-screen TV, a powerful shower and air conditioning.
The kitchen combines vintage cookware with modern appliances. It's a bit small for complicated cooking – you would have to do the prep in the compact dining room – but there's no shortage of restaurants in the area. The balcony looks out over busy Strahinjica Bana street, but there's very good soundproofing.
Out and about
You're in a prime spot for most of Belgrade's sights. Trg Republike (Republic Square) and the lively, pedestrianised Knez Milhailova are less than 10 minutes' walk away. The vast Kalemegdan Park – which includes the historic Belgrade Fortress, gardens, museums and the city zoo, and overlooks both the Danube and Sava rivers – is less than 15-minutes' walk from the flat. It's right by the corner of Skadarlija, the 19th-century bohemian quarter of pedestrianised streets and traditional restaurants.
It's about a 25-minute walk to the river Sava and Savamala, the district that's picking itself up after decades of neglect and turning into Belgrade's hippest area. That title had formerly been held by Strahinjica Bana itself in the 1990s and 2000s, when its surgically enhanced clientele gave it the nickname Silicon Valley. Things have changed since then, but Strahinjica Bana remains an agreeably entertaining street with a bewildering choice of bars.
The food and drink
Coffee, tea and basic condiments are provided, and the fridge includes an honesty bar. There's a corner shop a minute's walk away on Francuska street, and you can see the large Bajlonijeva food market from Yugodom's balcony.
With Skadarlija so close, it would be a shame not to stroll along its cobbled streets and stop for an old-fashioned Serbian meal. On warm evenings you'll be serenaded by folk musicians. Perennial favourites and neighbours Dva Jelena (00 381 11 7234 885; dvajelena.rs) and Sesir Moj (00 381 11 7228 750; restoransesirmoj.co.rs) are reliable choices for plates of cevapcici (grilled meat rissoles) for 690 dinars (£4).
For drinks, pop into the shabby-chic garden terrace of Jazz Bajloni (00 381 69 225 5664; bajloni.com) on Cetinjska street, opposite the market. Cocktails are a very reasonably priced 390 dinars (£2.30).
Walk about five minutes west to Kneginje Ljubice street and look out for the jungle-like garden bar of Blaznavac (00 381 11 328 5857), with its wilfully mismatched rustic furniture and psychedelic murals. It gets busy later in the evening, so arrive early for a tree-shaded seat and a beer for 193 dinars (£1.10).
On Strahinjica Bana, at No 48, Kandahar (00 381 11 291 0311) offers a smoky taste of the east with its exotic interior and hookah pipes for 600 dinars (£3.70).
The essentials
Yugodom, Strahinjica Bana 80, Belgrade, Serbia (00 381 65 984 6366; bit.ly/Yugodom). Prices start at €55 (£40) per night.
Reuse content