"We are unable to communicate that we are more than nightlife sometimes," says Lucas Prats, owner of Ibiza's Can Lluc resort. Nestled in the hills in the centre of the island, it remains open through the winter months. While Ibiza may be primarily famous for its clubbing season (running from May to October), an increasing number of hotels, spas, bars, restaurants and shops are beginning to follow suit.
When the mega-clubs close their doors on October 4th, the population of the island drops from 400,000 to 150,000. The place is left to settle into a peaceful, rustic rhythm. A more sedate mix of the island's residents, holiday home-owners and weekend-goers go about their daily business. While British Airways recently began flying the route all-year-around, there are no direct flights from Germany or Holland – leaving the Brits plenty of spare room.
We stayed at Can Lluc, a perfect little finca with just a handful of rooms. Converted from Lucas's grandfather's villa into a beautiful retreat that toes the line between intimacy and luxury, it is the perfect base for winter exploration. The rooms are sumptuous, the food is cooked from the gardens and there are plenty of little corners in which you can feel as if you are the only guests. "We have footballers and Spanish politicians come to stay," says Lucas. "But they never would bring their bodyguards – there are other places in Ibiza if you want to show off like that."
Lucas's easy hospitality speaks of a lifetime spent in tourism. He had his first summer job at 12 and gave up work as a lawyer for a hotel company to found Can Lluc when his grandfather died. The finca has been in the family longer than anyone can remember and Lucas is the perfect host. As a born and bred Ibizan, he says that since opening in 1995: "we have never closed".
With 300 days of sunshine a year, and average off-season temperatures of between 12C in January and a positively toasty 21C in October (that dips to 16C this month), it is almost T-shirt weather year-round.
While, in the dead of winter, swimming may be off the cards, the beaches remain open. Pull on a sweatshirt and head out to explore near-empty coves and playas. Salinas, Agua Blancas and Playa d'en Bossa all take on a windswept majesty when clear of parasols and unspoiled by the distant thump of bass. Explore the cave paintings at Atlanlis in the north. And on Sundays, head to Benniras for the weekly drumming sessions that are held at one end of the beach. Soaking up the percussion as it reverberates around the prehistoric cove is an ethereal experience.
Largely relying on food imports, Ibiza is sometimes seen as a second-rate culinary destination. But, in the off-season, its strongest food comes to the fore: the fare of the locals. At lunch, any restaurant worth its salt will have a blackboard propped up on the cobblestones outside its door outlining a 'menu del dia'. It will be typically three courses and a drink: ensalada mixta, grilled chicken or paella and a slice of flan. Chuck in bread and a glass of warming Spanish red at 10 euroes and you're hard-pushed to match the value anywhere in western Europe - no matter the time of year.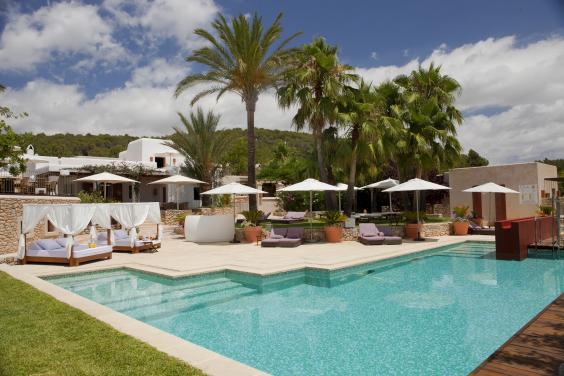 Of a winter's evening, cochinillo at Cas Pages will leave you with that very-well-fed feeling. A hunk of suckling pig, with crispy skin that cracks under the spoon like the top of a crème brûlée - to reveal a layer of fat underneath as soft as set custard. If it's something lighter you're after, head to Can Tixedo Art Cafe on a crossroads in the centre of the island. With regular exhibitions and live music, this is where locals flock to enjoy excellent tapas. And if you're near San Rafael on a Thursday, try out Couscous Club at El Ayouan– another treat reserved for winter visitors.
La Paloma is a must. The Israeli and Italian families who run it serve up food with an emphasis on healthfulness, including a mean soba noodle salad, lamb pides and a range of fresh juices. It's top-notch stuff and the surrounding is idyllic, with mismatched wooden furniture set out in an olive grove - as well as indoor seating if there's a nip in the air. 
If you do hanker after postprandial dancing, fear not. Pacha - historically the beating heart of Ibiza's club scene - opens its doors every weekend no matter the month. Come Halloween, New Year's or even a full or new moon many of the other big names reopen their doors. Kate Moss's favourite Pikes Hotel hosts a legendary annual party on October 31st. Then there are the bars, of which Bambuddah Lounge and Lips are two year-round favourites.
For The Morning After, head to a spa. Atzaro has a beautiful single-lane 50-metre pool running the length of a landscaped orchard that is dotted with plenty of daybeds on which to plonk yourself. If it's chilly, there's a steam room and wooden massage parlours, shipped in from Bali. It being Ibiza, you can always have the r&r come to you. Yoga instructor Trish Whelan offers kundalini yoga lessons at your villa or retreat. At Can Lluc, we had a perfect secluded garden (and there's plenty of indoor space) in which to realign our chakras.
The pool at Can Lluc is salt water. One of the wines they serve is made from Muscatel grapes grown on the one hectare of agriturismo land behind the main house. Old tools dotted around the grounds belonged to Lucas' grandfather. Details like this all add up the perfect stay - even if you are here on one of the 65 days when the sun isn't out.
"If you have a rainy day," says Lucas "You have to change to a book, or sleeping. When I was young, at the house, I would hear the rain on the roof, and I'd love to sleep with the storm. It brings me nice memories."