As Saturday's fire in the Channel Tunnel continued to disrupt travel, Eurostar passengers took to Twitter to vent their anger over the way the cross-Channel train company handled the shutdown.
The Channel Tunnel was closed for 15 hours after a truck whose load was smouldering set off fire alarms shortly before noon on Saturday. It was being carried on a Eurotunnel shuttle, which was evacuated. All trains were suspended for the remainder of the day
Eurotunnel vehicle shuttles between Folkestone and Calais began at around 3am on Sunday, though with a limited service because only one of the two running tunnels was open.
Eurostar, which runs passenger trains from London St Pancras to Brussels and Paris, said: "As Eurotunnel has advised us that its north tunnel will remain closed all day today, Eurostar services will be subject to delays of up to 60 minutes."
Around 12,000 Eurostar passengers were left out of position when trains heading for the tunnel from were reversed and went back to their starting points. The train operator offered to cover hotel bills of up to £150 per room and meal costs of up to £50 for stranded passengers. But re-booking arrangements for Sunday's trains were heavily criticised. Passengers holding tickets for Sunday took priority, leaving a limited number of seats for stranded travellers.
Eurostar did not allow changes to be made online, but only through its call centre - which was closed overnight.
Anais tweeted: "@Eurostar je ne comprends pas, il n'y a rien qui marche, on ne peut pas échanger nos billets en ligne, rien n'a été mis en place!" ("Nothing is moving, it's not possible to change tickets online, nothing has been put in place.")
A Eurostar spokesman told The Independent: "This is something that we're working on very actively, because we are keen to have that facility for customers."
Anyone with a credit card with sufficient headroom was able to solve the problem quickly and easily. All of Sunday's trains were open for sale overnight, and Eurostar confirmed to The Independent that anyone booking a duplicate ticket could seek a refund. However, this option was never advertised. Passengers who had not be able to travel on Saturday were instructed not to go to stations and to phone instead when the call centre re-opened at 8am. Some seats, they were told, might be available from noon onwards.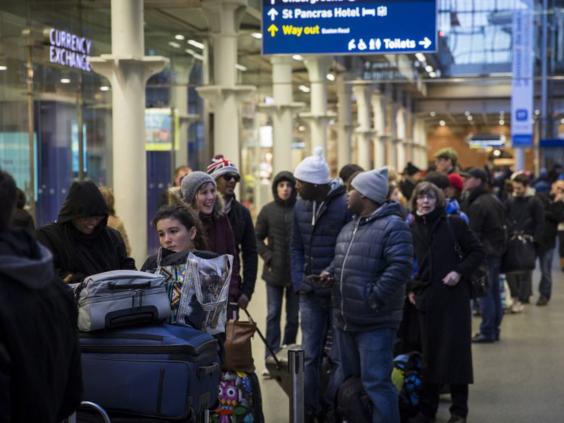 Robert Dallison was unable to get through to change his booking: "Your Contact Centre doesn't answer. On hold from 0800 to 0815. Not good enough. Need urgent resolution please."
The Eurostar spokesman said: "We have extended our contact centre opening hours as much as we possibly can."
It turned out that the best strategy for passengers was to ignore Eurostar's advice and turn up at London St Pancras, Brussels Midi or Paris Gare du Nord. Anyone who did so at around 8am was rewarded with immediate travel on unadvertised additional trains, with some passengers upgraded to Business Premier. Rachel Frampton tweeted: "All credit to @Eurostar, reimbursing hotel  and meals costs in Paris and gave us tickets this morning at station for first train of the day … Not to mention the first class seats @Eurostar have given us. More information would have been good, but top marks for customer efficiency."
She added: "Advice to Eurostar travellers, head to Gare du Nord and queue. Boarding passes are handed out first come first serve."
Andrew Erving, who was stuck in Paris, tweeted: "Advice on @Eurostar website & twitter not consistent with reality. Good job we went to Gare du Nord … We were just given new tickets for 08.13 extra train."
Around 600 passengers on Saturday's Ski Train from Bourg St-Maurice in the French Alps endured the most frustrating of journeys. Their train was stopped at Lille, where they were told they would be taken back to Paris. Later, they were told they would be going instead to Marne-la-Vallee, the station for Disneyland, where hotels were more readily available. But some travellers criticised the arrangements. On Saturday night Keith Woodhouse tweeted: "600 Ski Train travellers dumped in Disneyland Paris no information nobody contactable at Eurostar it's a disgrace!!!!!"
Passengers were told online to turn up at Marne-la-Vallee at 7.30am on Sunday morning to continue their journeys, but were again left confused. Courtney Hopf tweeted: "So it continues. 100's of people at Marne La Vallee, no staff or info in sight. This is heinous."
A Eurostar spokesman told The Independent: "We had dedicated staff to ensure that when the ski train arrived at Paris, there were people to assist them and re-direct them.  They stayed in Marne-la-Vallee overnight, and then there was a dedicated train for them to return on. We have received positive feedback, and also seen positive comments on Twitter."
Reuse content