At least two Air France jets aborted their planned landings at Paris Charles de Gaulle this morning as a result of the police operation to capture the perpetrators of the Charlie Hebdo murders.
Air France 7, an Airbus A380 jet from New York with more than 400 passengers on board, made a routine "go-around" before landing safely. A smaller plane, from Budapest, made the same manoeuvre.
Air France tweeted: "Normal procedure due to ATC [air-traffic control] instructions. Linked to police search operations (helicopters)."
The hunt for the killers of 12 people at the offices of Charlie Hebdo is focused on Dammartin-en-Goële, a small town a few miles north-east of the airport. CDG is the busiest airport in Continental Europe, handling an average of 170,000 people a day. It is understood that the airport's two northerly runways were closed to allow police helicopters to operate safely and freely.
Air France, which dominates the main Paris airport, said arrivals and departures were continuing on the two southerly runways: "Flights are operating normally. Minor delays expected."
The second-largest airline at the airport, easyJet, told passengers: "We are already experiencing some air-traffic control restrictions of up to 100 minutes and we are currently unaware of whether the situation will improve." It added: "If you are unfortunate enough to be delayed as a result of these issues we would like to apologise and thank you for your patience and understanding."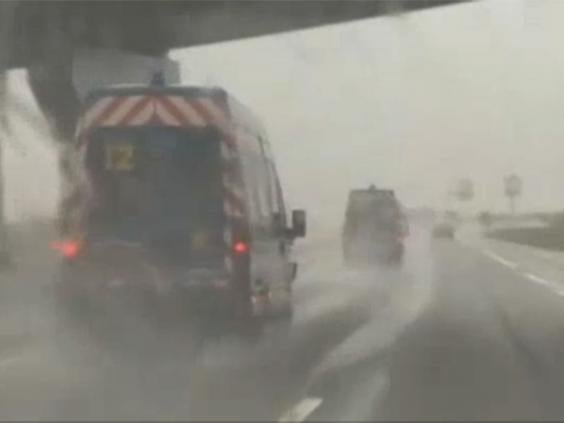 Departing passengers have been told to arrive at the airport well ahead of their flight because of added security measures.
Some flights to Paris on American Airlines, British Airways and Flybe have been operating with delays of around an hour.
* The Foreign Office has stepped up its warning to UK travellers, saying: "There is a high threat from terrorism. Attacks could be indiscriminate. You should be especially vigilant at this time and follow the security advice issued by the French authorities."
Reuse content