"We call these jungle M&Ms," offered my guide Cuthbert. "Try one." They looked more like fat white grubs clustered inside the cacao pod; the botanic term mucilage didn't make them sound any more appealing. But my love of chocolate meant that very little would deter me from trying it fresh from the plant. Sweet and fruity, the soft white outer layer melted away until just the cacao bean was left, although this one wouldn't be starting the fermentation, drying and roasting process along with the rest of the crop from the plantation in St Lucia's lush Soufrière hills.
It's all a long way from Cadbury's Buttons. But while the food of the gods is more commonly associated with the Aztecs and Mayans (and for anyone in the UK, with Birmingham), it has been grown on this Caribbean island for over 450 years. The French introduced the cacao trees that flourish in the island's rich volcanic, rainforest-shaded soil. And as they wrangled with the British for power, with St Lucia changing hands 14 times in 150 years, the crop survived the political turmoil. Now, a Chocolate Heritage Trail highlights 20 indulgent spots across the island, with extra events and activities taking place during August's Chocolate Heritage Month. Meanwhile, the three-hour tour at Boucan by Hotel Chocolat – the best-known name among St Lucia's chocolate producers – is the perfect crash course in all things cacao.
Wandering in the shade of laden fruit trees, with prickly soursop and breadfruit growing alongside guava and orange, we traced the bean's journey, from Cuthbert's carefully maintained seed bank to the ripe yellow or orange pods. Between recipes for his homemade natural insect repellent (garlic, cayenne pepper and liquid soap), I discovered that you should only cut or twist pods from the trees, rather than pulling, to ensure the next crop isn't damaged.
I also learnt how serious the chocolate-making business is. Despite modern scientific methods dictating the estate's choice of tree – a cloned trinitario hybrid for intense flavour and hardiness – the process doesn't seem to have changed much in centuries – even if the traditional cocoa-rina dance to polish the beans is no longer intrinsic to the process.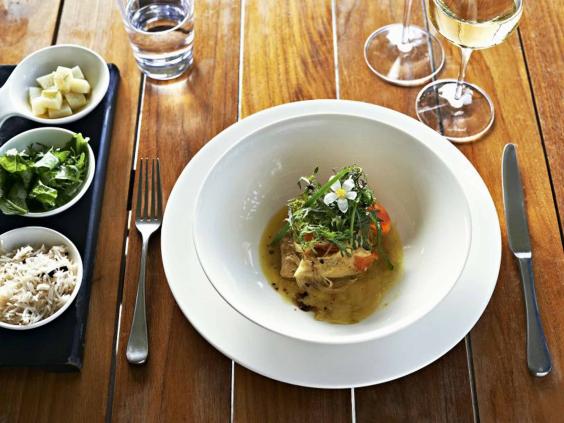 Packed into boxes, the beans are still covered with banana leaves and left to ferment for seven days, throwing off almost as much heat as the Caribbean sun. Freshly cured, they're then sun dried, roasted and ground before machines pound the nibs into the smooth paste needed to make a bar.
Bashing my own nibs somewhat less efficiently in a mortar, I had to content myself with the thought that my gritty creation had tradition on its side. It wasn't until the mid-19th century that Joseph Fry created the first smooth, solid bar that we'd recognise today.
And it was entirely by accident, if you believe Cuthbert. After unintentionally leaving the machine on overnight, Fry was ready to discard the smoother paste until he realised it could be moulded more easily. Although not before he'd cursed himself as a "ganache" or idiot. Apocryphal? Probably. But since Cuthbert also agrees with my firmly-held belief that white chocolate can't really be considered chocolate as it contains no cacao nibs, he obviously knows his stuff.
Tempting though it was to stay and work my way through the hotel's chocolate-themed menu, I had the rest of St Lucia's chocolate heritage to explore. Soufrière's hills are the heart of St Lucia's chocolate country. Best known for the sulphur springs, mineral-rich mud and thermal pools dubbed the "drive-in volcano", they're also home to Fond Doux Holiday Plantation. Here, hummingbirds flit around the secluded French colonial style cottages where you can stay on the working estate that has grown cacao since the 18th century. The air is tantalisingly scented with chocolate as you wander past flowering banana plants and the bright red and yellow heliconia flowers known as crab's claws. All paradises have their temptations; this one the plantation's rum- and amaretto-filled chocolate fondue drink, a concoction so good that all cacao beans should aspire to end up in one.
I was also (easily) convinced to completely cover myself in chocolate, on the coast below the hills. Gazing out to the sea with the rising Petit Piton beyond, I could understand why Jade Mountain resort calls its rooms "sanctuaries". Open to the air on one side, nothing disturbs the tranquillity in these spaces – except the methodical sound of my spa therapist Theodora plastering me in chocolate paste. Choosing to have the resort's signature Chocolate Delight wrap in the room, rather than the spa, I had to be cautioned not to try a quick lick of the milk chocolate mix, unless I fancied a taste of body cream at the same time. Wrapped in hot towels then massaged head to toe, I was almost too relaxed to nibble the tray of truffles accompanying the treatment. Almost.
Following the Chocolate Heritage Trail is the ideal way to discover the island, tracing switchback roads from the forested slopes down towards the Caribbean and pastel-hued fishing villages such as Anse La Raye. Set on a secluded cove nearby, Ti Kaye Resort & Spa added its own twist to all the indulgence. In the cellar, home to 640 different wines, I discovered just what to pair with my chocolate, courtesy of wine steward Dwight. From a sparkling Italian moscato with profiteroles to a syrupy French semillon-muscadelle for my praline mousse, via spicy Spanish rioja and Argentinian malbec matching a chocolate gateau, my careful tasting notes were soon enthusiastically smudged as I tried to wield a pen and fork simultaneously.
After all the gluttony I needed refreshing. So, after an energetic swim at the resort of St James Club Morgan Bay, I went for a cup of tea in the capital, Castries – cocoa tea, of course. Between the piles of juicy mangoes, waxy apples and knobbly breadfruit, as well as fresh fish filleted by machete, sit the spice stalls in Castries Market, the perfect place to find the ingredients for this traditional St Lucian drink. Tucked between the piles of mace and powdered spices, I found solid chocolate sticks. Grated into boiling water along with nutmeg, cinnamon, star anise and vanilla, a touch of corn starch, sugar and milk, they're transformed into a thick, spiced cocoa. Traditionally drunk for breakfast, it's my kind of way to start the day – and final proof that this slice of the Caribbean is a chocoholic's dream.
Travel essentials
Getting there
Cathy Winston flew to St Lucia with British Airways (0844 493 0787; britishairways.com), which offers return fares from Gatwick from £604.
Staying there
Fond Doux Holiday Plantation, Soufrière (001 758 459 7545; fonddouxestate.com). One-bed cottages start at $230 (£137), including breakfast.
St James Club Morgan Bay, Gros Islet (01245 469 900; eliteislandresorts.co.uk). Doubles start at £359, all-inclusive.
Visiting there
The tree-to-bar experience at Boucan by Hotel Chocolat, Rabot Estate (0844 544 1272; hotelchocolat.com) runs daily; $88 (£52).
The chocolate delight treatment at Jade Mountain resort, Soufrière (001 758 459 4000; jademountain.com) is available to guests for $150 (£89).
Chocolate and wine tasting at Ti Kaye, Anse La Raye (001 758 456 8101; tikaye.com). Saturdays 4-6pm during August, or times on request if booked in advance. $60 (£35).
More information
For details of Chocolate Heritage month in August and the Chocolate Heritage Trail, contact the St Lucia tourist board: stlucia.org