With jagged white peaks jutting preposterously towards the heavens, the Himalayas curve some 2,500 kilometres across Pakistan, India, Nepal, Bhutan and Tibet. The name for this famed mountain range, the ultimate trekking destination, means "abode of snow" but white's not the only colour here. There are deep turquoise lakes, verdant valleys, desert plateaux, pine-scented forests, ruby-red and pink rhododendrons. Buddhist monks are swathed in maroon, Hindu sadhus in orange, and everywhere multicoloured prayer-flags flutter their mantras in the breeze. Villages and monasteries cling to the hillsides, their people charming, resilient and rich in culture.
The trekking season here starts in late September when the air is crisp and clear, freshly washed by the monsoons and perfect for photography. It continues to late May: bitterly cold and snowy in December and January, full of blossoming flowers in spring, and getting hotter towards the monsoons' return in July. Further west, monsoons have less effect and treks in India's Zanskar and Ladakh or Pakistan's Hindu Kush are best during July and August.
No longer solely the domain of serious climbers and intrepid backpackers, holiday options now include luxury lodges and a whole range of activities from birdwatching in the foothills to paragliding over Pokhara's Phewa Lake, or simply relaxing in the hill stations of Darjeeling. You can still hike to high peaks, however, roughing it in tents pitched on snow or in simple teahouses on distant mountain trails.
The world's longest and most expensive trek, the Great Himalayan Trail, is offered by World Expeditions (020 8545 9030; worldexpeditions.com). It guides you every step of the 1,700km across the entire Nepal Himalaya. Starting in February, it takes 152 days and costs £16,990 excluding flights.
Exploring the Himalayas
Exploring the Himalayas
1/5 Exploring the Himalayas

Many routes are easy to follow, with ample teahouses providing accommodation and basic food (Will Whitford)

Will Whitford

2/5 Exploring the Himalayas

The rising number of trekkers also means an increasing number of casualties (Getty)

Getty

3/5 Exploring the Himalayas

Map of the area

4/5 Exploring the Himalayas

Ladakh may not attract many tourists in winter but it does attract snow leopards (Getty)

Getty

5/5 Exploring the Himalayas

Holy sight: Colourful prayer flags feature in the villages

Jim Davies
Or explore the mountains in style. Shakti Himalaya (020 3151 5177;
shaktihimalaya.com
) combines a gorgeous hillside lodge, Shakti 360° Leti, with yoga, fine dining and gentle walking around the villages of India's Kumaon region, costing £1,440 for four days, excluding flights.
While Nepal and India still attract low-budget travellers, Bhutan focuses on high-value, low-impact tourism, charging a minimum "daily package" of £120-150. This includes accommodation, meals, guides and transport, all arranged by tour operators. Of that sum, £40 goes towards free education, health care and poverty alleviation in the country that measures gross national happiness instead of GDP.
UK citizens need visas for all Himalayan countries. Nepal visas (£35) can be obtained from the Nepal embassy (020 7229 1594; nepembassy.org.uk) or on arrival. Visas for Bhutan (£24) are only available in-country, pre-arranged through licensed tour operators. For Indian visas (£92) apply online (in.vfsglobal.co.uk). Pakistani visas must be applied for through Gerry's Visa Application Centres (0871 703 3844; visadropbox.com) well in advance.
Delhi and Kathmandu are the international hubs for Himalayan holidays. Four airlines fly daily, non-stop from Heathrow to Delhi: British Airways (0844 493 0787; ba.com), Jet Airways (0871 226 1737; jet2.com), Air India (020 8745 1005; airindia.com) and Virgin Atlantic (0844 209 7777; virgin-atlantic.com).
There are no direct flights to Kathmandu. Jet Airways flies via Delhi, while Qatar Airways (0844 846 8380; qatarairways.com), Etihad (0845 608 1225; etihadairways.com) and Turkish Airlines (0844 800 6666; turkishairlines.com) fly from Heathrow and Manchester via Doha, Abu Dhabi and Istanbul respectively.
Ready, steady, go!
You don't need the stamina of an Everest summiteer to trek in the Himalayas, but you do need a reasonable level of fitness. Regular hill-walking over consecutive days should ensure you're ready for the challenge.
The Himalayas literally take your breath away: oxygen is in short supply and acute mountain sickness can kick in from around 3,500m. It's indiscriminate – even the fittest succumb – and can kill if you continue to ascend. Always notify your guide of headaches or nausea, drink plenty of fluids (not alcohol or caffeine) and trek at a steady, slow pace.
Novices at crampon and ice-axe technique who want to try a more ambitious trail could go on a Welsh Winter Skills course in advance.
Plas-Y-Brenin Mountain Sports Centre (01690 720214; pyb.co.uk) in Conwy on the North Wales coast offers two-days of training for £230pp, including full board and equipment.
So near, and yet ...
Everest, the most iconic Himalayan mountain, stands a massive 8,848m above the Nepal/Tibet border. Around 35,000 people a year now pound the trail to Base Camp at 5,370m, so don't expect mountain solitude. The rising number of trekkers also means an increasing number of casualties – including Sherpas – so anyone aiming to tackle the peak must do so with the utmost confidence in their health, fitness and the company arranging the trek. The full trek is also expensive: reckon on at least £30,000pp, which excludes flights.
For a quieter alternative, trek beneath the world's third-highest peak, Kanchenjunga, through the foothills and mountain passes of Sikkim in India for views across the Himalayas. KE Adventures (0176 877 3966; keadventure.com) offers a 21-day trip for £2,375 without flights, departing in April and October.
From highest to holiest, Tibet's sacred Mt Kailash is considered to be the centre of the world in Hinduism, Buddhism, Bönpo and Jain. It can't be climbed but you can join the four-day 50km kora (pilgrimage) around the mountain. Starting from Simikot in Nepal, The Mountain Company (020 7018 7031; themountaincompany.co.uk) has a three-week trip in May for £2,995 excluding flights.
There's more than just the mountains
White-water rafting is becoming ever more popular in Nepal, with specialist companies based in Kathmandu and Pokhara. The Blue Space (00 977 1443 7480; thebluespace.com) has 11-day trips rafting and fishing on the crazy Karnali River with camps on white beaches and expert guides to river skills for €610.
Wildlife lovers might spot the rare one-horned rhinos and Bengal Floricans with Naturetrek (01962 733051; naturetrek.co.uk) in Assam, Darjeeling and Bhutan. Its 18-day tour costs from £3,995 excluding flights.
Luxury and little ones combine with Kerr & Downey (00 977 1443 5686; keranddowneynepal.com), in an eight-day itinerary covering Kathmandu and Pokhara, with easy trekking and an inspirational meeting with an Everest Sherpa. From US$1,815/ 1,000 (£1,134/ £625) adults/children.
See Bhutan's culture and festivals on a trip with Tribes Travel (01473 890499; tribes.co.uk) or on Explore's (0843 636 8006; explore.co.uk) "Land of the Dragon" group tours of different festivals (12 days from £3,164).
Why not aim high?
For those who want to trek that bit higher, but not quite to Everest proportions, Nepal's trekking peaks, classified as below 7,000m, are the perfect lofty challenge.
Mera Peak in the Everest region is one of the highest at 6,476m. Climb High Himalaya (00 977 1470 1398; climbhighhimalaya.com) runs 18-day trips throughout the season from US$1,916 (£1,198), teaching the mountaineering skills required to make it to the summit.
Stok Kangri in Ladakh stands 6,153m high with fabulous views spanning the Karakorum, Himalayas and Tibet. Experience with ice axe and crampons is recommended for this trip with Exodus (0845 287 2141; exodus.co.uk) in July/August taking 16 days and costing £2,099, excluding flights.
And, for those who like cycling with altitude, Mountain Kingdoms (01453 844400; mountainkingdoms.com) has an exhilarating, if exhausting, 19-day "High Mountains and High Passes of Bhutan" trip in October for £4,085.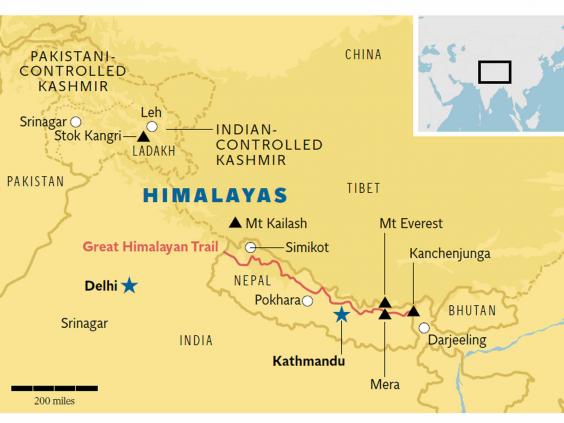 Get off the beaten track
There are still plenty of remote places where foreigners are a rarity. The fascinating Guerrilla Trek explores the Maoist heartlands of west-central Nepal, a no-go area during the insurgency but now back on the adventurous tourist's map. You'll sleep in basic homestays and the trail is tough, but the rewards are wonderful views of Dhaulagiri and warm encounters with locals. Swiss Nepal Family Trekking (00 977 1421 2911; trekking-in-nepal.net) offers this 16-day "alternative" trek from $2,091 (£1,394).
For several years, British government advice has cautioned against travel in Kashmir but that changed in late 2012, and tourists can now visit pockets of this beautiful region (see bit.ly/FOKashmir).
In September, May and June, Wild Frontiers (020-7736 3968; wildfrontierstravel.com) offers a 15-day High Road to Kashmir tour, which includes staying in Ladakh, driving across the world's highest road, at 5,600m, along the Nubra Valley and three nights on a houseboat in Srinagar. From £2,395 excluding flights.
Ladakh may not attract many tourists in winter but it does attract elusive snow leopards. They descend to lower altitudes in the cold. Steppes Discovery (01285 643333; steppesdiscovery.co.uk) has an eight-day trip "In Search of Snow Leopard" in November for £2,995 excluding flights. Sightings are not guaranteed.
Do-It-Yourself touring
In India, you can pick up local porters and guides in Leh, Ladakh's capital. Nepal, however, is the best destination for independent trekkers. Many routes are easy to follow, with ample teahouses providing accommodation and basic food, and you will meet plenty of fellow travellers on the way.
All trekkers need a Trekkers' Information Management System Card (TIMS) , available at Tourist Offices (bit.ly/EverestCard) costing US$10 (£6) for group trekkers; US$20 (£13) for independent trekkers.
Porters and/or guides can be picked up at trail heads and are well worth hiring: you'll help the local economy while enhancing your experience, learning about local life.
Check The International Porters Protection Group (ippg.net) for ethical trekking practices.
A good resource for independent-minded travellers is indietrekking.com. There are also excellent, reliable local trekking companies such as Marco Polo Treks (00 977 1443 9089; marcopolotreks.com) in Kathmandu, and 3 Sisters (01263 515808; 3sistersadventuretrek.com) in Pokhara, an all-female company for female trekkers covering Nepal, India, Bhutan and Tibet.
Reuse content