"We've done this in history! I know this!" says my daughter excitedly as we watch men in armour trudge over Stamford Bridge to commence battle. We are in Bishop Auckland, County Durham, at the first ever public performance of Kynren — An Epic Tale of England. It's an audacious attempt to replicate the celebrated summer show that runs annually at the Puy du Fou theme park in the Vendée region of France.
Nothing like Kynren has been mounted in Britain before. A golf course has been flattened and re-landscaped to provide 8,000 seats and a seven-and-a-half-acre stage for an historical re-enactment that tells England's story through the prism of Bishop Auckland's community.
The show is hard to define because it's not an accurate historical account. Instead it's a conglomerate of snapshots to celebrate moments that have defined us as a nation over 2,000 years. Its ambitious scope embraces the Roman invasion of Britain, King Arthur's knights searching for the Holy Grail, King Harold being shot in the eye by that fatal arrow, Henry VIII meeting Francis I of France, Charles I's execution, the industrial revolution and Sir Winston Churchill's rousing call to arms during the Second World War.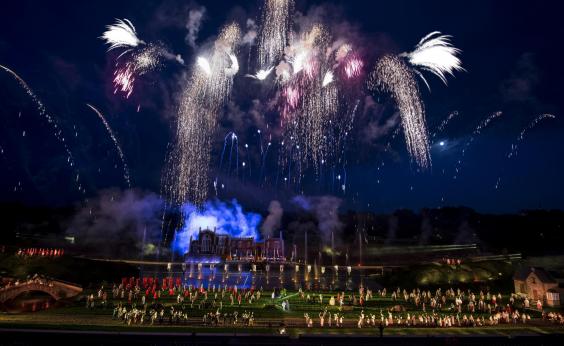 It's superbly accessible for children because the entire story is told through the eyes of a 10-year-old boy called Arthur, who lives in the North East and dreams of being a famous footballer like Stanley Matthews. He meets Bishop Henson of Durham, a wizard/professor-type with an Aslan-esque aura. He encourages Arthur to dream and leads him to a magical gate, which emerges from a mist-shrouded artificial lake and lets Arthur travel through time and participate in key moments of history.
There is stirring music throughout, fireworks and some excellent special effects, such as William the Conqueror's longboat rising from the lake, or the Stockton to Darlington steam locomotive roaring across the stage. Yet, given that we are a nation that excels at pageantry and ceremony, Kynren is not the most visually sensational show on offer. What gives it its unique heart-warming charm is not its slickness but the way it feels like a supreme effort by an entire community.
The show is entirely run by more than 1,000 volunteers, known as "archers". It is heart-warming and engaging precisely because it is a little rough and ready and feels enchantingly homespun. No one is a professional, so when Henry VIII's horse becomes skittish and threatens to run away with him, we all sympathise and my daughter laughs with pleasure: "Look! The horse is dancing to the music!"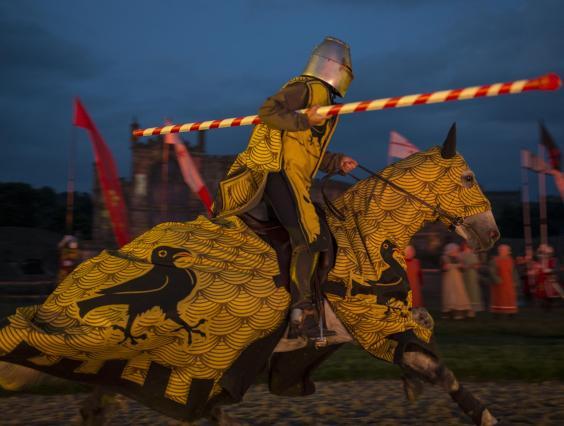 The philanthropist Jonathan Ruffer brought Kynren to England. Passionate about art, he first arrived in Bishop Auckland to save Auckland Castle and its collection of 17th-century paintings by the great Spanish artist Francisco de Zurbarán. He found "a deprived town of 27,000 that had lost its way". After saving the castle and its paintings, he set out to do something more transformational that involved the entire community. Today, the volunteers in their bright red fleeces show us to and from our seats with an infectious sense of pride and excitement and you feel that not to love this show would be a personal slight on each and every one of them.
The majority of French children tend to be taken to Puy du Fou by their grandparents as a rite of passage, just as a London child might be taken to see the Trooping of the Colour. Jonathan Ruffer wants Kynren to serve the same purpose in Britain. Nicolas de Villiers, son of Puy du Fou's founder, adapted the French show for Kynren. After the first night, he describes Kynren as a "live painting rooted in the North East, written like a novel or a hymn", and tellsthe volunteers they have "shown our guests the very soul of England."
"It's an age in which we're all so international and sophisticated but this tells us that we're a proud, brave people with a sense of heart," he adds. Certainly he's provided us with a bold, imaginative portal into our history and another very good reason to visit County Durham.
More information
Kynren takes place until 17 September (elevenarches.org).
Reuse content