If you've ever flown on a plane before, chances are you've suffered a few unpleasant symptoms.
A new infographic shows exactly how cramped conditions and constant pressure can create an environment that leads to dehydration and other illnesses.
Compiled by Comparetravelinsurance.com.au, it claims that catching a cold is over 100 times more likely when a person is travelling by plane due to the recirculated cabin air.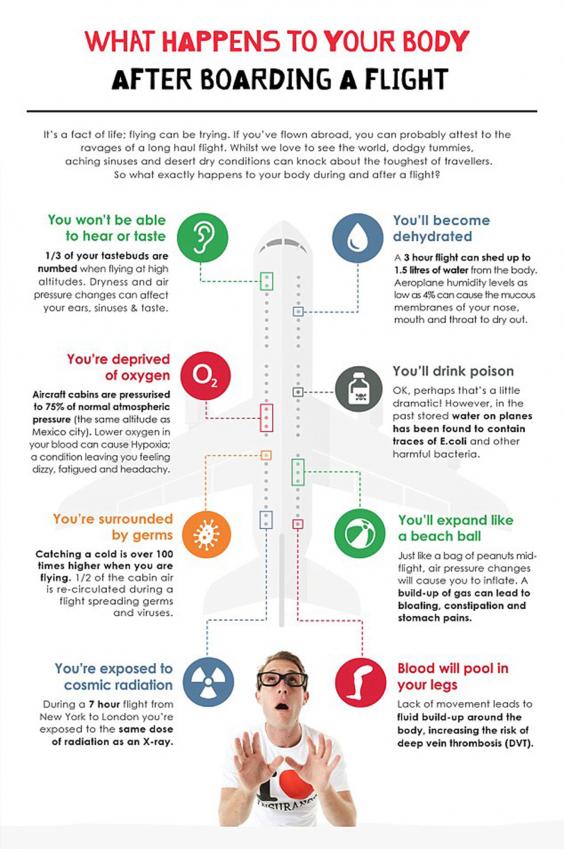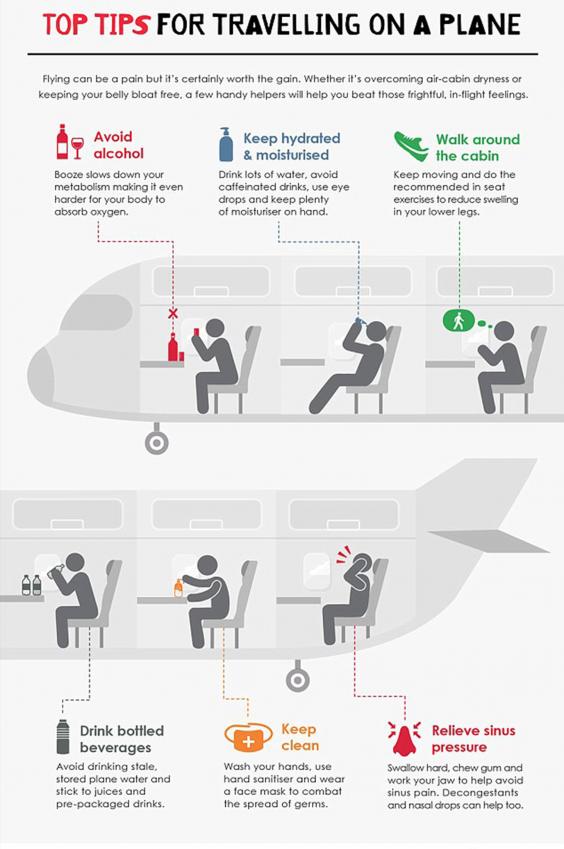 Meanwhile air pressure changes can cause passengers to experience build-ups of gas which lead to bloating, constipation and stomach pains. 
Airline food across the classes
Airline food across the classes
1/6 Virgin Upper Class

Clockwise from top right: Salted butter, malted wheat and oat roll, glass of Gardet Brut Premiere Cru Champagne

Thai beef salad, seared sirloin beef, dressed with a sweet chilli, lime and ginger dressing and crumbed roasted cashews. Created for Virgin by Lorraine Pascale

Italian buffalo mozzarella, heritage tomatoes and sweet pepper berries, drizzled with Italian extra virgin olive oil and a balsamic glaze

Brioche and butter pudding, served with Madagascan vanilla syrup and double cream

Sam Barnes

2/6 Virgin Premium Economy

Clockwise from right: Chicken, sweet potato and coconut curry, with coriander rice

Asian slaw salad of carrots, celeriac, sweet chillies and slaw dressing. As well as Jacob's crackers, Croxton Manor Mature Cheddar, 1/4 bottle of wine

Apple & blackberry pudding

Sam Barnes

3/6 Virgin Economy

Clockwise from bottom right: Slow-cooked beef bourguignon, with rosemary, roasted root veg and mustard mash

Mediterranean orzo salad, dressed in a sun-blushed tomato and roasted pepper dressing

Gü Chocolate Orange. As well as Jacob's crackers, Boursin Garlic & Herbs, 1/4 bottle of wine

Sam Barnes

4/6 All Nippon Airways first class

Clockwise from top right: Miso soup

Pickles preserved in vinegar Japanese tea

'Koshihikari' brand rice from Nichinan-cho Hino-gun in Tottori Prefecture

Simmered sablefish in soy-based sauce

Seasonal salad with wasabi

Dressed asparagus and konjac with sweet sesame paste

Marinated salmon in piquant-vinegared sauce

Japanese tea

Clear soup with a steamed prawn cake

Zensai, 'a selection of morsels' including Japanese omelette and sake-steamed abalone

Sam Barnes

5/6 All Nippon Airways business class

Clockwise from top right: Assorted pickles

Seasonal salad

A selection of morsels including dressed bamboo shoot and simmered octopus

'Koshihikari' rice

Simmered duck and vegetables

Miso soup

Deep-fried sea bream with thick ponzu sauce

Sam Barnes

6/6 All Nippon Airways economy

Clockwise from top right: A selection of fresh fruit

A selection of traditional appetisers

Seafood curry with steamed rice

Japanese noodle with spring onions, served with soy-based sauce

Miso soup

Sam Barnes
In February a US senator announced that he wanted to bring in the "Holy Grail" of air travel: New rules which would give passengers more legroom. 
Charles Schumer, a veteran New York politician, said he intended to fight against "encroachment on passengers' leg space" on flights, which he claimed forces them to sit "like sardines".
"It's no secret that airlines are looking for more ways to cut costs," he told the Associated Press, "but they shouldn't be cutting inches of legroom and seat width in the process… It's time for the FAA [Federal Aviation Administration] to step up and stop this deep-seated problem from continuing."