From Hillary Clinton to Mexicans, many have cause to be scared of Donald Trump.
Now confirmed as the Republican Party nominee, the billionaire's unique style of politics is set to take even greater prominence than previously thought possible.
His manner of intimidating competition and upsetting large groups of people is well documented, yet some quotes stand out as particularly scary.
Perhaps none more so than the time he appeared on The View with his daughter Ivanka.
If Ivanka weren't my daughter, perhaps I'd be dating her (The View, 2006)
What 'The Donald' surely thought was the highest possible compliment turned out to be one of the creepiest things a father could say.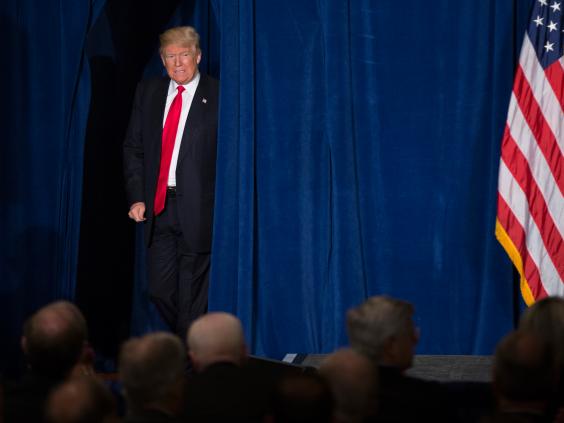 Trump was quick to set out his controversial immigration policy that included building a "great, great" wall to keep out anyone seeking a new life from Mexico.
"I would build a great wall, and nobody builds walls better than me. Believe me. And I'll build it very inexpensively. I'll build a great, great wall on our southern border and I will have Mexico pay for that wall. Mark my words." (Campaign Launch 2015)
Appealing to the xenophobic yet frugal voter, his divisive stall was set out early during his campaign launch.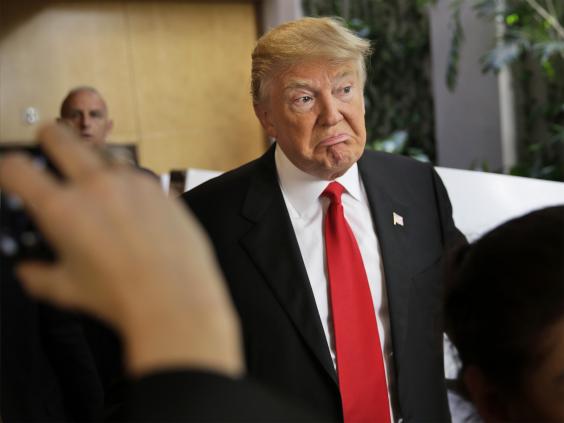 A quote from the Trump-written How To Get Rich is rather revealing about the 69-year-old's views on women.
"All of the women on The Apprentice flirted with me – consciously or unconsciously. That's to be expected." How To Get Rich (2004)
It's either telling about the way he does business or the way he thinks of women, neither being very flattering.
People who will flee America if Donald Trump wins
People who will flee America if Donald Trump wins
1/8 Miley Cyrus

'God' he thinks he is the f***ing chosen one or some shit! … Honestly f*** this sh*t I am moving if this is my president! I don't say things I don't mean!'

Jemal Countess/Getty Images

2/8 Whoopi Goldberg

'I don't think that's America. I don't want it to be America. Maybe it's time for me to move you know'

3/8 Samuel L. Jackson

'If that mother**er becomes president, I'm moving my black ass to South Africa'

4/8 Raven Symone

'My confession for this election is, if any Republican gets nominated, I'm gonna move to Canada with my entire family. Is that bad? I already have my ticket. I literally bought my ticket, I swear'

5/8 Cher

'If he were to be elected, I'm moving to Jupiter'

6/8 Neve Campbell

'I'm terrified. It's really scary. My biggest fear is that Trump will triumph. I cannot believe that he is still in the game ... [I'll] move back to Canada'

7/8 Jon Stewart

'I would consider getting in a rocket and going to another planet, because clearly this planet's gone bonkers'

8/8 Randy Blythe

'He could just be a clown. If he is the president, though, I am leaving America 'till he's gone'
To further his stance on immigration, Trump chose to clarify any suspicions Americans may have had about the Mexicans hoping to cross their southern border.
"When Mexico sends its people, they're not sending their best. They're not sending you. They're not sending you. They're sending people that have lots of problems, and they're bringing those problems with us. They're bringing drugs. They're bringing crime. They're rapists. And some, I assume, are good people." (Campaign Launch 2015)
Unsurprisingly, virtually the whole of Mexico was offended by these remarks. Trump might assume some were not.  
A further insight into Trump's perception of women arrived as he took to a red carpet.
"I mean, we could say politically correct that look doesn't matter, but the look obviously matters… like you wouldn't have your job if you weren't beautiful."(The Strip View 2014)
Another day, another journalist and/or woman insulted by Trump.
The insight continues with a barb aimed at his likely competition for The White House, Hillary Clinton.
"If Hillary Clinton can't satisfy her husband what makes her think she can satisfy America?" (Twitter, 2015 – later deleted)
Yes. Sexual prowess has always directly correlated with a political competence.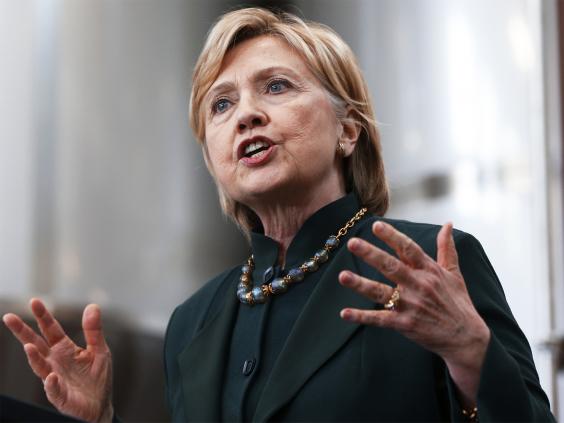 The immigration controversy continued after the San Bernardino shootings when Trump saw the actions of two radicals as cause to ban an entire religion from entering the US.
"Donald J Trump is calling for a total and complete shutdown of Muslims entering the United States, until our country's representatives can figure out what the hell is going on." (2015)
Not one to let a tragic event hinder the campaign steamroller, Trump continues to support this policy.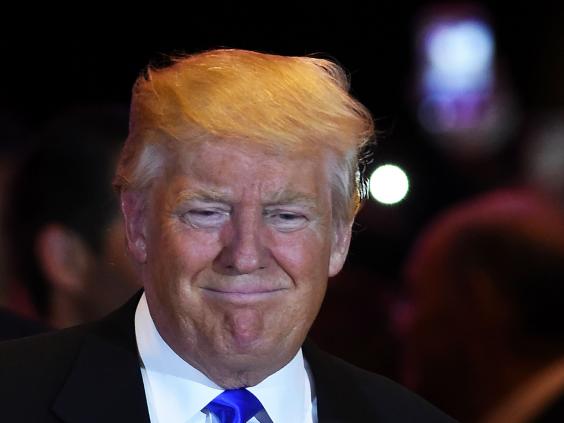 But what about tackling the root of the problem? Can we expect a more practical approach to preventing tragedies like this in the future?
"I would bring back waterboarding and I'd bring back a hell of a lot worse than waterboarding."  Republican Presidential Debate, ABC News 2016)
It might be worth deciding what's included in "a hell of a lot worse" and have the Geneva Convention to hand while doing so.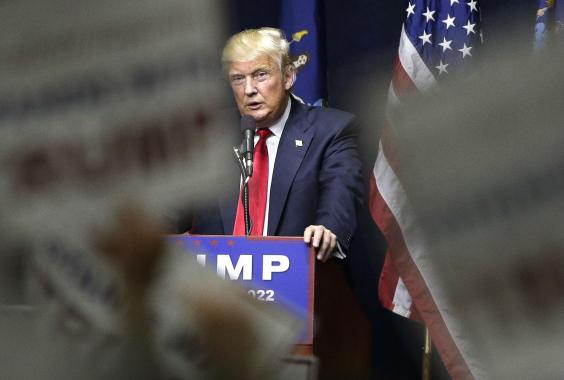 Trump has long suggested that Europe will regret its stance on refugees, concerned over the potential of a 'Trojan Horse' strategy from Isis.
"What I won't do is take in two hundred thousand Syrians who could be ISIS" (Face the Nation, CBS – 2015)
This may not be a concern should Trump ever enter the White House as President, being rather unlikely that refugees will choose the US as their preferred choice of sanctuary.
Donald Trump's most controversial quotes
Donald Trump's most controversial quotes
1/14 On Isis:

"Some of the candidates, they went in and didn't know the air conditioner didn't work and sweated like dogs, and they didn't know the room was too big because they didn't have anybody there. How are they going to beat ISIS?"

Getty

2/14 On immigration:

"I will build a great wall — and nobody builds walls better than me, believe me —and I'll build them very inexpensively. I will build a great, great wall on our southern border, and I will make Mexico pay for that wall. Mark my words."

Reuters

3/14 On Free Trade:

"Free trade is terrible. Free trade can be wonderful if you have smart people. But we have stupid people."

PAUL J. RICHARDS | AFP | Getty Images

4/14 On Mexicans:

"When Mexico sends its people, they're not sending their best. They're sending people that have lots of problems. They're bringing drugs. They're bringing crime. They're rapists."

Getty

5/14 On China:

"I just sold an apartment for $15 million to somebody from China. Am I supposed to dislike them?... I love China. The biggest bank in the world is from China. You know where their United States headquarters is located? In this building, in Trump Tower."

Getty Images

6/14 On work:

"If you're interested in 'balancing' work and pleasure, stop trying to balance them. Instead make your work more pleasurable."

AP

7/14 On success:

"What separates the winners from the losers is how a person reacts to each new twist of fate."

8/14 On life:

"Everything in life is luck."

AFP

9/14 On ambition:

"You have to think anyway, so why not think big?"

Getty Images

10/14 On his opponents:

"Bush is totally in favour of Common Core. I don't see how he can possibly get the nomination. He's weak on immigration. He's in favour of Common Core. How the hell can you vote for this guy? You just can't do it."

Reuters

11/14 On Obamacare:

"You have to be hit by a tractor, literally, a tractor, to use it, because the deductibles are so high. It's virtually useless. And remember the $5 billion web site?... I have so many web sites, I have them all over the place. I hire people, they do a web site. It costs me $3."

Getty Images

12/14 On Barack Obama:

"Obama is going to be out playing golf. He might be on one of my courses. I would invite him. I have the best courses in the world. I have one right next to the White House."

PA

13/14 On himself:

"Love him or hate him, Trump is a man who is certain about what he wants and sets out to get it, no holds barred. Women find his power almost as much of a turn-on as his money."

Getty Images

14/14 On America:

"The American Dream is dead. But if I get elected president I will bring it back bigger and better and stronger than ever before and we will make America great again."

GETTY
Perhaps the scariest of all these quotes is the last.
"I have no intention of ever running for president." (TIME Interview 1987)
The world has certainly changed since 1987 but this may the finest indicator of how unpredictable, volatile and undependable a Trump presidency could be.  
Reuse content