Last week I travelled to Calais. There I met a 14-year-old boy from Syria who was in a wheelchair. He had broken both legs trying to make it to Britain, and was alone. He was not much older than my children, but had already suffered more misery and experienced more danger than any of us could imagine.
Like thousands of refugees, he had left behind friends and loved ones for the chance of a better life. His family had spent a fortune to get him out of their war-ravaged country. They wanted him to travel to Britain and grow up away from the desperation of conflict and poverty. To make it to Calais, he had put himself at the mercy of people traffickers.
His new home in France was in "the jungle"; it was no place for a child. There was one toilet for every 150 people, and little in the way of food and water. Scabies, diarrhoea, skin diseases and stomach bugs were already present, and there were nightly reports of violence and sexual assault.
Britain has a duty to treat these vulnerable people with the humanity they deserve. But instead of attempting to address the underlying problems, our politicians ramp up the rhetoric and dehumanise those who need our help the most. Our leaders busy themselves with building a bigger fence and do nothing to look towards a sustainable, humane and dignified solution.
We urgently need to better support charities such as Médecins du Monde, La Vie Active and UNHCR, who kindly showed me the camp, and work with our European partners to tackle the crisis in the Mediterranean.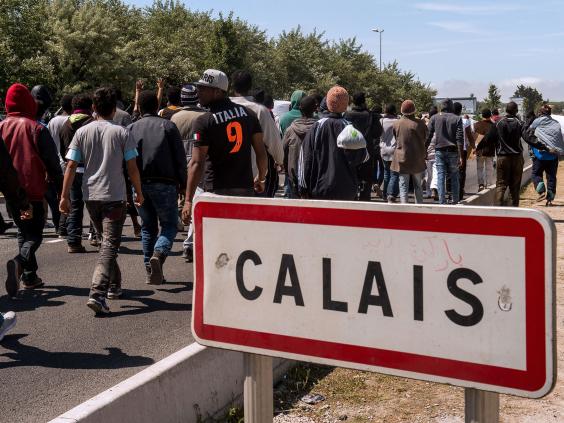 First, we must recognise what we can and should do in Calais. We must support the French in processing asylum applications, and provide decent standards of welfare and accommodation. The EU has offered resources on the ground, but much more needs to be done. Currently asylum-seekers in France wait three months to be fingerprinted, then a further month before accommodation is provided.
Second, we should take our fair share of the refugees in Italy and Greece. It is shameful that Britain has not signed up to the voluntary EU commitment, when our partners in Germany and Sweden, and even Luxembourg and Malta, have done so.
The issues across the Channel are vast and complex, but they are part of a much deeper malaise. If we treat the crisis in Calais purely as a security issue we will achieve nothing. Nobody is suggesting we "let everyone in" but we need to take our international responsibilities seriously and fulfil our obligations as a caring country.
Britain has always been a generous, open-hearted and compassionate country. We owe it to refugees fleeing war, migrants in the Calais camps and ourselves as world citizens to work together to solve the greatest humanitarian crisis of our generation.
Tim Farron MP is leader of the Liberal Democrat Party
Reuse content