The "vast majority" of veterans who need financial aid to prevent them from slipping into homelessness are unable to make ends meet despite having jobs, the head of a leading military charity has revealed.
Hugh Milroy, the CEO of Veterans Aid, a front-line charity fighting homelessness among the country's ex-servicemen and women, said about 80 per cent of its active cases could be described as "working poor" – people who are in employment but still fall below the poverty line.
Staff at the charity, one of two being supported by The Independent on Sunday's charity appeal, have observed a marked change in the kind of person seeking help over the past two years. The proportion of working poor on the charity's books has been rising rapidly, they said.
"They are people who simply cannot afford to live and work. We've had one or two really bad cases where whole families could have ended up on the streets if we hadn't intervened," Dr Milroy said. "This is a really serious issue, and it isn't going away. Life in Britain is complex and expensive. Some people simply can't afford their rent and end up sleeping in their car, even though they've got a job. You cannot sustain your life like that."
The charity recently helped a single father with three young children who had been given 24 hours to move out of his flat after accruing debts through a payday loans company. Veterans Aid gave him money for a deposit on a new property and guaranteed his rent for six months. "Had we not, they would have been on the streets," Dr Milroy said.
According to research by the Joseph Rowntree Foundation (JRF), more than six million people in the UK belong to working households that are also in poverty. A report published in November showed a big rise in the propor- tion of adults under the age of 25 who were in poverty compared with 10 years ago. More people in poverty are also living in privately rented housing than previously, the research found.
In pictures: Homeless Veterans appeal
In pictures: Homeless Veterans appeal
1/20 Glynn Barrell

Glyn Barrell is among the veterans hoping to benefit from the self-build scheme in Plymouth

2/20 Rachel Holliday

Rachel Holliday is converting a police station into a hostel

Colin McPherson

3/20 Androcles Scicluna

Veteran Androcles Scicluna says performing boosted his confidence

Simon Gregor

4/20 Christopher Cole

Christopher Cole, 51, from London, spent three years in the Army but left in 1982

John Lawrence

5/20 Maurillia Simpson

Former servicewoman Maurillia Simpson with the medals she won at last year's Invictus Games

Jeremy Selwyn/Evening Standard

6/20 Martin Rutledge

Head of The Soldiers' Charity, Martin Rutledge, says charities sometimes allow emotion to dictate their choices

Justin Sutcliffe

7/20 Ben Griffin

Ben Griffin wants to open people's eyes to the cycle of political violence

Charlie Forgham-Bailey

8/20 Robin Horsfall

Robin Horsfall, who fought in the Falklands and helped end the Iranian embassy siege

9/20 Mark Hayward

A bed for the night and food helped Mark Hayward out of misfortune

Justin Sutcliffe

10/20 Ashley Rosser

Ashley Rosser, who served in the RAF, at the Veterans Aid hostel in east London

Micha Theiner

11/20 Dave Henson

Britain's Invictus Games captain Dave Henson says veterans' charities helped rebuild his life

Chris Jackson/Getty Images

12/20 Hugh Milroy

Hugh Milroy dispels myths about war-zone veterans through his work as the CEO of Veterans Aid

Charlie Forgham-Bailey

13/20 Andy MacFarlane and Julie Taylor

Former soldiers Andy MacFarlane and Julie Taylor work at the Jaguar Land Rover plant in Solihull under a covenant connecting veterans with employers

Andrew Fox

14/20 Mark McKillion

Mark McKillion's experience of living on the street eventually left him feeling as though the only way to escape was to end his life. He survived his desperate jump from Westminster Bridge, and VA's help has restored his "faith in humanity"

15/20 Nigel

Nigel, a navy veteran, remembers living on the beach in the run-up to Christmas, when it rained every day for a week. He slept on a bench for seven years whilst suffering from Parkinson's disease.

16/20 Keith Cooper

Before Keith Cooper had his place confirmed at Avondale House in Newcastle, he was working out whether he could afford to buy a tent to live in

17/20 Simon Weston

Simon Weston, a Falklands War veteran, said even something as simple as a cup of tea can be an important step in getting the life of a homeless veteran back on track.

AFP/Getty Images

18/20 Ian Palmer, professor of military psychiatry

Ian Palmer, the first professor of military psychiatry to the British Armed Forces, says that the depiction of all ex-service personnel having post-traumatic stress disorder may stop people who really need help from getting it

Glenn Copus

19/20 Douglas Cameron

Evgeny Lebedev with Douglas Cameron, who had a hernia operation while serving in Burma

Johnnie Shand Kidd

20/20 Veterans Aid

General Sir Mike Jackson, President of ABF The Soldiers' Charity, called for donations to the Homeless Veterans appeal

AP
"The changes in the labour market over the past few years have led to an increase in part-time work and low-paid self-employment, which means that getting a job does not necessarily mean getting out of poverty," said Chris Goulden, head of poverty research at the JRF. "Without action by the Government and employers to address this as part of a wider anti-poverty strategy, this trend is likely to have serious consequences for the next generation."
Dr Milroy also warned that some military charities set "income thresholds" which might bar them from helping people who are in employment – even if they are technically still in poverty. He said that such charities should examine their policies.
John Boyle, whose role as head of outreach at Veterans Aid is funded by the charity SSAFA, said some people needing help were on zero-hours contracts and had seen work dry up over Christmas, leaving them unable to pay the rent. "If you combine that with a relationship breakdown, they can easily end up without a front door," he said.
While the charity had previously encountered many veterans solely relying on benefits, most cases now had a job, he added. "Normally, they're quite able, but they just need a bit of helping paying for a deposit or a rental advance for a flat," he said.
ABF The Soldiers' Charity, an umbrella organisation which gives grants to more than 5,000 people each year and is also being supported by The Independent on Sunday's appeal, said it often received requests for assistance from working veterans who still did not have enough money to cover "basic essentials".
"This can be for anything from funeral costs, household appliances or boiler repairs – anything which for them is a crisis and their usual household income simply cannot cover," said Brigadier Robin Bacon, the charity's chief of staff.
A spokesperson from the Department for Work and Pensions said: "Overall, work remains the best route out of poverty and the number of people facing in-work poverty has fallen. We have taken action to support those on lower incomes, including cutting income tax, freezing fuel duty and cutting energy bills."
Case study
Christopher Cole, 51, from London, spent three years in the Army but left in 1982. When he was struggling to pay the bills a few years ago, he was housed by Alabaré in Bristol, the largest provider of accommodation for working-age homeless veterans outside the capital. He has now moved home and works as a lorry driver.
"My father was in the RAF and I was brought up as a military child. Joining the Army was like going from one institution to another. It was a difficult time, adjusting to life as a civilian. I felt abandoned; all the support network had gone. My father got ill, and I ended up in debt, paying for his funeral. I got myself into a trap. I was living in London, but my boiler had broken down and I couldn't afford to pay for it to be fixed, so I spent a winter freezing in the house. I didn't really have enough to feed myself.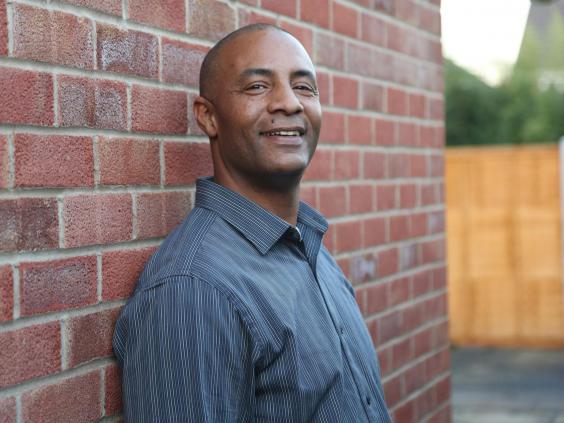 "When I spoke to Alabaré, it was like someone reaching an arm out. They provided me with a home, encouragement and self-belief. Soldiers don't want to go cap in hand to anyone, but sometimes you need to if you stumble."
Chris Green
Reuse content