The Nina Simone biopic has been embroiled in controversy since news first spread of its production in 2012.
Angered primarily by the lead role casting of Zoe Saldana, a considerably lighter-skinned woman than Simone, fans and Simone's estate alike questioned the film's potential to be anything other than offensive.
Four years after it was announced, the trailer for the film, which opens this week rather ironically to the tune of Simone's 'Black is the Colour', has garnered a similar reaction.
This is mainly because Saldana appears in what can only be described as blackface. Her skin has been darkened, her hair has been changed, and prosthetics have been used to widen out her nose, alter her features and give her buck teeth. But the dark shade of Simone's skin and her distinctly African features defined her politics and her music – to portray her in this way is nothing short of criminal.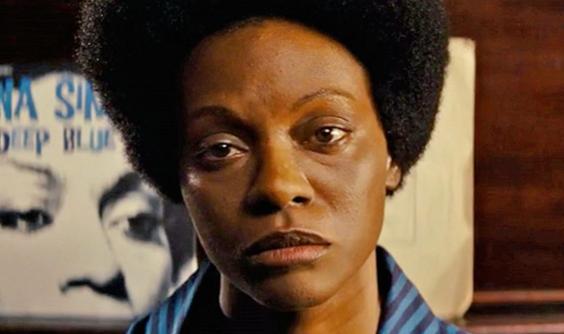 Looking at the main team behind the movie, the majority of those with influence in the decisions that so many have criticised are white. Writer and director Cynthia Mort is white, as is casting director Heidi Levitt.
Saldana's role could just as easily could have been filled by the likes of Adepero Oduye or Uzo Aduba without the use of dark brown body make-up.
Nina is emblematic of a wider problem in Hollywood, which tends to continually reinforce the notion that black actresses cannot appeal to the masses without possessing some kind of Eurocentric adjacent qualifier like lightened skin, or looser curly hair.
Similar to whitewashing - in which characters of colour are depicted by white actors in order to fulfil what a number of Hollywood directors have referred to as "mainstream appeal" - colourism has informed Hollywood casting decisions for decades. Simply put, colourism is a hierarchical social structure in which one's worth is determined by their proximity to white skin.
This explains why the pitifully small number of films starring black women are dominated by black actresses with lighter skin tones.
In the 1950s, the few black actresses that were given opportunities play romantic or dramatic leads in films, as opposed to maids, were light-skinned women like Dorothy Dandridge and Lena Horne.
Within the last decade, it's the same story. Films like Half of a Yellow Sun, based on Chimamanda Ngozi Adichie's novel of the same name, as well as the X-Men franchise, which have yet to feature a dark-skinned Storm in any of its editions, are just two of many to have recently come under fire for their failure to afford darker women a fraction of the visibility that fairer women are routinely given.
To some, the fact that Saldana, a black woman herself, has faced a backlash seems confusing. The argument at hand however, is not an unprecedented shade war waged by bitter, darker black people.
The issue with Nina, and productions like it, lies in the fact that Hollywood executives would more readily cast a fair woman, and subsequently adorn her with make-up three or four shades darker than she actually is, than cast someone who was born that way in the first place.
It is vital that darker skinned black women are represented honestly in the industry, otherwise racism quite simply cannot be fully eradicated.
Black women - along with the black experience - are not and never will be monolithic. It's time that Hollywood recognised that.
Reuse content