Keleshi Parukusa was a security guard and had the job of protecting rhinos in Kenya's Lewa conservancy. Attracted by poachers' big money, he helped them to kill two of the severely endangered animals, but yesterday admitted to his crime. This is his confession.
The 39-year-old from Lebarua in northern Kenya said he no longer wanted to continue poaching because he saw no profit in it. Disowned by his community and tricked by his friends, Parukusa said: "This is not what I want my life to be about."
Parukusa became a poacher in September last year, when four men approached him to help them to kill a rhino at Lewa. "I thought it would be easy money," he said.
"I brought them into the conservancy area and put them into position the night before. I had been observing the rhino from a hill and I made sure they could hide on the conservancy all night.
"The next day, they killed the rhino with two AK-47s. My job was to report the killing, but I gave the scouts wrong information about where the rhino carcass was. This gave time for my guys to escape with the horn.
"The horn [weighed] 5kg and they had to walk on foot for 20 kilometres to get it to Isiolo, the nearest town. From there, I don't know what happened to it. I got 350,000 Kenyan shillings (£2,450) for my role in killing the rhino. I don't know what the other guys  got paid."
Although the pay-off was a fortune for the Kenyan pastoralist, it was a tiny fraction of what the horn was worth. A gunman in Kenya usually gets a million shillings (around £7,000) per kilo. When it reaches Asian markets, its value can be up to 10 times that. Believed to possess magic properties, and falsely thought to be a cure for hangovers and cancer, rhino horn can be extremely valuable.
Parukusa said: "350,000 shillings doesn't make  you happy when you're avoiding everyone and lying to  your family.
"Although I wasn't the one who pulled the trigger, word spread quickly in the community about my involvement. I was scared and I denied any involvement. But everyone knew and the community ostracised my entire family.
"I was disowned by my people. I couldn't carry on living like this. People wouldn't talk to my family. I was in hiding and I rarely spent two nights in the same place for the next year. I felt my every movement was being observed.  The community wanted me to give myself up. I no longer  felt free."
Despite the guilt, shame and reaction of his community, Parukusa said he could not resist the allure of the money, and earlier this month, while the Lewa conservancy staff were at a Christmas party, he saw his opportunity to make his second killing.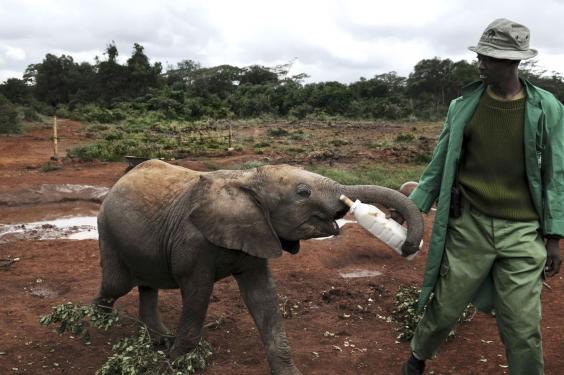 He said: "I bought a carbine from Isiolo for 50,000 shillings [£350]. This time, I worked with three guys I met in Isiolo. I fired the gun, and I took down the rhino. I felt nothing. To me, it was just about money.
"But the guys I worked with tricked me. They took the horn, [which] this time [weighed] 7kg, and disappeared with it. I heard nothing from them for days. I don't think I'll ever get paid.
"I quickly realised what kind of business this is. I would never make as much money as I thought from killing rhino. There was no profit."
When handing in his weapons in front of his community yesterday, Parukusa expressed deep regret: "The whole community suffered because of me. Many people in our community are employed by Lewa conservancy. My two brothers were security guards and depended on the conservancy for their livelihood. The trust between our community and Lewa conservancy was built because of a joined concern for the wildlife.
"Two days ago, I came clean to my family. They were angry but also worried. I had been lying to everyone. They had remained loyal to me and refused to believe the rumours that I was a poacher. When I told them, they were shocked. They had no idea.
"Last year, when they asked me how I had made so much money, I told them it was none of their business. It's not in our tradition to question the man of the house so they didn't pursue it. But I betrayed them.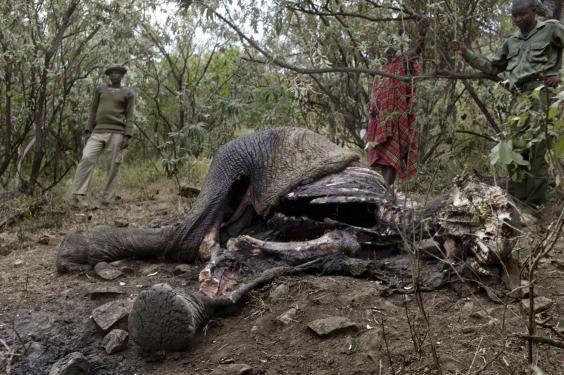 "I have ruined myself in the eyes of the community. I'm willing to take any punishment they give me. I have already handed in my weapon. I am willing to give away the cattle I bought with the money I got from the first killing. I am willing to go to jail. I feel deep remorse for my actions."
Dr Paula Kahumbu, the chief executive of WildlifeDirect, said the elders told her "the community meeting was like a celebration. They were relieved. They didn't want this question… about who was responsible for the rhino's death looming.
"You could see he felt terrible. Whilst I was speaking to him, a rhino walked past. I pointed it out and asked how he felt when he saw that rhino. He said, 'I just saw money.'"
The chief executive of Space for Giants, Max Graham, said: "The future of large species that can command such high value in illegal markets such as rhino and, increasingly, elephants, is almost entirely dependent on the people with whom they share their home. In northern Kenya, conservancies such as Lewa are creating real value for wildlife among local communities, creating stewards and conservationists out of local people. This case demonstrates exactly that."
To donate now, go here
Reuse content