I celebrated an anniversary last week. Twenty-five years ago I left the UK and brought my two little girls who were aged two and three at the time to live in rural New Hampshire. A major part of the reason was that I had a variable rate mortgage and interest rates had just hit 14 per cent and I couldn't make the payments on my meagre salary as a lecturer at the University of Surrey. I had to scramble around for extra work to pay the grocery and heating bills; they were tough days. I discovered that the price of an academic economist in the US was around four times my UK pittance so across the pond we trudged. We moved into a house about four times larger than our tiny Guildford semi and on the day we arrived the economics department threw a big Independence Day fireworks and swimming welcome party for us after the local parade. My girls, both of whom are now happily married, and I, were hooked and we have been here in New England ever since. Last week we all once again headed to a parade and fireworks on 4th July, with my girls' new adoring husbands in tow.
Not being able to pay the bills does have a chilling effect. The DWP last week published interesting data showing what a tough time the average family is having paying their bills. The first chart shows official data on how real incomes have changed, after adjusting for housing costs at both the median and the mean. Incomes are deflated by the Retail Prices Index but the picture is similar if the Consumer Prices Index or the RPIJ is used, which over the period 2012/2013 were up 3.1 per cent, 2.6 per cent and 2.5 per cent respectively. The picture is broadly similar if housing costs are excluded.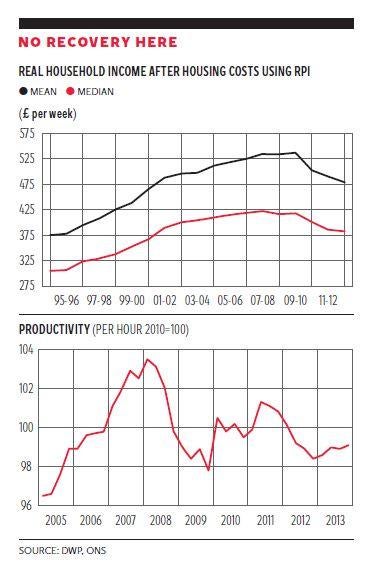 It is apparent that real household incomes at both the mean and the median have taken a marked hit since the Coalition took office. Mean incomes were £515 per week in 2009/10 and are now £462, meaning living standards have fallen 10 per cent under the disastrous Coalition. Indeed, real household incomes are lower today than they were in 2001/2.
For most people moving to the US isn't a possibility. The few options available are increasing hours, finding a second job or having an additional family member start working. Often there simply aren't jobs available, especially outside London and the South-east. And even when they are many are part-time, self-employed or zero hours and disproportionately low paying. Individuals at both the top and very bottom of the income distribution saw falls in real income so the level of inequality measured by the Gini coefficient remained flat in the latest year.
The majority of people aren't feeling any benefits from the so-called recovery. The polling data suggests the average person isn't buying the spin and continues to worry about how they will pay their bills. In a YouGov/Sunday Times poll taken on the 26-27 June respondents were asked: "How do you think the financial situation of your household will change over the next 12 months?". Only 17 per cent said "better", including only a third of Tory voters. In a subsequent YouGov/Sun poll take on 29-30 June 2014, when asked "Thinking about the next two or three years, how worried are you that people like you will not have enough money to live comfortably?" 59 per cent said they were worried, including 76 per cent of Labour voters. No wonder the Tories have apparently had no advantage in the polls over the last year.
Despite Lord Ashcroft's outlier poll which had the Tories with a 2 point lead and the personal attack campaign aimed at Ed Miliband, it seems that, according to UK Polling Reports' poll of polls, Labour is extending its lead. In June Labour's average poll lead was 3.98 points, up from 2.57 points in May, which in both cases would give them an overall majority. It is unclear whether the polls will narrow as the election approaches, as they have generally in past campaigns. We have never had a coalition government, a right-wing fringe anti-immigrant party and falling real wages. Past relationships are not good guides to future patterns at turning points, as hopeless economic forecasters such as the Office for Budget Responsibility and the Monetary Policy Committee have found out to all of our costs. I see no reason to expect psephologists to do any better than economists.
One reason why incomes and wages would be expected to rise would be if there was an increase in productivity, but data from the Office for National Statistics also published last week didn't bode well for any significant contribution from that source. Labour productivity measures the amount of real inflation-adjusted economic output that is produced by a unit of labour input, in terms of workers, jobs and hours worked, and is a key indicator of economic performance. Since labour costs account for around two-thirds of the cost of production of UK economic output, unit labour costs provide an indication of inflationary pressures in the economy. With labour productivity decreasing by 0.1 per cent on an output per hour basis in the first quarter, the 0.1 per cent increase in unit labour costs implies that labour costs per hour were essentially unchanged across the economy as a whole.
The second chart sets out the details in terms of output per hour, which makes more sense than expressing it per worker given the big rise in part-time employment. Overall output per hour was 4.3 percentage points lower in Q1 2014 than in Q1 2008 before the economic downturn. Output per hour was 99.1 in Q42013 compared with 99.8 in Q22010 when the Coalition took office. So far from productivity rising it is falling. Indeed, it actually rose to 100.8 in Q42011, only to fall back again. Not much sign of a productivity turnaround in these data, as in none. Productivity improvements aren't about to ride into town and rescue the British economy.
Most families are a lot worse off today than they were when the Coalition took office in 2010 and there seems no prospect that this will improve any time soon. Move to Canada maybe? Happy Independence Day.
Read next: