Not long ago, I was sitting over a pint with a good friend and jabbing him in the chest to emphasise the validity of my point about Shia LaBeouf when he interrupted me in an uncharacteristically abrupt fashion. Alex, as I'll call him, is not prone to emotional outbursts; I can count the number of previous such incidents in the course of our friendship on no hands. So it was surprising when he raised his eyes from his pint and told me, almost apologetically, that his brother was ill.
He fell silent, and in my surprise, I didn't say a great deal back. Gradually, though, he explained some of the circumstances. The diagnosis had come more than a year earlier; his disease would ultimately prove fatal. His family was having a hard time holding things together. And Alex hadn't been able to discuss it with anyone. How are you feeling, I asked? And Alex shrugged, and asked me if I wanted another drink.
This, sitcoms and adverts have always told us, is how it is always bound to be: men are not good at expressing their feelings. And so when Jude Kelly, the artistic director of the Southbank Centre, asked hundreds of men to gather and discuss how they understood their masculinity, you might not have expected them to be forthcoming. As it turned out, though, once they got started, you couldn't shut them up. "It was massively welcomed, from all these diverse backgrounds," Kelly says. "There was a very common theme that, with a few exceptions, men don't talk to each other emotionally about their problems. But they sort of have a hunch that they need to."
The result of those discussions is the Being A Man festival, which starts today and seeks to fill a problematic cultural gap. Over three days at the Southbank Centre's Thames-side campus, people including Jon Snow, Nick Hornby, Billy Bragg and Grayson Perry will lead a series of discussions covering a dizzying range of the problems and pleasures of modern manhood. From fatherhood to football, pornography to prison, the men attending will be encouraged to take what may be a rare look inwards. "Women have had a huge amount of time, necessary time, to think through where they want to be in society," she says. "It's something that women all talk about together. But for men the platform for that discussion just doesn't seem to be there."
Remarkably enough, despite constant media thumb-sucking about masculinity being in crises of one sort or another, Being A Man (BAM) is the first festival of its kind. Partly, that's because it hasn't historically occurred to men that their status is anything but default and such cultural habits take a long time to change. Andrew Samuels, a professor of analytical psychology at the University of Essex, says: "In the past 'men' were a kind of papal balcony from which the whole world was reviewed. There simply wasn't a category of men that people thought about until 40 years ago. Now men are very much the objects of scrutiny."
BAM is not the only acknowledgement of this change. Later this year, there will be an inaugural Male Psychology Conference at UCL, as part of an effort to persuade the British Psychological Society to inaugurate a male specialist section to sit alongside its female equivalent, which has been in place since 1988. So why is the male experience in general still so hard to talk about? Part of the answer may be that to begin such a conversation can put well-meaning men in a difficult position where they risk making common cause with those who yearn for the days of unchallenged male domination of every sphere. Martin Daubney, the former Loaded editor who is one of the participants at the festival, heard a resonant description of the problem from a participant at one of the preliminary discussions convened by Kelly. "Celebrating being a man is a bit like having a Union Jack on your gate," the man said. "It's a badge of shame."
And yet it needn't - mustn't - be anti-feminist to talk about male identity, perhaps even for a Loaded editor. Dr Luke Sullivan, a clinical psychologist who specialises in men's mental health and created an online resource called Men's Minds Matter, points out that the problems that men experience affect "everyone, certainly women". "I recognise that it's a difficult subject to talk about, but we might be able to reduce some of the impacts of these things on other people," Sullivan says. Steve Biddulph, the author of several best-selling books on raising boys, agrees. "The women's movement was the most positive event of the 20th century," he says. "But it's only half the story. If we don't change men, it will all slip backwards."
Among many other things, BAM will feature discussions about violence against women, pornography, and the impact of patriarchy. "You can't be criticising how male violence appears in the world and other things that need changing and then not provide the levers to do it," says Kelly, who previously created the Southbank Centre's Women of the World Festival. "I think a lot of men are saying, 'Why are issues like domestic violence or childcare only women's issues?' They're saying, 'Look, we're embarrassed about the statistics on rape, and we choose to talk about these things and to try and take control of them'."
There are, though, problems facing men in which they themselves are the victims, and the festival has plenty of material drawn from such issues. Perhaps the most striking is the still growing disparity in the suicide rate. Over the past 40 years, as the rate among women has remained steady, the propensity for men to kill themselves has gone up and up. They are now between three and five times more likely to take their own lives. As Jane Powell, the director of the Campaign Against Living Miserably, put it last year: "Gender runs through UK suicide statistics like letters in a stick of rock."
Why that enormous difference? According to Martin Seager, who was the head of psychological services in two NHS trusts and is now an adviser to Samaritans, men "are in the grasp of these very old rules about masculinity. Too many men would rather die than feel shame". These rules are slowly evolving, Seager says. But, strikingly, he adds that in 30 years in the NHS, the great majority of people to seek his help were women." Whereas with Samaritans, it's 50-50. I think the difference is that it's anonymous. There's a clear shame thing."
Seager points to another problem: an absence of a mental-health strategy that links up male-dominated problem areas, from prison to homelessness to addiction. And some trace those diverse crises back to a common root: a cultural education that from an early age denies men the chance to be open about their emotions. As Sullivan says: "We don't develop boys' emotional skills when they're young. And so, if they do come to face mental health problems, they struggle."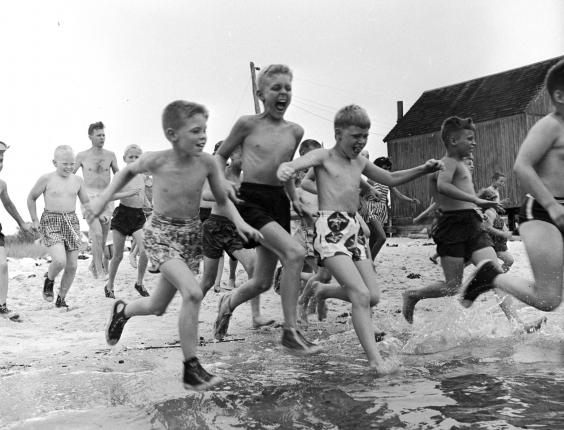 Boys who do experience such struggles may express their pain by lashing out - and, understandably enough, such behaviour is treated less sympathetically than a quiet cry in the cloakroom. Some put that difficulty in processing feelings down to a shortage of role models. "We can't expect boys to be good men if they don't see good men," Steve Biddulph tells me by email. "Schools are for many boys their best and only chance of seeing an alternative way of being a man. So we have to maximise that." Biddulph himself takes part in a programme for schools aimed at encouraging "good" male behaviour. "We directly address a curriculum of maleness how to behave around women, be safe, have goals and work for them, stand for something, be of value to the common good. These things can be taught, and boys lap them up."
Chase High School, in Westcliff-on-Sea, Essex, was recently rated "inadequate" by Ofsted inspectors. Its headteacher, Victoria Overy, attributes the downgrading from "satisfactory" in 2011 to her policy of accepting more challenging pupils, many of whom have been turned away from other schools. Overy is always looking for ways to help particular groups of pupils flourish. So when she heard the head of Lilian Baylis Technology School, a once troubled inner-city school that's now thriving, ascribe a large portion of the transformation to the institution of "man days", her ears pricked up. Overy's school has already split the genders for lessons in English and maths, with some success; she thought that perhaps a similar approach could help here, too.
The school's "man days" are yet to start but, Overy explains, they will not have a particularly arduous programme. Boys will be taken out of their regular lessons and helped with such grown-up banalities as rewiring a plug and cooking a meal for four for less than £5. But the point is not the activities. "While they're doing all this stuff, there's a lot of chatting," Overy says. "As a rule, girls have more of a propensity to explore their feelings and relationships and things. With boys, I do think it helps to have a vehicle to talk it through ... and I want to connect them with male role models. For some of them, they just don't have any they have absent fathers, or fathers who they wish were absent."
Overy and Danny Chaplin, the art teacher charged with leading the activities, are confident that the days will have a beneficial effect on the boys. "I think they'll open up a little bit more," says Chaplin. "I remember leaving school and how much it would have helped me, then, to have something like that. And when I was their age you could just be the hunter-gatherer type, the Marlboro Man, someone from The Sweeney. Where do men belong in the world now?"
Not everyone is convinced about the usefulness of such schemes, or the idea that a shortage of male teachers is a concern. "You can't reduce it to, if they're talking to a man, boys are more communicative," says Christine Skelton, professor of gender equality in education at the University of Birmingham. To Skelton, there is also a whiff of special pleading about the degree of concern over boys' school performance. "When all these girls were not doing well in science and all the rest of it, nobody gave a stuff," she says. "It was only when the natural order was subverted that there started to be a concern about anyone being left behind."
On the other hand, Chase High School is now planning to institute a parallel programme for girls. And, to Andrew Samuels, the aim of a restoration of that old order is very far from the point. "The idealising stuff about all these male heroes, soldiers and athletes, it's all very difficult for normal men," he says. "And then there are the denigrating attacks on men as violent, sexually abusive, laddish and stupid and horrible. Where's the man who's somewhere in the middle? Where's the man who's good enough?"
The "good enough" man is, perhaps, the point of the Southbank festival. And it has struck a chord. "This discussion seems to be so welcome," says Jude Kelly. "I'm hearing from men of all kinds saying: thank goodness this conversation is finally happening. It's unusual, but it feels right."
Back in the pub with my friend Alex, he returned with those drinks and steered the conversation to more manageable territory. But later, as we stumbled towards the bus stop, a bit the worse for wear, he began to talk again. This time, somewhat less inhibited by eye contact and sobriety, the conversation took a different turn. And in terms quite unlike any I had ever heard him use before, my friend spoke about his love for his brother, and his debilitating fury at the prospect of his loss.
His brother, on the other hand, had never heard it for himself. Their relationship, so conditioned by toy soldiers and board games and football matches, turned out not to have a great deal of space for the expression of emotional complexity. Standing by the bus stop, Alex softly kicked a lamp post. "Of course, I want to say this stuff to him," he said. "Why does it get so hard?"
Reuse content