Going to a ball or a big charity dinner is fairly straightforward. You walk in, pick up the glass of champagne from the tray in front of you, and if you stay in the same place, it's likely a canapé will come past too. Then all you really have to do is walk to your table where waiting staff arrive en masse arrive to fill your glasses and put plates in front of you.
It might be the annual vacuum cleaner bag awards and your table guests might be the dullest to have ever been allowed to converse, but it's still quite straightforward. You rarely have to think what is going on in the kitchen: the swing doors open and food arrives.
So when I was invited to spend the early part of an evening seeing what happens in such a kitchen, I put down my champagne flute and rolled up my sleeves. The event was the now annual charity Halloween ball at the Royal Horseguards Hotel in London.
The hotel's operation for big events is impressive: for their New Year's celebrations, executive chef Ben Purton is planning to work from 9am on New Year's Eve to 10pm the following night. On New Year's Day 2014, they are expecting to serve breakfast to 2,500 people involved in the Lord Mayor's Show.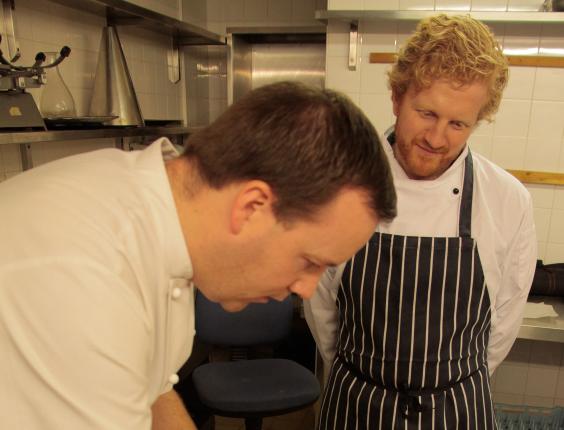 Their huge kitchens, like walking into the bowels of a large ship, match that scale. It was there that we started with the small eats – or canapés. Usually I pay little attention to them, but I gained a new appreciation of them when I had difficulty rolling even the simple ones with Parma ham with rocket, parmesan and sun dried tomatoes.
Perhaps even trickier was the "bloody" salmon. We had to slice a fish which had been marinated in beetroot (the pieces of which gave it a nice feeling of entrails – it was Halloween, remember), and present it, neatly layered, on plate. Then came the pumpkin carving, which allowed me to unnerve my fellow kitchen workers with a cannibalistic pumpkin creation (again, what did they expect, it was Halloween). Afterwards we learned how "the pass" works, where between four and eight quick-handed chefs, are given the job of putting just one element on each plate before it goes out.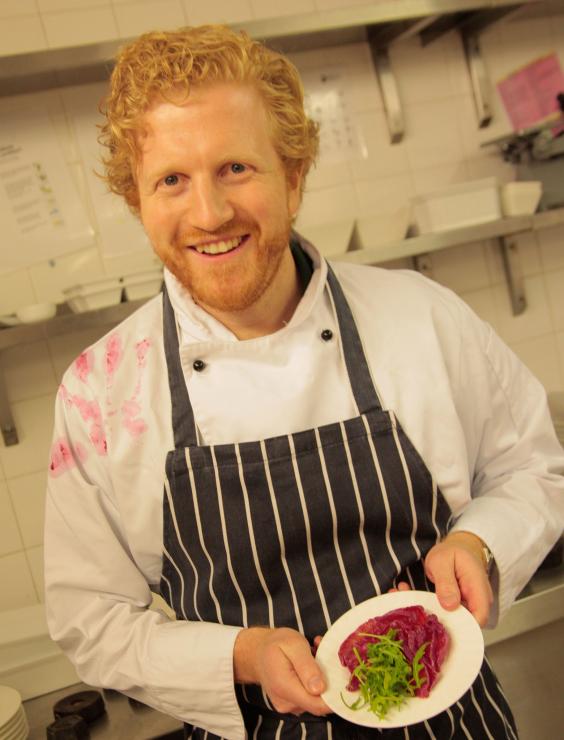 By the time I arrived at the dinner table for the ball, I had a new-found respect for those putting it together – along with the knowledge that life is considerably easier for those on the other side of the swing doors.
Reuse content