At 7am, the final item on the Today programme news bulletin on Radio 4 was about the death of a 94-year-old American folk singer with whom very few people under the age of 30 would have been familiar. By the 8am bulletin, the passing of Pete Seeger had become the day's lead story.
It took a little time for the Today programme editors to wake up to the cultural and political significance of this giant of modern music, but they got there in the end. Over a career that spanned five decades, Seeger recorded more than 100 albums and wrote some of the defining songs of his age.
He was responsible for one of the defiant anthems of the 1960s - "We Shall Overcome", which he adapted from a traditional hymn - and he himself overcame a few vicissitudes along the way, including the accusations of being a Communist sympathiser which led to his ostracisation by American TV networks. Seeger championed minority groups, and sang for migrant workers and at political rallies. Through his songs, he shone a light on injustice and sought to challenge the established order. His death represents more than just a landmark: it marks the passing of a different, more engaged, more politically active, age as far as popular music is concerned.
To understand exactly how ahead of his time Seeger was, take these two snippets from interviews he gave many years ago that were replayed on the Today programme. "I'm convinced that sooner or later the people of the whole world will have to do something about the fact that the rich are getting richer and the poor are getting poorer." These words from Seeger came in between a news item about the house-price bubble in London and the story that, despite losing all our money, bankers at RBS are hoping to get bonuses equivalent to 200 per cent of their salaries.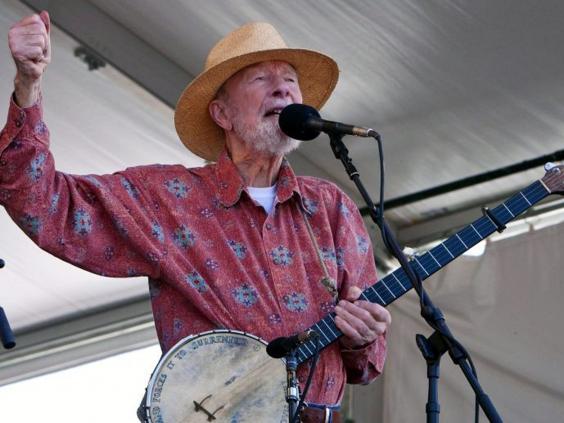 And then, on the 8am bulletin, Seeger's credentials as an environmental activist - unfashionable at the time - were pointed out.  "I work mostly up and down the Hudson River," he said. "I think globally but act locally. But it's not enough to say some fine words. You have to find a way to be active in some way." The very next item on the news was the environmental emergency in Somerset, where thousands are suffering from this winter's extreme weather patterns.
I don't know whether this juxtaposition was done advisedly, but it was certainly provocative. And it left me thinking (apologies for bowdlerising his most famous song): where have all the Pete Seegers gone? Contemporary music reflects the mores of its age, or maybe it's because young people in the West are just not that angry any more. Or, maybe, they are so disenchanted by the political process (cf Russell Brand) that their lack of engagement manifests itself in an unwillingness to look outside their personal ecosystem. Seeger said that, as a middle class man with plenty of material possessions, there were many social pressures on him not to protest. "I'm protesting," he said "because I'm worried there won't be any world for my children to grow up in." And here was a man who didn't just talk the talk.
Read more:
Reuse content