Last week I went to the Political Book Awards at IMAX in Waterloo. Six hundred people turned up – authors, judges, sponsors, hacks and politicians.
From the buzz and excitement, it seemed that politics still mattered. Good. It should. More than it usually does in this old country. As the tired democrats of Hong Kong march once again under their brollies, and young idealistic voters in Egypt, Iran, Bahrain and elsewhere are imprisoned and tortured, we should at least try to remember that we have what they desperately want. And that we should not be quite so dismissive of our parliamentarians and political institutions.
The MC was Rory Bremner, one of our most intelligent and perceptive comedy writers and performers. I have always loved his shows. He is making a comeback after, what he says, was a long enforced "sabbatical". After the coalition came to power the phone stopped ringing. Hope his luck turns now.
That night, however, there were moments when he made me uncomfortable, made me think. To ridicule the Tory Andrew Mitchell as he came up to present an award seemed tawdry. Mitchell is having to pay millions in legal costs after libel cases following the Plebgate affair. I don't care for him and his party but public office surely earns some respect? Some of the impersonations – perfect though they were – unsettled many.
Maybe Bremner has been away too long and we are no longer so used to comedy based on impressions. With so many male and female politicians in the audience, I wondered how they felt. One of them, a Labour MP, said she almost walked out.
We all know Britain has a long tradition of political satire. I have a leatherbound collection of drawings by 18th-century political cartoonists who mercilessly scoffed at royalty, peers and MPs. The cartoonists in our newspaper daily pierce the spin and postures of politicians, at times more effectively than the sharpest columnist. I compulsively watch Have I Got News For You repeats and would elope with Sandi Toksvig, presenter of the News Quiz on Radio 4. However, I also increasingly question my responses and what these programmes and other satirists say about us as a nation.
Have they cumulatively created false and unfair impressions in the minds of the electorate? In a survey in 2009, over 60 per cent of Britons said they thought MPs accepted bribes for personal gain. This is untrue, obtuse and dangerous. How many people do you meet every week who think all politicians and journalists are corrupt or crap or both? Maybe you are one of them. Little evidence is provided for these views. It is just "common sense".
Remember how extraordinarily hard it is to get selected, then elected and then make sure you serve the people in your area. I once spent four hours with an inner-city MP while he met and helped his constituents. One was suicidal, another a homeless unmarried mum who was only 17. There were drug addicts, stateless people, many who were simply furious and always will be. By the end of my time with him I had lost the will to live. I could never do what he does, smilingly, week after week.
Ian Hislop, the naughty, balding cherub and drily witty Paul Merton would never, of course, stand for office. They would not survive that game. Yet they have immense power over those who do.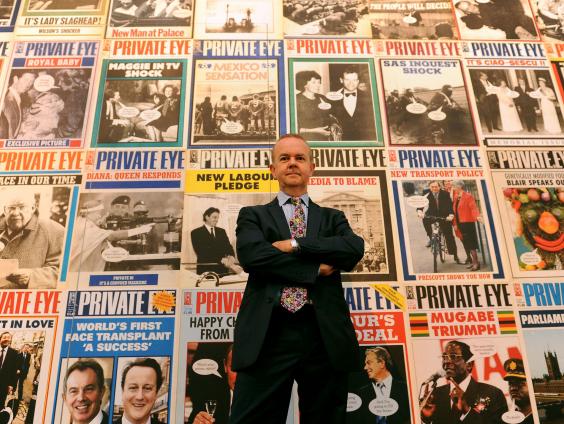 Anti-politics bloggers and tweeters who think they are being funny and smart are neither. But they are all hugely popular. Unthinkingly, everyone with liberal credentials agrees that laughter keeps the politicians on their toes and somehow sparks off political alertness. Not so.
An incisive book by Professor Steven Fielding (A State of Play: British Politics on Stage, Screen and Page, from Anthony Trollope to The Thick of It) tells the story of British satire, when it has been really effective and when it has become lazy and predictable, like mother-in-law and anti-Irish jokes.
Worse still, he concludes that rather than expose bad politics, modern British satire partly helps to create the rot. He is absolutely right. For example: satirists detest Ukip and that, counterintuitively, may well increase its appeal.
Laughing at politicians and deriding the political system may be creating apathy, rage, disengagement and, worst of all, profound pessimism. Public pessimism is lethal in a working democracy. If you don't hope for better – can't imagine it – why vote? We can see positive movement in parties which are spared relentless contempt and derision. The Greens are building up new support because they believe in their cause and the future. The SNP similarly offer hope and self-belief. Neither party was the butt of jokes until recently.
As the May election approaches, we need to pick up optimism. Just as the afflicted Greeks have done in this last election. That may prove impossible if millions of our people carry on laughing bitterly and swim in deep pessimism.
Satirists are citizens too. But they need to ask themselves some hard questions about what they do and how that might affect our futures.
Reuse content