I think we can all probably agree that Thomas Hitzlsperger did a good thing in saying he was  homosexual. It is something of a shame that the former Premier League footballer waited until he retired to go public with his sexuality, but in the area of sexual politics, we know that progress comes in small steps.
It is rather jarring to be reminded that we still live in a world where someone's private sexual proclivity is something we need to know about, but Hitzlsperger's act in becoming the first player in the Premier League era - and the first German professional player ever - to come out as gay is a significant one.
Of course, it would have had so much more impact had he made his declaration while still active in the colours of Aston Villa, but in helping to dismantle a taboo which is both shaming and irrational, it is entirely proper that Hitzlsperger should get backing from those within the game and beyond, from respected figures and eminent commentators. And Joey Barton.
In his interview, Hitzlsperger emerges as an even rarer specimen among professional footballers: he's thoughtful, clearly deeply intelligent, well-spoken and measured. He makes the point that, in Germany, the media is much more focused on outing players than in Britain, and indeed some of the German game's biggest figures have had to answer highly inappropriate questions - based on little more than innuendo - about their sexuality. In this febrile, intrusive atmosphere, it is hardly surprising that active players don't come out.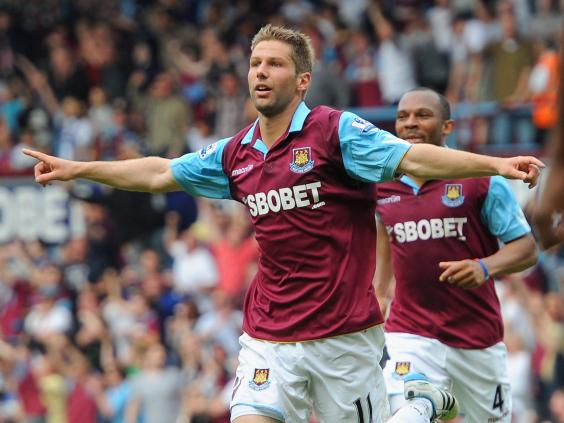 Professionals in Britain have less of an excuse, because the overwhelming evidence is that we simply don't care very much these days. Football is, unsurprisingly, a macho environment in which masculine qualities are prized - Hitzlsperger himself was known as "The Hammer" for his powerful left foot - but it is clear from the reaction today that, were the dressing rooms of Britain truly to reflect the make-up of a society in which six per cent of the population is gay, no one within the game would have too much of a problem with it.
I know this flies in the face of what Hitzlsperger told the "Today" programme, that he felt it would have been impossible for him to come out while still a professional player, but the world is very often a surprisingly tolerant place when put to the test. The sad fact is that, despite Hitzlspeger's announcement, we're not any nearer discovering whether that's true or not.
But the biggest challenge in terms of changing perceptions may be what used to called the terraces, which are still, as anyone who goes regularly to football matches will know, a repository of racism, sexism and homophobia. And, in this respect, perhaps the biggest hero in this story is the editor of The Sun. Britain's most popular tabloid gave Hitzlsperger unequivocal validation on its front page, calling him "brave" and a "winner". It was a remarkable, cheering, piece of journalism, and was a clear indication that, for all strata of society, things are changing.
Reuse content