Fans of light sabers and Stormtroopers will be all a-fluster this week as shooting on the new Star Wars movie begins. The pressure, excitement and nerves amongst the cast must be palpable.  What a massive and daunting task to undertake. Even sturdy Chewbacca must be freaked out by the worldwide expectation placed on his and his castmates' shoulders. So how wonderful to learn of director JJ Abrams' motivational note to the cast and crew, sent on the eve of filming.
His handwritten note is short and sweet yet powerful. "Dearest cast and crew," Abrams writes. "What an honour it is to work beside all of you... I can't thank you enough, for all work past and future.
"Let's take good care of not just ourselves, but of each other. Amazing, but true: the world awaits this film. Let's give 'em something great. XO JJ"
It's not verbose but it is lit up by heart, vision and authenticity. Beautiful stuff.
You might think this is just another luvvie being another luvvie. You'd be quite wrong. This is actually a wonderful and educational exercise in leadership and corporate culture. By sending this note to his staff before they even start work,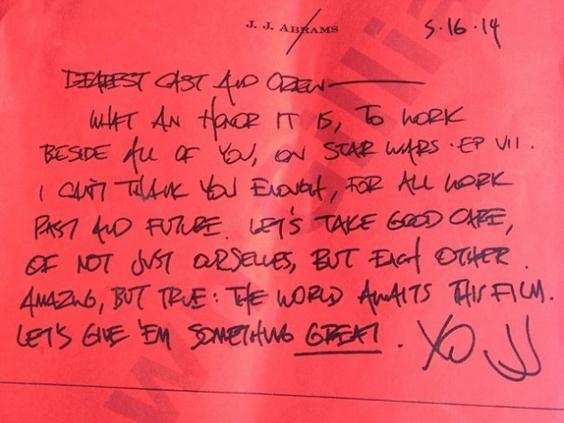 Abrams creates a community where everybody immediately feels as though they're working for the same goal and that their contribution is important and cherished. If you were part of that workforce, reading that note, wouldn't you be fired up and ready to do a great job, happy that you'd be valued, supported and appreciated? A sense of purpose and the feeling that your effort is valued are two of the most motivating factors for work – and they produce great results.
How many bosses tell you that they're excited to be working with you? Sadly many leaders never the time to thank staff for their work, whether it's a job well done or a project yet to undertake. A heartfelt thank you and a passionate and positive - not pressurised - reminder of a shared goal can go a long way.
Abrams' approach is so different from the fear-based, impersonal management that you see in many companies. There's a lot to learn from his approach. If your company experiences high staff turnovers, perhaps it's the fear and lack of soul and appreciation that's driving people out. This stuff matters to people. As Darth Vader himself might say: When it comes to corporate culture, look, you can go farther.
Star Wars 7 cast in pictures
Star Wars 7 cast in pictures
1/15 John Boyega

The 22-year-old best known for sci-fi movie Attack the Block is a new arrival for Star Wars and will be one of the sequel's 'trio of young leads'.

Getty Images

2/15 Harrison Ford

Ford will be returning as Han Solo for Star Wars 7 and is rumoured to have a 'gigantic role in the first of the next three films'.

3/15 Daisy Ridley

There's not much out there on Ridley, who is a relative unknown bar appearances in TV dramas Casualty and Mr Selfridge. But the British actress is set to become a huge star now...

Getty Images

4/15 Adam Driver

Lena Dunham tweeted confirmation that her fellow Girls star had landed the role of the villain in JJ Abrams' film. Now he has been officially confirmed and is expected to play a Darth Vader-like baddie.

Getty Images

5/15 Carrie Fisher

Carrie Fisher, who played Princess Leia in the 1977 original, has confirmed she will reprise the role in upcoming Star Wars films.

Getty Images

6/15 Kenny Baker

Baker played R2-D2 in the Star Wars franchise and will be back reprising his role for the 7th movie.

Rex

7/15 Domhnall Gleeson

Gleeson played Bill Weasley in the Harry Potter films and recently starred with Rachel McAdams in About Time. He has been confirmed for Star Wars 7.

Getty Images

8/15 Miltos Yerolemou

The Game of Thrones actor is not expected to have a 'major part' in the film

Rex Features

9/15 Oscar Isaac

Last seen in the Coen brothers' Inside Llewyn Davis, Isaac has been confirmed as a new arrival and will likely feature in a lead role.

Getty Images

10/15 Andy Serkis

Also confirmed for the 7th installment is Serkis - who has a reputation as one of the best motion capture actors out there. So expect him to portray some sort of other worldly character.

AP

11/15 Max Von Sydow

He's not a spring chicken but Von Sydow is a new arrival to Star Wars. Rumours suggest he might play a sinister old Jedi but that remains to be seen.

12/15 Mark Hamill

Mark Hamill will be back as Luke Skywalker along with his fellow original cast members Carrie Fisher and Harrison Ford.

13/15 Anthony Daniels

Anthony Daniels has starred as C-3PO in past Star Wars films and will be back for JJ Abram's seventh.

Neela Debnath/The Independent

14/15 Peter Mayhew

Peter Mayhew will reprise his role as Chewbacca with many fans excited at the theoretical prospect of a wizened old Chewie retired from space flight

Getty Images

15/15 Original Star Wars trio

Here are the original Star Wars trio of Harrison Ford, Carrie Fisher and Mark Hamill back in the day.

AP
Reuse content